Amazon is one of the biggest eCommerce platforms in the world. According to Amazon stats, it has revenues of more than $1.29 billion a day. However, does Amazon take Apple Pay?
And if so, what do you think about the popular platform? This article looks to explore these questions.
Does Amazon Take Apple Pay in 2023?
Yes, Amazon has expanded its payment options and now supports digital wallet payments, including Apple Pay, Visa Checkout, and Masterpass. However, it's important to note that the availability of these payment methods may vary depending on the individual vendors on Amazon's platform.
Why Does Amazon Disallow Apple to Pay in 2023?
While it might not seem reasonable that Amazon doesn't take one of the major payment options, there are several reasons. The first is that Amazon and Apple have not agreed to work together on Apple's payment service. An agreement must be in place with both parties for the system to work.
Apple Pay is a popular payment option when shopping directly. It allows customers to pay directly through a smartphone and not use a physical card. Therefore, it can be more secure and customers can be reassured that their payment is safe.
However, Amazon doesn't miss out on the opportunity. Their revenue shows that customers are willing to use other payment options. And besides, other Apple products can be used by customers on the website.
Currently, Amazon has no plans to accept Apple Pay on its website.
PRO TIP

You can use other payment methods such as Visa, Mastercard, American Express, Diner's Club, and even your Amazon Gift Cards.

You can also save a new payment method without ordering in Amazon.
How to Proceed With Payments on Amazon in 2023?
There are numerous ways that you can proceed with payments on Amazon. In this section, we will deal directly with how you can make payments on Amazon using several different options. Each of these is an excellent payment option for you to use.
Benefits of Supporting Digital Wallets
Amazon Payment Services supports three popular digital wallets: Apple Pay, Masterpass, and Visa Checkout.
There are two primary advantages to accepting payments through digital wallets:
Embracing digital wallets enhances convenience for your customers. By accepting digital wallet payments, you guarantee that your customers won't opt for a competitor solely because you don't offer this payment method.
Digital wallets mitigate the risk of fraud since customers are not required to enter their payment card information during the payment process.
How to Use a Digital Wallet on Amazon
There are several digital wallets that all work in different ways. However, Amazon has its digital wallet. What you need to do is to connect your current payment method to your Amazon Wallet.
There are other options available apart from credit or debit cards. For one, Amazon gift cards can be used if you have an existing balance within your Amazon account.
There are other options, as long as they're associated with your Amazon account. For instance, you can use PayPal and Venmo. The Amazon payment system will remember any payment method that you've used in the past and use these for your digital wallet.
To enable your Amazon digital wallet, follow these steps with ease.
Step 1: Access the Amazon website and then log in to your account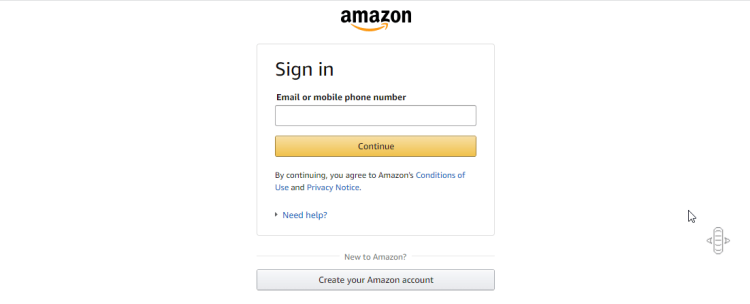 Step 2: Click on the option 'Your Account' and then 'Your Payments'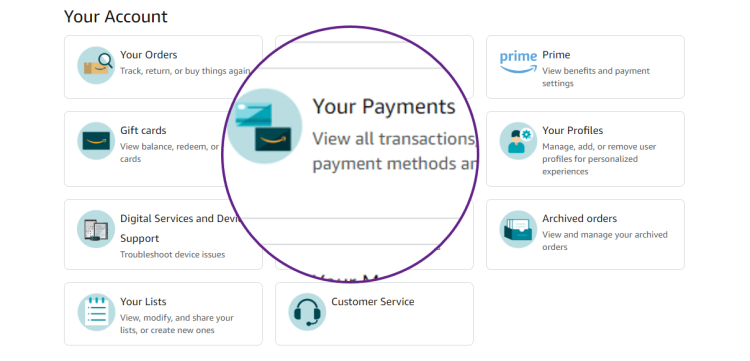 Step 3: Select the option 'Add Payment Method'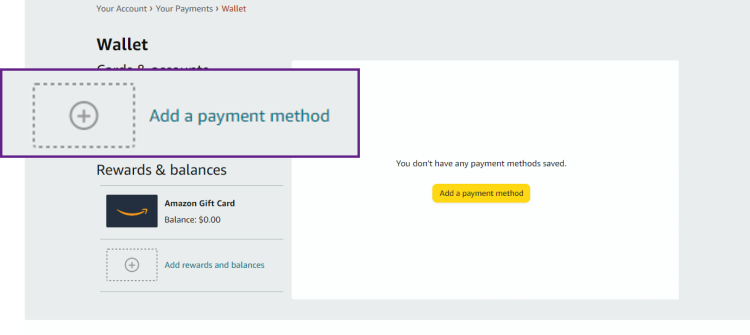 Step 4: Select the credit card you want to add, entering in the vital information like name, address, number, etc
Step 5: Save the details to your Amazon wallet
Step 6: Now you can use the credit card on your Amazon wallet
This is a simple process, you can now use your digital wallet on Amazon to make payments. It will speed up the purchases. There are also ways to use the mobile app to scan a barcode of loyalty and gift cards and get those added to your account.
How to Use Your Apple Card on Amazon on Mac or PC
You can use the Apple Card within your digital wallet on Amazon. But they do have to be added as a payment method on your Amazon account first. To add your Apple Card as a payment method for your account, you need to follow these instructions.
How to add your Apple Card to your Amazon account
Step 1: Go to the Amazon website or open Amazon app
Step 2: Sign into your account
Step 3: Click on the option to see 'Your Account'
Step 4: Within your account, find the 'Payment Options'
Step 5: Scroll down the page to find the 'Add New Payment Method' option
Step 6: Click on the option that reads 'Add a Card'
Step 7: Fill in Apple Card information
Step 8: Select the billing address that will match the Apple Card
Step 9: Confirm the payment method
How to Use Apple Card on Amazon on an iPhone
There is also the option to add your Apple Card on Amazon using your iPhone. For this, you need to ensure that you have already downloaded the Amazon App from your favorite app store. Installation of the app takes mere moments.
Below are the instructions that are needed for installing your Apple Card on Amazon on your iPhone.
Step 1: On your mobile device, open the Amazon app.
Step 2: Click on the account icon at the bottom of the screen.
Step 3: Click on the 'Account' option.
Step 4: Click on the option to access your payment options.
Step 5: In the Wallet tab, you can press the +Add. This is a small text that is on the right of the Cards and accounts area.
Step 6: You can then select the option to add a credit or debit card to your account with ease.
Step 7: Add the card information. You can find the Apple Card number, if you don't know it, by opening your Wallet and then tapping on the credit card icon in the upper right corner. From there you can copy the number, return to the Amazon app, and then paste the number into the right space on the website.
Step 8: Once you've added the info, you can select the box next to the 'Set as default payment method'. This will allow you to use your Apple Card on every purchase.
Step 9: Then you can click on the 'Save' option. This will display a message that says that the payment method has been added to your account.
Now when you check out while making an order from Amazon, your Apple Card will be the payment option used for the order. There is a chance to set up a new card for your payment in the checkout/cart area. However, the default option is always best.
How to Buy an Amazon Gift Card with Apple Card
You can also buy an Amazon Gift Card with your Apple Card. This can be a great way to provide a gift for a loved one or a quick and easy present for a class teacher.
If you prefer to use your Apple Card, it can be hard to know how to buy an Amazon Gift Card. However, it is a relatively simple process and the instructions are below.
Step 1: The first step is to go to the Amazon website.
Step 2: Log into your account.
Step 3: Check that your Amazon account has your Apple Card saved to the account. If not, you can add it using the instructions above.
Step 4: Then head to the home page of Amazon.
Step 5: Enter into the search bar, 'Amazon gift cards' or select the option from the shopping menu at the top.
Step 6: Choose the gift card that you would like to buy. Numerous choices are available.
Step 7: Select the amount that you would like to gift to your friend/family/receiver. You can select a small or large amount.
Step 8: Complete the details like 'Your Name', 'Recipient's email', 'Date of Delivery', 'Quantity', and any additional message you would like to add.
Step 9: Click on the 'Add to cart' and then select 'Proceed to checkout'.
Step 10: Complete the payment information, by selecting your Apple Card on the payment options. You can then click on the 'Continue' option.
Step 11: Select the 'Place your order' button.
Now you've made the purchase of an Amazon gift card with Apple Pay.
How to Pay Amazon with Apple Cash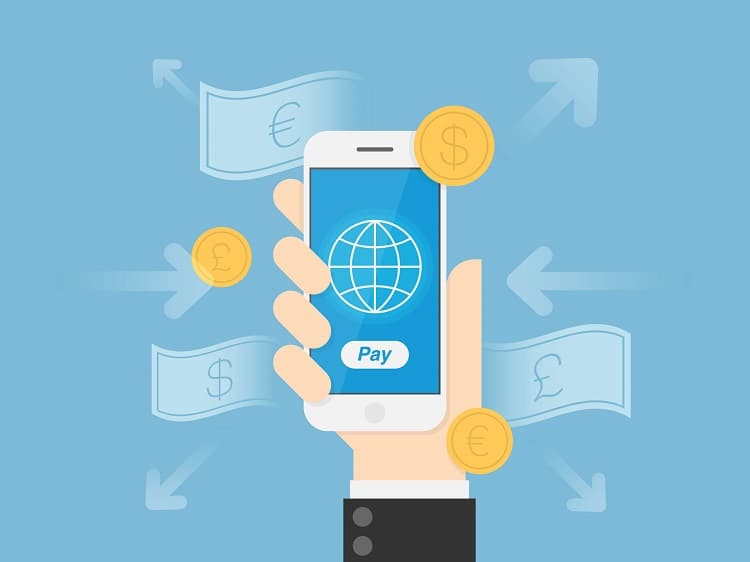 There are three different parts of the Apple financial elements: Apple Card, Apple Pay, and Apple Cash. There are slight differences between all three and how they can interact with Amazon. Apple Card is a credit card.
It is the same as the one that you would get from any other bank or lending facility that offers credit cards. Just like other credit cards, Apple Card is acceptable by most retailers, including Amazon.
Apple Pay is a system that is simple to other Pay brands like Google Pay or Samsung Pay. It allows you to use your iPhone to send payments while you are on the go.
You can connect any credit or debit card with Apple Pay and then use that for payments. Amazon does not support Apple Pay, as we mentioned earlier in the article.
Then there is Apple Cash. This is the service that is integrated into Apple Pay and allows a user to send/receive payments using iMessage. You can only use Apple Cash if you live in the US and are over 18 years old.
However, Apple Cash is not available for Amazon. Therefore, you cannot pay Amazon for any Apple Cash.
Does Amazon Take Apple Pay according to Reddit:
Amazon is preparing to enter the mobile payments arena by challenging Apple. Their goal is to encourage physical retail businesses to embrace their digital wallet called Amazon Pay.
You might be interested to check those related posts as well:
FAQs
Can I use Apple Pay on Amazon in 2023?
Apple Pay is not available for your Amazon account. Amazon does not accept this payment method because the two companies have not reached an agreement on the system used by Amazon. There are no plans in the future for this change.
Does the Amazon shopping app take Apple Pay?
The Amazon shopping app does not take Apple Pay at the moment. Amazon only accepts payments from their gift cards if you would like to pay for your order with a gift card, then you must use an Amazon-issued gift card. These can be bought on Amazon and at a few retailers online and offline.
Can you use Apple gift cards on Amazon?
No, Amazon does not accept Apple gift cards for any purchase you wish to make on the platform. Instead, you need to use your Apple gift card on the Apple website for one of their products/services.
The only gift cards that are accepted on Amazon are those Amazon gift cards, which can be bought from the eCommerce giant or another retailer.
Is Apple Card accepted on Amazon?
Apple Card is just like any other credit card issued by financial brands. You can use an Apple card for any purchase you would like to make on Amazon.
You can also set your Apple Card as the default payment on your Amazon digital wallet. There are instructions above that can help you set this up.
Can you pay Amazon with Apple Cash?
No, Amazon does not accept Apple Cash as a way for you to make a payment on your website. Apple Cash is only available when you are using Apple Pay on your phone. You can use Apple Card on your Amazon account. This can be saved to be used as your default payment option.
How to transfer Apple Cash to your bank?
To transfer Apple Cash to your bank, you will need to open the Wallet app on your iPhone or iPad. Then tap the card at the top of the screen. Tap "Transfer to Bank" and enter an amount. Tap "Next" and confirm with Face ID, Touch ID, or your device passcode. Finally, tap "Transfer" and your money will be sent to your bank account.
Conclusion
Amazon and Apple are two of the biggest companies in the world. However, that doesn't mean that everything works together as well. Only Apple Card is available on Amazon, which is one of the big problems.
However, Apple Card is a great way to make payments as you can get rewards for purchases made via Apple Card on Amazon.