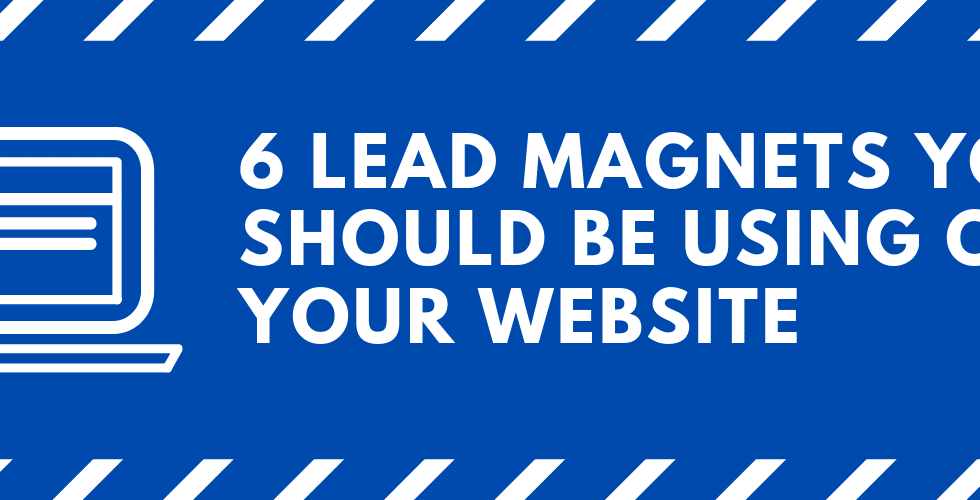 Lead acquisition is exceptionally important in the world of business. Without leads, your business simply cannot scale and you're going to have a tough time financially. The key to sustainable growth for any business sits in creating a consistent flow of incoming leads, ripe for converting into revenue-generating sales. Zig Zagler pretty much sums this up with his quote "You are out of business if you don't have a prospect".
There are many different ways you can go about capturing leads, from specific lead capture pages, to exit intent pop-ups, to competitions. In this article, we're going to look at one particularly effective method, lead magnets.
In nature, a magnet is a powerful combination of metals surrounded by an invisible magnetic field, pulling other similar metals towards it. In business, lead magnets work very much the same way. It's important to have a hook, giving the world an easy way to provide you with their contact information. Simply put, the more people you pull in, the more leads you'll generate.
Lead magnets exist in many shapes and forms, allowing great room for creativity. If you're new to the lead generation game, introducing lead magnets should be high on the agenda when devising your marketing strategy. Without them, you'll have trouble pushing more leads down the funnel and getting the results you need.
Below, you'll find some more info on the benefits of lead magnets, how to use them on your website, and 5 great examples of lead magnets you need to add to your page right now.
Lead Magnets: Prioritizing the End Goal
The purpose of the lead magnet is to convert as many leads as possible. They offer a method for  capturing customer details without pressuring them to buy right away. It's no secret that most prospects and new visitors to your site won't want to commit to a purchase right away, and being too pushy will just scare them off.
That's where lead magnets come in handy.
Lead magnets come in many forms, but they all do the same thing: they offer free content to your website visitors in exchange for their basic contact information. This helps you build up your email list on the back end, while prospective customers on the front end are happy to get a piece of something for free – without the pressure to buy anything.
According to research performed by Leadpages, having a lead magnet on your website can improve signup rates by 85%. When it comes down to the numbers, there's no doubt about it: lead magnets to generate leads faster and are more effective than any other marketing tool.
Creating Lead Magnets on Your Website
Now that you're getting excited about adding this powerful and easy-to-use lead generation tool to your website, you need to know the right way to create one.
The best way to create a lead magnet is to really focus on what kind of buyers you want. What kind of leads are you trying to generate? In other words, what does your ideal buyer persona look like?
You don't want to just attract all the people in the world – you want to attract your kind of people. The people you know will be interested in what your business has to offer. While lead magnets excel at bringing in tons of new contacts, you don't just want to share your magnet en-masse and compromise the quality of your growing email list.
A successful lead magnet needs:
A strong reason for your buyers to click on it. Why should a new website visitor download the free content you're offering? Is this free content valuable enough to keep them coming back for more? The less convincing you have to do, the more successful your lead magnet will be.
A quick and easy solution. Rapid consumption is the name of the lead magnet game, and you need to focus on solving your new buyers' questions and issues as fast as you can. Anything to keep new leads flowing down the funnel.
The last thing you need is the correct type of lead magnet. Below, you'll find 5 examples of different lead magnet options that may work for you. Remember to really think about what your company offers and what kind of content will hook new visitors the most.
5 Lead Magnets to Use Right Now
Start magnetizing new leads and keep your funnel moving with these different types of lead magnets.
1. Free Coupon
Have you ever visited an eCommerce website and received a pop-up with a coupon just for being a first-time visitor? This is a type of lead magnet! Shopify has many live examples of this kind of magnet in action.
Coupons give newcomers a sense of importance, making them feel like they are part of an exclusive deal. According to the latest coupon insights, customers feel smart while using digital promo codes. By offering a discount right off the bat, they are more inclined to actually make a purchase. Plus, you've just captured their contact info, which is incredibly valuable in itself.
2. Webinar
A buyer who is offered a free download to an expert-led webinar will be hard-pressed to turn down that invitation. Webinars are always positive words in the world of marketing and sales because people always want to know what industry experts have to say. Check out this example from KissMetrics below.
In fact, webinars are one of the highest-converting types of lead magnets you can use. According to a survey by Demand Gen Report, 76% of B2B buyers have used webinars in the past 12 months to make a purchase decision. Not only do webinars offer pro advice, but they offer a way to interact and engage with the audience.
3. Toolkit
A toolkit enables you to offer real and important information for free. It's a great piece of material that buyers can keep and reference over and over again whenever they need to. For example, MindTools offers newcomers to the site a free personal guidebook, which comes with different tips and tricks and skills advice. If your website is one that offers advice or help in any way, this is the right kind of lead magnet to use.
4.  Free Trial
Buyers are really cautious about downloading new software – especially software they have to buy first – without knowing if it will really work for them. If your company offers any kind of downloadable program, you need to be using the free trial magnet.
A free trial helps give potential customers a taste of what your product is all about. They can get their hands on it and use the real thing for a limited time, giving them enough to determine if the software is something they want.
Appeal to the consumers' need to try before they buy!
According to Sixteen Ventures, conversion rates can be wildly different for different free trial models.
Conversion rates for freemium offerings are typically in the single digits.
For no-card-required free trials, aim for a conversion rate of 25%.
For card-required free trials, aim for a conversion rate of 60%.
5. Free Assessment
One handy tool that a lot of websites use to generate leads is an assessment or quiz. Basically, if you offer professional services of any kind, then your buyers aren't just looking for a product – they're looking for advice. They want to consult with the experts (you) to see whether they are on the right track. Check out this example from CrazyEgg.
The copy is compelling, it shows over 300,000 websites use it showing that you can trust it as well, and also some very well-known brand logos to hammer home how good it is.
Offering a simple assessment that buyers can take for free will get them hooked immediately. They are already getting the advice they seek without even having to do any work on their end. Plus, you get their contact information so you can talk with them about committing to more longer-term services.
And as Brian Tracy says "Approach each customer with the idea of helping him or her solve a problem or achieve a goal, not of selling a product or service." Free assessments or audits like the above are a great way of starting that process.
6. Gated Content
Here we're talking about eBooks, Whitepapers or Checklists etc. Gated content involves creating a downloadable asset which requires an email to unlock and allow the user to download the asset.
You can create specific landing pages for these, or you can incorporate them into relevant blog content to try and convert traffic you are getting.
But how might this differ for eCommerce lead generation?
If you're a B2C eCommerce website a lead could be something as simple as a newsletter sign up. Now, there are loads of ways you can do, and lots of lead generation tools you can use to do this.
According to, Marketo only 4% of website visitors are reading to buy. The other 96% are most likely sin discovery and research mode, which gives you a great chance to capture emails or contact info and nurture that lead for the future.
Below are four of the best lead generation tactics we know of for eCommerce websites. Whatever way you choose to do this though, you need to make sure a user can clearly see the benefits of signing up or giving their details.
Exit Intent Pop Ups
Pop ups have the prospect of being very annoying to users so you need to be careful how you use them. When they are used correctly though they can be very effective and work in almost any niche.
When a user has indicated they are about to leave your website, either by going to exit the page or switching tabs this is the time to use a pop up. As they have shown when they are about to leave there is less chance of disrupting their experience, and you have a chance to still make something of their visit.
According to a survey by Entrepreneur, pop-ups helped them increase subscriptions by 86% and sales by 162%. So, they work.
2. Discount Sign Ups
Offer a discount to new members who sign up to receive your newsletter. Not only will this entice them to spend with you today, but you will also have the option to contact this person after through email remarketing and drive lifetime value. Check out this example from Kate Spade below.
3) Sticky Sign Up Bar
This is a fairly simple way of gaining subscribers. Having a consistent opt-in bar at the top or bottom of your website, or even just on high traffic pages can help deliver a consistent flow of leads.
Just be careful if you do use this one to carefully balance it out with any other options you are using. For example, a sticky sign up combined with an exit intent pop up may annoy some users and have a negative affect.
4) Run A Survey
Running a survey on your website can be a great way to gain insights and identify areas of improvement, with a few tweaks it can also grow your subscriber list.
There are a lot of tools you can use to do this such as HotJar and Qualaroo. Simple design a survey which pops up asking for a user's help or opinion on a subject. At the end you can ask if they would like to receive the results, if they say yes, you have their email!
In Conclusion: Get Started with Lead Magnets ASAP!
Want to hook new leads the right way? Give them a little taste of what they'll get when they commit to you. Lead magnets are free and they don't pressure newcomers into doing anything. They do, however, entice them into giving you their contact information in exchange for a free tool that they will find really valuable.
Whether it's giving them something to use, read, watch, or download, they'll be happy to convert into happily nurtured leads. Hopefully, the examples above have been able to give you some ideas for setting up your lead magnets on your site.
There are plenty of options available to implement these tactics regardless of what CMS you are on. The likes of WordPress and Shopify have ample options, both free and paid that you can choose from to use. There are also options for bigger ecommerce websites to use specific software (like ours) that can help them increase leads and conversion rates on their website.
If it's your first time trying these it might be a bit trial and error and first, but that's the way you'll find the best combination of lead magnets that can have a real positive impact on your business. So, there's no time like the present! Pick one or two and get to work!
I recommend you read this post on e-commerce statistics if you're interested to learn more about the topic.