Overview:
SEOquake is a no-cost plugin that offers essential SEO metrics and a range of valuable tools, including SEO Audit, among others.
In this SEOquake guide, I am going to show you all the features that SEOquake has.
It's one of my favorite SEO tools and I use this little plugin every day.
What is SEOquake?
SEOquake is an easy-to-use browser plugin that provides you with tons of useful SEO metrics for every single page on the internet, together with various essential tools such as SEO Audit, and others.
The plugin can be embedded in search engine results for quicker access. Once installed, the icon of this tool will appear on the top right of your screen.
You can find out if it is active by checking the color of the icon. Once you activate it, it will change from black and white to a more colorful palette.
In the main menu of this plugin, you will find a carefully sorted list of the reports pulled by SEOquake.
Just select the parameters you want to analyze and you are ready to go!
How to Use SEOquake?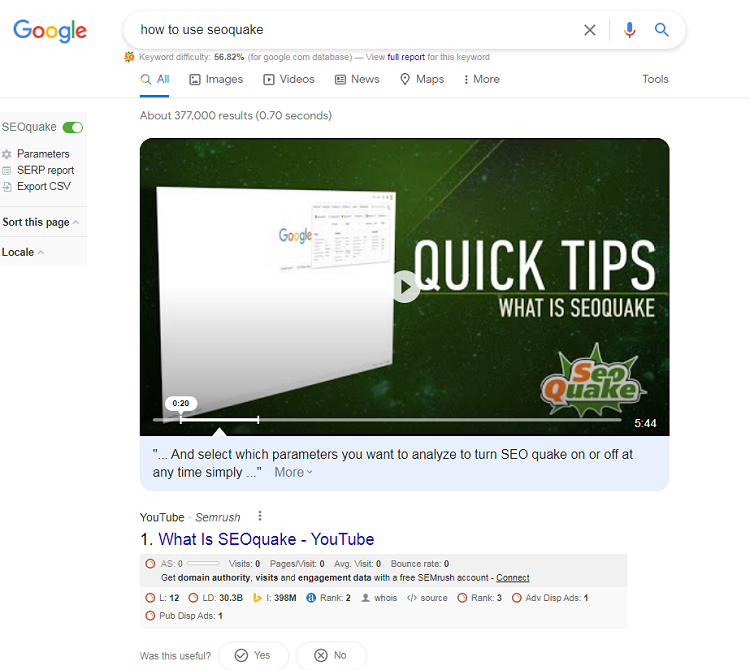 SEOquake is an essential tool for website owners that know how important content marketing is.
I stumbled across this plugin a couple of months ago and I absolutely love it. I could not imagine writing a new post without consulting this tool first.
What truly differentiates SEOquake from other similar tools is that it is fast. Really fast.
In just a matter of seconds, you can find every single piece of information you need to know about a particular site.
This is a task that only a couple of years ago would have taken hours of work for an experienced team. Now you can do it on your own, with the click of a button.
On top of that, SEOquake is available for all major browsers for free.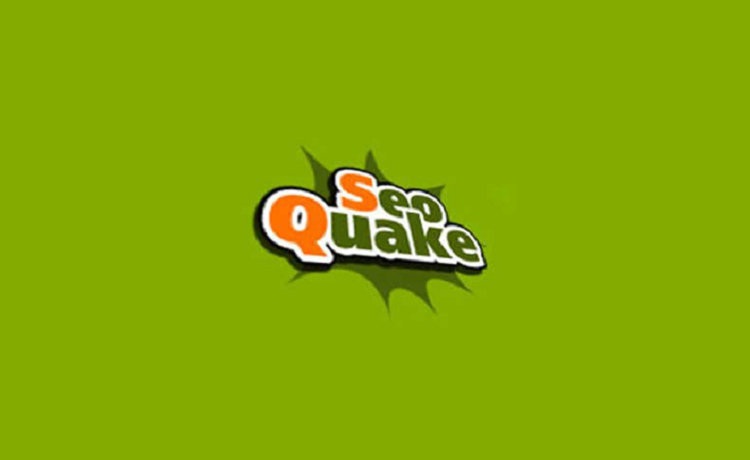 How to Download and Install SEOquake?
Downloading and installing SEOquake is very easy.
It is compatible with Chrome, Firefox, Opera, Safari, and even with iPhones and iPad.
You can find below the links to install SEOquake now.
Download SEOquake
Download SEOquake For Chrome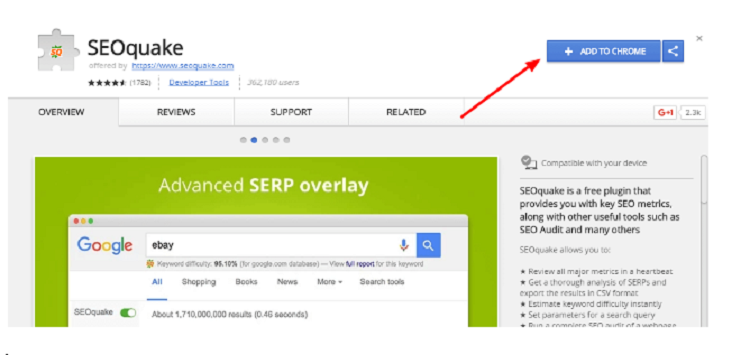 Download SEOquake For Firefox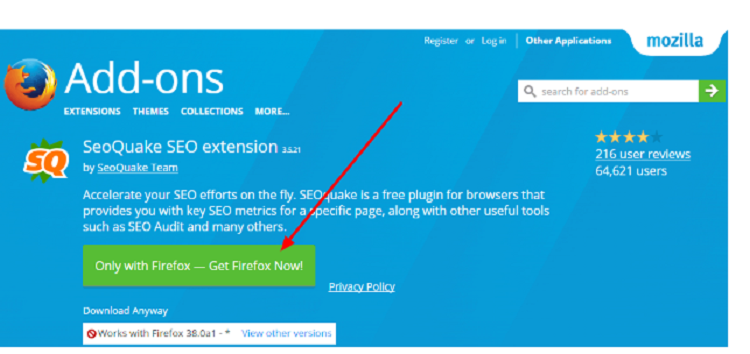 Download SEOquake For Opera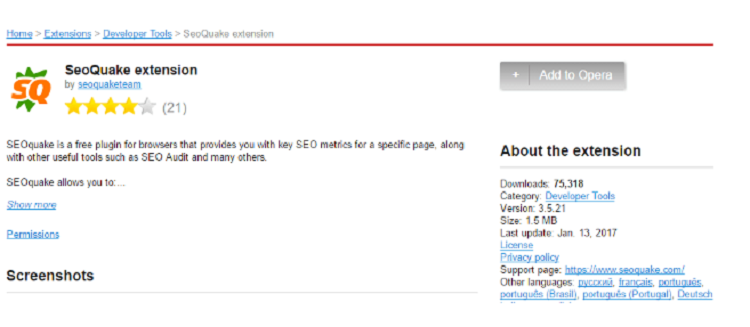 Download SEOquake For Safari

If you are using Safari, just click the link where it says "For Safari."
If the download of SEOquake does not start immediately, you can click on the corresponding link to do it manually.
For iPhone and iPad
If the download of SEOquake does not start immediately, you can click on the corresponding link to do it manually.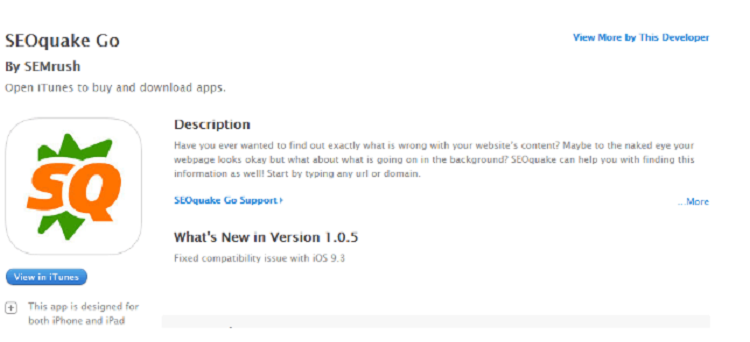 For iPhone and iPad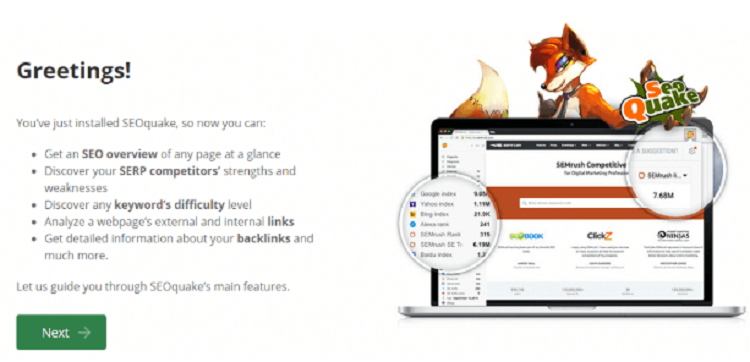 Now It's time to dive a bit deeper into SEOquake's main features…
What Metrics do SEOquake Analytics Show?
Along with organic search data, SEOquake provides you with other useful tools like an SEO Audit, Keyword Density report, Internal/External Link analysis, and even social metrics.
SEOquake allows you to see metrics for domains and landing pages including the current number of pages indexed by Google of this URL, the Alexa Rank, SEMrush Ranking data, Facebook likes and so much more.
There is an option for this plugin that allows you to show all these metrics directly in the SERPs (Search Engine Result Pages) so that you can compare all the top search results in the blink of an eye.
Page Overview (Dashboard)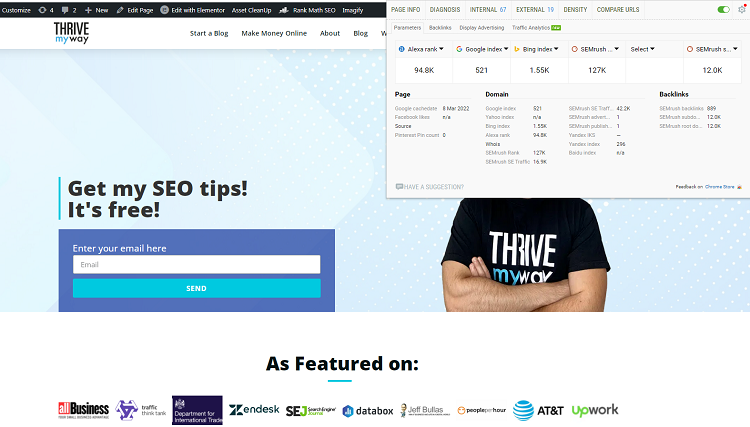 SEO parameters you need, as well as some fundamental information about the domain." width="750″ height="427″ />
By clicking on the icon of SEOquake on the toolbar of your browser, you will find a general overview of some of the most important SEO parameters you need, as well as some fundamental information about the domain.
This includes the Alexa rank, the number of pages indexed by Google, the number of pages indexed by Bing, the website's Semrush rank, the Web Archive age, the number of Backlinks (according to SEMrush), and valuable social media metrics like Facebook likes, Google +1, Pinterest Pins, and Linkedin shares.
Additionally, the "page overview" section serves as a bridge that connects to all the other sub-tools this plugin has to offer.
It basically acts as the "dashboard" of the SEOquake.
Page Info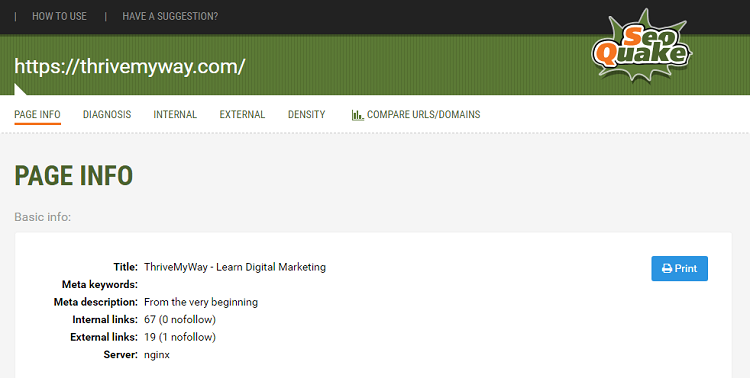 In the image above we are checking the page info for ThriveMyWay.com.
It gives us a quick glimpse of its Title, Meta Keywords, Meta description, Internal links, External links, and the server that is used.
It is important to note that the internal and external links you see here are only for this specific page.
If you want to check the total number of backlinks of the domain, just go back to the "page overview" section of SEOquake.
Page SEO Audit: SEOquake Diagnosis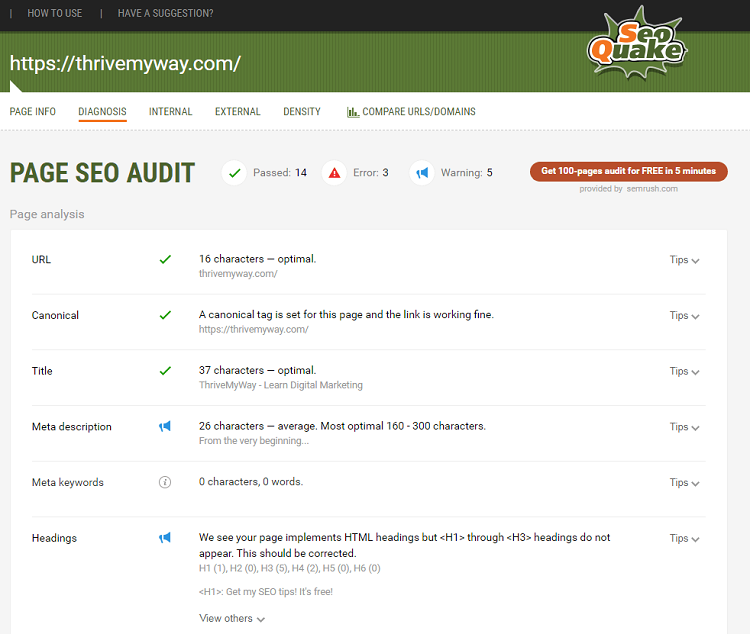 Clicking on the button that says "Diagnosis" gives you an instant page SEO audit that evaluates the three following points:
Page analysis
Mobile compliance
Site compliance
The plugin splits each of these 3 sections into several other data points. This enables you to quickly get a good overview of all the information available.
Furthermore, what I think is really useful is that next to each of these results SEOquake automatically puts either a green checkmark or a red warning sign.
This lets you know what that site is doing well, and what it might need to improve.
This is especially useful if you are checking your own site because you can learn about the things you may want to modify in order to rank higher in search engines.
Shows External Links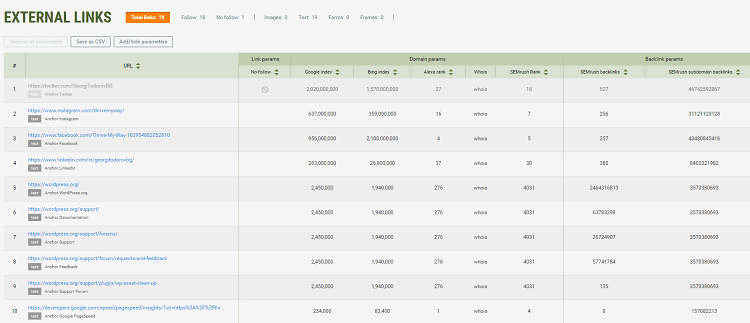 In the "External links" section you can quickly check the number of external links a certain page has built and where they are pointing to.
For example, I checked the external links of my website ThriveMyWay. As you can see in the screenshot above, the page has 19 external links.
This is not surprising, considering the fact that there are many tools listed, each one of them with a link to its corresponding website.
I also think that it is great that SEOquake allows you to export the list of links as a . CSV file.
This feature is especially useful if you have a new site and you are planning to build backlinks using the skyscraper technique.
Shows Internal Links

You can see from the screenshot, the page has 67 internal links.
Shows Keyword Density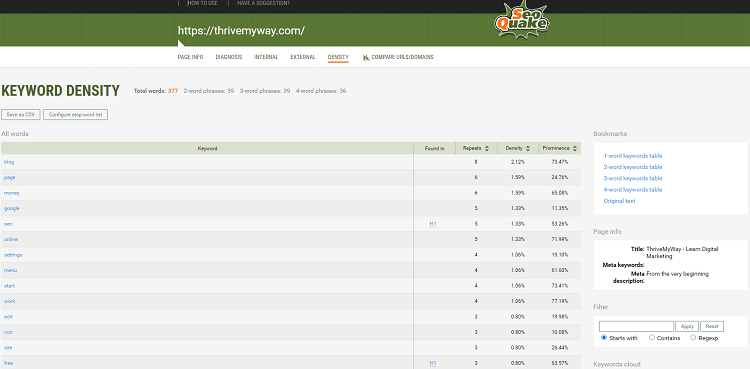 In the part where it says "Density", you can check your own or your competitor's keyword density.
As the chart demonstrates, the article has a density of 2.12% for the word "blog" and a density of 1.59% for the word "page".
Compare URLs/Domains

SEOquake's tool that allows you to compare URLs enables you to compare aspects like the number of pages indexed in Google, the number of backlinks, and much more.
You are not limited to comparing only two pages – at the time this post was written, SEOquake supports the comparison of 15 URLs at the same time!
Finally, just as with every other piece of information this plugin delivers you, it can be exported to a . CSV file with the click of a button.
SEOquake Shows Backlinks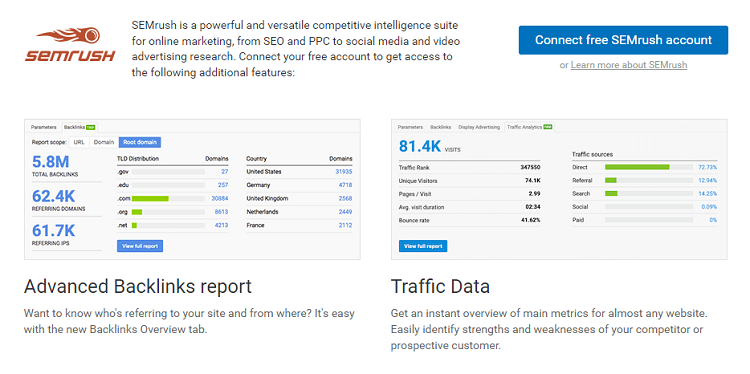 In the Winter of 2016, SEMrush updated SEOquake with a new feature – the Backlinks Overview report.
To access the backlinks report, you will be asked to connect SEOquake to your free SEMrush account. We found that this only takes about two minutes.
After doing so, you will unlock your overview report and will gain access to the most important SEO metrics, enabling you to see backlink information on specific URLs, domains, or root domains.
Display Advertising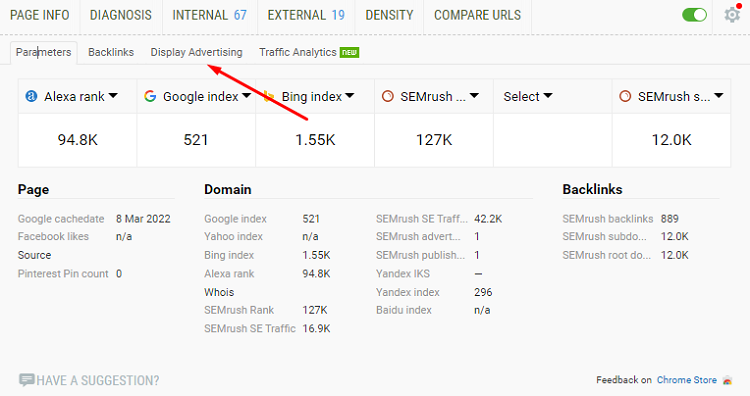 This report will show you how your competitors' domains are being advertised.
For instance, you can see the number of total publishers (websites that use Google AdSense to allow advertisers to run display ads on their site) and advertisers (websites that have placed ads on other sites in an effort to drive traffic to their own content) for that particular domain.
Previews of popular media ads and text ads are also shown in this report.
This helps you find fresh ideas in case you are, for example, planning to run a PPC campaign.
Keyword Difficulty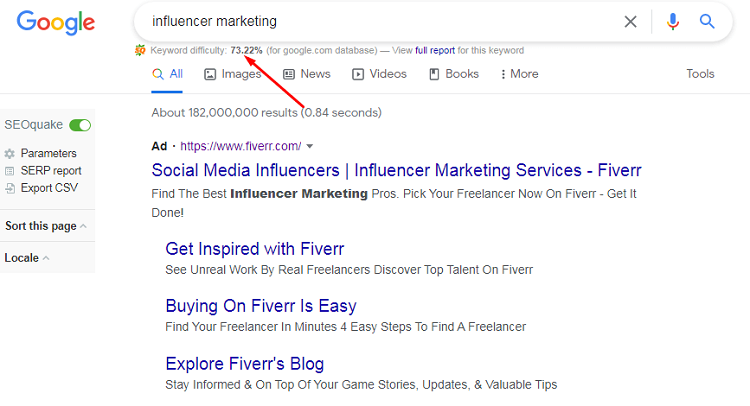 In order to check the keyword difficulty for a particular search phrase, you first need to activate SEOquake for search engine results in pages or SERPs.
You can do this by clicking on a small button that appears right under the logo of your search engine that says "SEOquake". Once you activate it, the button should become green.
Now, whenever you do a search query, you will see a small line of text directly under the search field that will indicate the particular keyword's difficulty.
The closer the percentage of keyword difficulty is to 100%, the harder it will be for you to rank well for that keyword.
Is SEOquake Reliable?

There are many different opinions about how reliable SEOquake is. Since it is free, it could be beneficial to take it for a test drive.
Use it for a while, and then see if you trust the metrics it gives you.
Personally, the plugin has proven to be extremely useful for me in the past, and I'll definitely continue using it.
SEOquake Mobile
You can download SEOquake for your phone or tablet from here.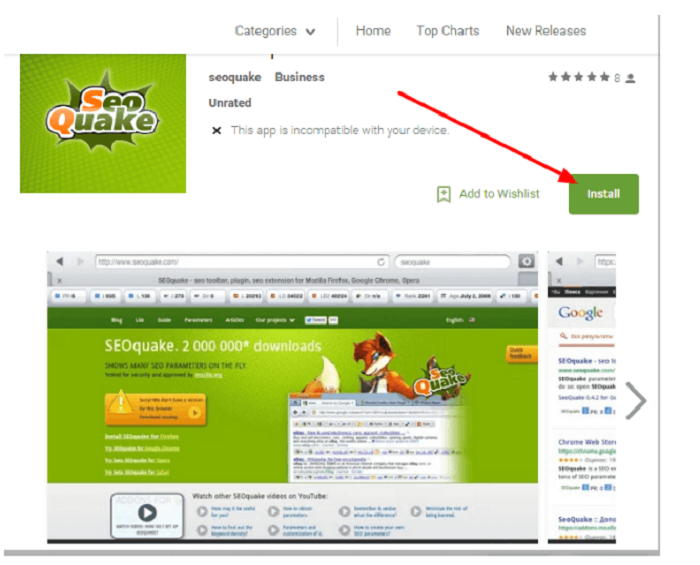 Delete and Uninstall SEOquake
In order to delete and uninstall SEOquake, you just have to right-click on the icon of this plugin and then hit "Remove from Chrome".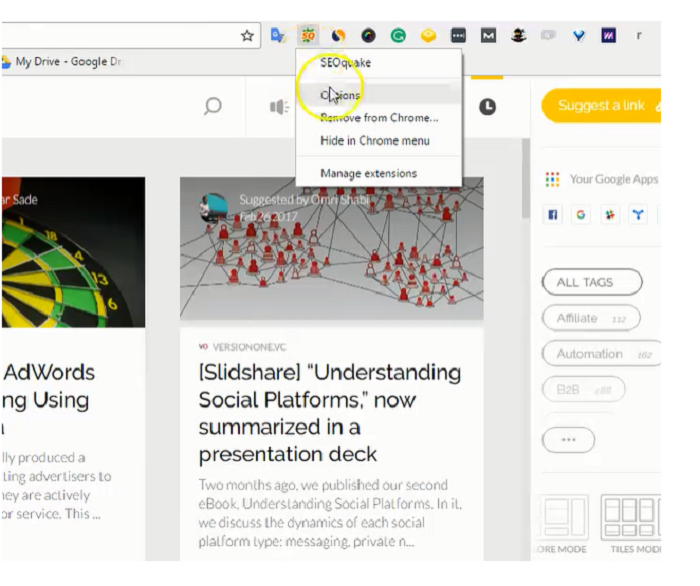 SEOquake Alternatives
Similar Web
MOZ Bar
Quick SEO
SEO Toolbar for Firefox
How to Get in Touch with SEOquake?
You can easily get in touch with SEOquake by emailing them at [email protected]
You might be interested to check those related posts as well:
Final Word
Using SEOquake is a great way to improve your website's SEO ranking.
It is easy to use and provides valuable information about your website's SEO health.
I highly recommend using it to help you improve your website's ranking.