WPX hosting is a new, scalable, managed WordPress host that prioritizes speed, simplicity, and support.
In this WPX hosting review, I will go into detail on why I moved away from Kinsta to WPX Hosting and why I believe it is the best WordPress hosting for non-techy entrepreneurs to help you decide whether it's the right one for you.
What is WPX Hosting?
WPX Hosting is a managed WordPress hosting provider that touts itself as the easiest, fastest, and friendliest way to get your WordPress website up and running.
It was founded in 2013 by founder Terry Kyle and co-founder Georgi Petrov who decided to create WPX with three goals in mind: to provide the fastest WordPress hosting on the market, with quick and knowledgeable support, and an easy-to-use interface.
Why Did I Move Away from Kinsta to WPX?
I recently decided to move away from Kinsta to WPX WordPress Hosting.
The main reason I switched is that my traffic grew, and Kinsta started to charge me more money.
Also, even though the support team at Kinsta is great, the issues I had were transferred from person to person and still not solved.
Instead, they would send me tutorials and articles on how to solve them myself, which was very frustrating for someone who is a non-techy and doesn't want to spend more of their own time trying to figure things out.
On the other hand, my experience with WPX support was fantastic. The WPX support representative that I talked to not only answered my question in an efficient manner but also responded to my query extremely fast.
WPX Plans: What Is Included For Free in Each WPX Plan 2023?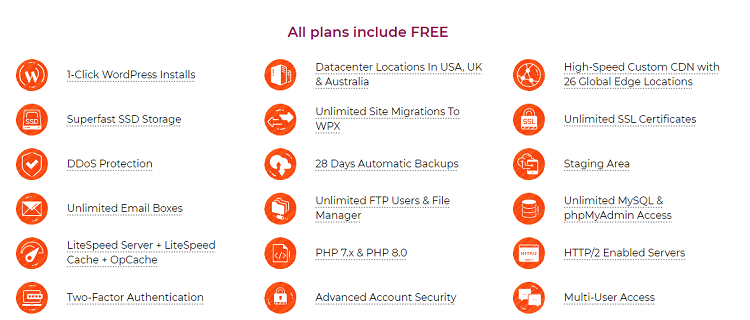 Many excellent WPX Hosting features are available on each plan for free.
These features are designed to make your life easier.
Let's analyze them in detail:
1-Click WordPress Installs
No matter what type of hosting package you choose, you'll get the chance to install WordPress in just one click.
WPX makes it simple and fast to get your blog or website up and running in no time at all.
Superfast SSD Storage
WPX is so fast because its solid-state drive (SSD) storage allows it to handle lightning-fast speed for your WordPress site.
WPX's SSD storage results in a significant decrease in the time taken to load your site, which will result in increased traffic, better search engine rankings, and, ultimately, more sales.
Unlimited Site Migrations to WPX
Moving your website from one host to another can often be complicated.
WPX will do it for free in less than 24 hours for every website you possess, as they offer unlimited site migrations.
What's more, WPX guarantees zero downtime during your migration process.
Unlimited SSL Certificates
An SSL certificate is a small data file that encrypts information between a website and a user's browser, making it virtually impossible for hackers to intercept data.
An SSL certificate is extremely important for every WordPress site, especially if you collect payment information from your customers.
WPX offers unlimited free SSL certificates to protect your website from hackers at all times.
DDoS Protection
DDoS stands for distributed denial-of-service.
Essentially, this means that a website or server is being flooded with more traffic than it can handle.
This traffic is usually malicious, and the goal of a DDoS attack is to force a website to go offline.
WPX keeps your WordPress site safe from these attacks thanks to its enterprise-level DDoS protection.
28 Days Automatic Backups
WPX's automatic 28 days backup solution guarantee that you can restore your website from any point in time during the last month or since your site was created with WPX.
Staging Area
If you want to test out different changes on your website before making them permanent, WPX has you covered.
The staging area allows you to make changes without affecting the live version of your website.
This is ideal for websites that are already live.
Then, once you've finished testing, simply merge the staging area with the live version of your site.
Unlimited Email Boxes
WPX's Unlimited Email Boxes feature lets you create as many email accounts as you want.
This is very useful if you're a web designer or developer and need to create different email addresses for your client's sites.
You can also create an email address for each subdomain on your site.
Unlimited FTP Users & File Manager
File Transfer Protocol (FTP) is a standard network protocol used for uploading and downloading files from one host to another over TCP.
FTP allows you to upload your website files, including HTML pages, images, and videos, as well as download them from your server.
WPX's unlimited FTP Users & File Manager feature is a very convenient way to transfer files between your computer and the server hosting your website.
You can also create remote users to transfer your files.
Unlimited MySQL & phpMyAdmin Access
WPX's MySQL & phpMyAdmin Access feature gives you the ability to add, modify, or delete records and database tables in your database.
This is a great way to add features and functionality to your website that aren't included by default in WordPress.
LiteSpeed Server + LiteSpeed Cache + OpCache
WPX Hosting's LiteSpeed Server unleashes the full potential of your WordPress site by speeding it up.
The result is faster loading times and a better overall user experience for your visitor.
OpCache is a PHP accelerator that improves PHP performance.
PHP 7.x & PHP 8.0
WPX supports the latest versions of PHP.
PHP 7. x and PHP 8.0 come with a new engine, new features, and more performance so your visitors will get the best experience and you'll be able to do more with your website.
HTTP/2 Enabled Servers
WPX offers HTTP/2-enabled servers.
HTTP/2 is a next-generation protocol that allows for faster page loads by utilizing one connection to load multiple files at once instead of opening separate connections for each file.
High-Speed Custom CDN
A Content Delivery Network (CDN) will speed up your website's loading times and improve its performance.
WPX is the only web hosting provider that offers a CDN as part of its default service.
WPX Cloud CDN is called XDN, and it is included in all web hosting plans.
WPX Cloud CDN is a global network of caching servers that deliver your website content and files to your visitors much faster.
In addition, WPX Cloud CDN makes it even easier as it automatically caches all static content on your websites, such as images, JavaScript files, and CSS.
Speed Optimization
WPX prides itself on its lightning-fast speed.
To ensure the faster possible service for their clients' WordPress sites, WPX Hosting has developed its own WPX Speed Optimization plugin included on all of its hosting plans.
The plugin works alongside the other software on your server to deliver super-fast loading times for your WordPress website.
Multi-User Access
Multi-user access is a feature that allows you to add other users to your account.
Our multi-user access features let you share your hosting account with other users and offer them different roles, to manage your sites, including developers, designers, or other team members.
Free Malware Removal
WPX includes a free malware removal service on all its plans. This means that they actively remove malware from all WPX-hosted sites.
Malware can be devastating for your site — not only could you lose all of the content you've worked so hard to put out there but it could also damage your reputation and reduce people's trust in your site.
It's important to keep on top of malware protection, so this feature is a huge bonus.
WPX Provides The Best Support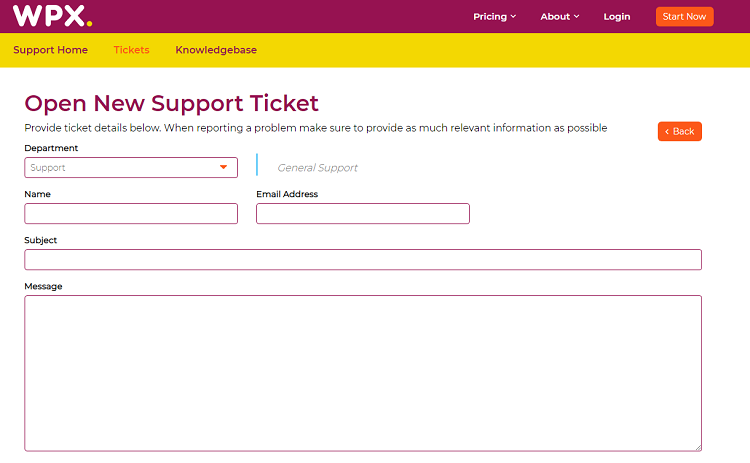 WPX WordPress Hosting prides itself on its lightning-fast support.
The support team is always ready to help you with any of your problems related to WordPress.
Not only do they provide an average support response in under 30 seconds, but they are available at any time of day and night, no matter which part of the world you're in.
What's more, WPX's support staff is a team of highly-skilled WordPress experts adept at fixing any WordPress-related problem quickly and efficiently without the need to escalate to another person or team.
WPX Pricing: How Much Does WPX Cost?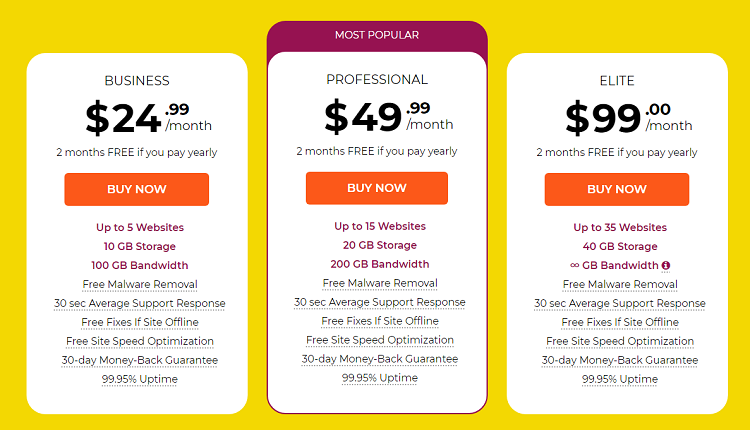 WPX currently offers three paid plans.
The plans differ in cost, the number of websites, and the amount of storage and bandwidth they offer.
Business Plan costs $24.99 per month if paid monthly and $20.83 per month if paid yearly. This plan includes 5 websites, 10GB of storage, and 100GB of bandwidth.
Professional Plan costs $49.99 per month if paid monthly and $41.58 per month if paid yearly. This plan includes 15 websites, 20GB of storage, and 200GB of bandwidth.
Elite Plan costs $99 per month if paid monthly and $83.25 per month if paid yearly. This plan includes 35 websites, 40GB of storage, and unlimited bandwidth.
Additionally, each plan includes the following features:
2 months free if paid yearly
Free malware removal
30 seconds average support response
"Fixed For You" guarantee to get your site up and running in case it goes down
Free site speed optimization
30-day money-back guarantee
99.95% uptime guarantee
Does WPX Hosting Offer a Discount Promo Code?
This very positive and honest review of WPX may tempt you to try their hosting service.
WPX doesn't offer any discount promo code, nor do they offer a free trial. This may make you feel hesitant about investing your money into a hosting service that you haven't tested.
However, investing in WPX Hosting is risk-free thanks to its 30-day money-back guarantee.
This allows you to test the platform, and if you're unhappy with the service and want to cancel your subscription, WPX will send you money back within the first 30 days after subscription, no questions asked.
WPX Hosting Pros and Cons
WPX has a large list of pros and a very short list of cons, which makes it an excellent, high-quality WordPress hosting provider that you can rely on.
Let's take a look at some of the main pros and cons of WPX Hosting.
Pros
Lightning-fast speed
Easy-to-use interface, which is very beginner-friendly
An extensive list of features is included in each plan for free
Free CDN to allow users to load their websites faster
The free migration service makes it easy to transfer your existing website from a different host to WPX
Excellent customer support, available 24/7/365 with an average support response of under 30 seconds
Transparent pricing without hidden fees or additional costs
Possibility to pay month-per-month basis without the need to commit for an entire year in advance
Global data centers in London, Sydney, and Chicago, which means that your customers will be able to access your site without issues from anywhere on the planet
30-day money-back guarantee in case WPX isn't the right choice for you
Cons
Hosting plans are more expensive than other hosting providers (the most basic plan – Business Plan – starts at $20.83 per month if paid yearly)
There is no option to host just one website. The most basic plan starts with 5 websites.
No cPanel. If you're used to managing your websites with cPanel, this can be a disadvantage of using WPX, as they use their own dashboard to manage sites.
WPX Hosting Alternatives & Competitors 2023
Let's compare WPX hosting to a few of the most prominent hosting providers on the market, such as Siteground, Kinsta, Bluehost, WP Engine, and Hostinger.
WPX Hosting vs. Siteground
Siteground is one of the most popular, reliable, and affordable hosting companies on the market.
With 24/7 support and a 99.99% uptime guarantee, it's easy to see why so many people love Siteground.
WPX Hosting is a newer service that has built a reputation for speed, security, and support.
So if you're looking for the fastest WordPress hosting, WPX deserves your consideration.
To compare, here are the main differences between these two hosting providers:
Siteground offers plans at more affordable prices. Their plans start at $3.99 per month, while WPX's plans start at $24.99 per month.
While WPX offers the option to pay month-per-month, with Siteground, you only have the option to pay in advance for at least a year.
Siteground's most basic plan offers more storage than WPX's most basic plan.
All WPX plans include many features for free that Siteground offers at an extra cost.
WPX vs. Kinsta
WPX vs. Kinsta is a battle of two absolute premium WordPress hosting providers.
While both will do an excellent job for your WordPress site, there are essential differences between them:
Kinsta is known for its impressive security measures, while WPX has a reputation for being the fastest WordPress hosting on the market with fast and reliable support. WPX's page loading speed is faster than Kinsta's.
WPX is geared towards small and medium-sized businesses, while Kinsta is an enterprise hosting, so their primary target audience is larger businesses and more experienced WordPress users.
Kinsta's most basic plan (Starter Plan) supports only 1 WordPress website, while WPX's most basic plan (Business Plan) supports up to 5 WordPress websites.
Kinsta's plans start from $30 per month, while WPX's plans start from $24.99, making WPX a more affordable option.
WPX vs. Bluehost
WPX offers premium managed WordPress hosting.
It is one of the fastest, most secure, and most reliable WordPress hosts in the world.
On the other hand, Bluehost is also one of the biggest names in the web hosting industry.
Here are the differences between these two hosting companies:
Apart from WordPress hosting, Bluehost also offers shared hosting, VPS hosting, and dedicated servers. In comparison, WPX offers only managed WordPress hosting.
Bluehost comes with a drag-and-drop website builder that WPX lacks.
Bluehost offers unlimited storage and unlimited website on almost every plan, while WPX's most extensive plan offers up to 35 websites and 40GB of storage.
Bluehost is extremely affordable, with its prices starting from as little as $2.95 per month. WPX's plans start at $24.99 per month.
WPX is a better choice for businesses with more extensive websites, while Bluehost can only deliver a quality service to very small websites.
WPX Hosting is a step up from Bluehost in terms of reliability, speed, and customer service.
It's also much more expensive.
However, it all comes down to how you want to run your website.
If you're a beginner who's just starting out with a WordPress blog and you have a very small website, Bluehost is an excellent choice for its affordability and features.
WPX vs. WP Engine
WPX Hosting and WP Engine are both managed WordPress hosting plans.
That means that instead of just giving you a server and letting you install WordPress as shared hosting does, they handle all the technical details for you and give your WordPress site some special perks (like caching) so that it runs faster and more securely than with a standard shared host.
However, there are some important differences between them:
WP Engine is geared towards developers, so it's not very beginner-friendly. WPX, in turn, has an easy-to-use interface and is geared toward beginners.
WPX has quick customer support, which is available at all times. In contrast, WP Engine's support is only available 24/7 via e-mails and tickets and may sometimes take a longer time to answer your queries.
WPX is more affordable compared to WP Engine. WP Engine's most basic plan starts at $25 per month if paid annually, while WPX's starts at $20.83 per month if paid annually.
WPX vs. Hostinger
WPX Hosting and Hostinger are two web hosting services that offer different plans for various budgets and web needs.
WPX is known for its high-class customer service, while Hostinger offers excellent security options for those looking to protect their website.
Here are the main differences between these two web hosting providers:
Both companies offer 24/7 technical support, but WPX's support response time is much faster than Hostinger's, at 30 seconds on average.
Hostinger is much more affordable than WPX, with its plans starting from as little as $1.95 per month if paid quadrennially.
WPX offers automatic daily backups for free, while Hostinger doesn't.
An Interesting Fact About WPX
Here's an interesting fact about WPX that will appeal to you if you're an animal lover: WPX loves dogs!
In fact, WPX loves dogs so much that in 2019, the company decided to create its own NGO, EveryDogMatters.eu, with the goal to eliminate the main animal welfare problems in Eastern Europe.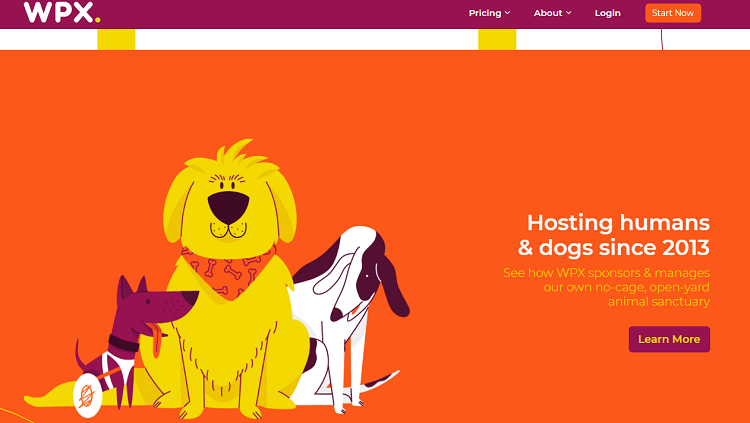 Terry Kyle, the founder of WPX, has been a dog lover all his life, and fighting for our furry friends is an issue close to his heart.
So he even took the whole dog-saving NGO thing one step further: with his company, WPX, Terry created a 27,000 m2 no-cage, an open-yard sanctuary for rescue dogs, where they can live happily, loved, and free.
So apart from their excellent service and support, this is yet another reason to give your money to WPX!
You might be interested to check those related posts as well:
FAQs
Who owns WPX?
Terry Kyle is the owner and founder of WPX Hosting.
Terry has extensive experience with WordPress hosting.
Due to many issues that he found with many WordPress hosting providers, he decided to launch his own hosting platform focused on speed, support, and security.
He's also the founder of an NGO dedicated to saving dogs, EveryDogMatters.eu.
Is WPX shared hosting?
WPX is a managed WordPress hosting.
This means that WPX manages all important things to help you set up and optimize your WordPress website, such as server uptime, cloud CDN uptime, the functionality of the WPX admin panel, platform optimization for high-speed, malware scanning and removal, as well as daily backups.
Is WPX hosting any good?
WPX Hosting has many positive reviews and is generally considered one of the best WordPress hosting providers.
In my opinion, it is the best on the market!
However, this doesn't mean that it's right for everyone, so make sure to read this review thoroughly to decide if it's right for you.
Is Traffic Planet the same as WPX?
Yes.
Traffic Planet is the previous brand name of WPX Hosting.
The owner, Terry Kyle, decided to change it to WPX in 2016.
Apart from the name, nothing else has changed.
How many sites can I host with WPX hosting?
WPX Hosting offers three main plans, which allow you to host up to 5, 15, or 35 websites, depending on the plan you choose.
Conclusion
WPX is one of the fastest web hosting providers I have ever tested, and their customer support is top-notch.
Without a doubt, WPX is the best choice of WordPress hosting provider for me and my website, and I am very satisfied with their service.
So, if you own a WordPress website and you're looking for a lightning-fast, easy-to-use hosting provider whose support team can assist you with any issue, WPX is undoubtedly the right choice for you.