SoundCloud is more than just a music streaming platform. They also empower independent artists to connect with music lovers around the world by giving them the opportunity to upload, share, and monetize their work.
SoundCloud has changed a lot since it started in 2007, and here are a couple of facts that show just how much they've impacted the music industry.
Key SoundCloud Stats and Facts for 2023
SoundCloud currently has 175 million monthly listeners. Although this is lower than their peak in 2014 (they had around 275 million active users), they are still the 10th most used music streaming platform in the US.
Seventy-six million users currently have a paid SoundCloud account.
86% of users listen to music on their phones, while 52% listen on their laptops.
Because SoundCloud allows independent artists to upload their work, there are currently over 265 million tracks on the platform. This is considerably higher compared to other music streaming platforms such as iTunes (75 million tracks) and Spotify (70 million tracks).
Before signing with a record label, many musicians started their careers on SoundCloud, including Billie Eilish, Khalid, Post Malone, Chance the Rapper, and Megan Thee Stallion.
SoundCloud donated $15 million to help musicians that were impacted by the COVID-19 pandemic.
SoundCloud Usage Statistics
Most traffic to the site or mobile app comes from the US (27%), followed by the UK (6%), Germany (5%), and France (3%).
69% of Soundcloud's American user base is between the ages of 18 and 29. People above the age of 45 only make up 10% of listeners.
The average household size of most SoundCloud followers is three people. 17% of listeners have five or more people living in their house.
Men are more likely to listen to SoundCloud or to have a SoundCloud account. Only 33% of users are female.
The area where most listeners live is almost split between town and rural locations (48%) and urban cities (52%).
The most played genres of music on the SoundCloud app in the US are hip-hop and R&B (60%), comedy (54%), and pop (45%).
The least played genres include religious music (16.2%), world music (16%), and documentary-style content (19%).
Out of the 30 million artists on the streaming platform, only 48% are listened to by users each month. Unfortunately, that means the majority of musicians are unplayed.
60% of users find SoundCloud via direct browser visits. Other traffic sources include search (17.8%), social media (9.5%), and referrals (2.5%).
The average SoundCloud user spends only 3 minutes and 48 seconds a day listening to music. However, 30% of users are frequent listeners, logging over 11 hours a week on the site or app.
Financial SoundCloud Statistics
SoundCloud's most recent valuation in 2021 was over $900 million.
However, SoundCloud wasn't always a financial success. Their first profitable quarter since the company was founded was in Q4 of 2019 after they made over $200 million.
SoundCloud was the 4th highest revenue-earning app in the iTunes store in 2020 after Pandora, YouTube Music, and Amazon Music.
In 2017, SoundCloud almost went bankrupt and had to lay off 40% of the company and close down two of their main offices – San Francisco and London.
SoundCloud's revenue grew by 80% from 2016 to 2017, the most significant financial increase the company has seen. During this time, SoundCloud was valued at $1 billion.
To save SoundCloud from bankruptcy in 2017, The Raine Group and Temasek invested a total of $169.5 million into the streaming service.
Sirius XM invested $75 million in 2020, bringing the company's total funding amount to $5.5 million.
SoundCloud Statistics About Growth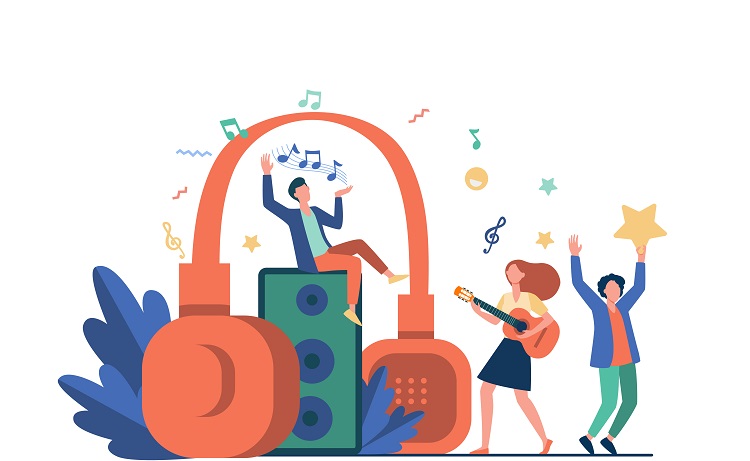 Every minute, 12 hours of new music and audio are uploaded to SoundCloud's platform.
For listeners, SoundCloud currently offers two different membership packages – SoundCloud Go and SoundCloud Go+.
Creators must also create an account to upload their music. They can choose between three pricing plans – SoundCloud Free, SoundCloud Pro, and SoundCloud Pro Unlimited. Artists can also pay for the SoundCloud Premier plan for promotion and monetization.
SoundCloud has made two acquisitions since 2007. They bought music management startup Instinctiv in 2012 and a distribution channel company called Repost Network in 2019.
Around 80,000 artists have used the Repost Network to distribute their music across the web.
You might be interested to check those related posts as well:
FAQ
How much does SoundCloud pay artists?
It is reported that artists can make a net revenue share of 55% for the songs they share with the streaming service. But, in order for musicians to get paid, they will need to sign up for the SoundCloud Premier membership plan, which requires that they have at least 500 plays per month. SoundCloud also pays artists fan-powered royalties, which are calculated by the length of time a fan spends listening to a song.
Is it free to put music on SoundCloud?
Users with a free account can upload up to three hours of music. Pro users can upload up to six hours, and Pro Unlimited users have no restrictions when it comes to the length or amount of uploads. However, creators must sign up for either the Pro or Pro Unlimited accounts to make money from their uploads.
What's the difference between the Go and Go+ listener accounts?
It's completely free for users to listen to music on SoundCloud, although it's also possible to upgrade to a paid membership for extra benefits. The SoundCloud Go plan offers offline listening and an ad-free music experience. SoundCloud Go+ also provides higher audio quality and exclusive access to SoundCloud's entire music catalog in addition to the features from the Go account.
Conclusion
SoundCloud is an excellent platform for both music lovers and music creators. Although it may not be as popular as other streaming platforms in the world, its artist-first mentality and monetization options give it a unique edge over many other competitors.