A lot of people associate Shopify with eCommerce these days. Let's dig deeper and discover all the details about the Canadian eCommerce company with the help of Shopify stats.
Key Shopify Stats, Facts, and Trends in 2023
There are 1.7 million businesses around the world that use Shopify.
Shopify is the 3rd leading eCommerce software platform in the US, with a 10.9% market share.
Shopify took 24% of the global eCommerce market in 2020.
On average, Shopify merchants grew their sales by 50% in 2019. In contrast, the global eCommerce market grew by only 21%.
In 2019, Shopify had the 5th highest valuation in the US.
Shopify Plus is used by 6% of online stores to host their eCommerce website and generate online sales.
Shopify is the 10th leading company by valuation in Canada.
The first Shopify store on the internet was the company's eCommerce platform.
44 million people made purchases using a Shopify online store last year.
Only half of the eCommerce stores that use Shopify run online businesses actively.
November is the most successful month for Shopify sellers, while December is the least.
T-shirts are the most sold product by stores that run on the Shopify platform worldwide.
The most successful Shopify sites are owned by the Budweiser, Tesla, and Red Bull companies.
Global Shopify Statistics
The market share of Shopify is 3.9% in Germany.
15% of online stores in Denmark use the Shopify platform.
14.4% of online merchants in Australia choose Shopify, but WooCommerce checkout is the leading platform in the country.
4% of online businesses use Shopify in the UAE.
The share of e-commerce stores that use Shopify in Sweden is 5%.
On average, one in 9 online eCommerce platforms in Belgium is Shopify store.
8% of Internet stores in the Netherlands, Norway, and Luxemburg use Shopify.
The market share of the Shopify E-commerce platform in Spain is 2.7%
The share of Shopify merchants in the UK market is 13%, according to recent Shopify statistics.
Shopify has 16 offices around the world.
The only physical Shopify store is located in Los Angeles.
Shopify merchants managed to sell goods to 300 million customers globally last year.
62 million online shoppers become loyal to particular Shopify stores every year, on average.
One buyer makes 3.8 purchases from the same online store powered by Shopify, on average.
The number of entrepreneurs who launched online businesses in the UK with the help of Shopify increased by 106% last year.
Shopify Customers Demographics Statistics
1% of millennials in the US hold Shopify stocks, according to Shopify statistics.
Entrepreneurs from 175 countries can access solutions offered by the company.
The Shopify platform supports 20 languages.
According to Shopify stats, 52% of customers are women.
Roughly a third of users who make purchases on Shopify stores are millennials.
Shopify customers from Germany are the fastest purchase makers. On average, a consumer from Germany only needs 17.5 minutes to complete a purchase.
Clients from Japan tend to spend the most: the average shop pay is $141.72 per transaction.
The USA is the #1 country that uses Shopify solutions to run eCommerce businesses.
Shopify Usage, Traffic, and Sales Stats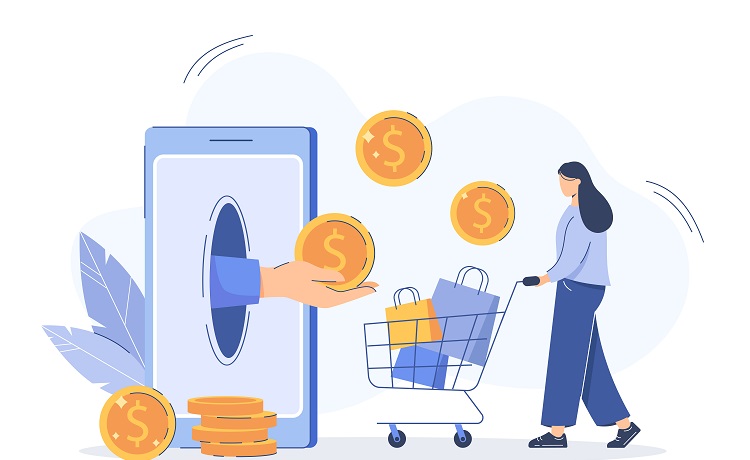 Over 7,000 businesses all around the world use Shopify Plus to get extra benefits.
One in 5 Shopify online shops sells digital products online.
Facebook refers a third of social media traffic to Shopify stores.
Facebook drives 85% of orders that come from social media traffic.
On average, 56.5 million unique visitors reach Shopify sites per month.
On average, each user spends 3 minutes exploring the site, and an average of 2.9 pages are visited per session.
Shopify statistics say that 35.7% of traffic comes from the US.
The United Kingdom, Canada, and Australia are the sources of 15% of the site's traffic.
40% of users reach the site directly.
27.5% of traffic comes from referrals.
26% of Internet users reach the Shopify site from the search. 91% of traffic is organic, while 9% is paid.
According to Shopify SEO statistics, the bounce rate of the Shopify website is 56.19%.
81% of Shopify traffic comes from mobile devices.
2.7% of sites that attract more than 1 million leads monthly are built on Shopify.
According to Google Trends, Shopify is the most searched eCommerce solution by users on the Internet.
Shopify holds 71% of store domains in the US.
Shopify App Store Trends and Statistics
There are more than 6,000 applications in the Shopify app store.
The company managed to make more than $100 million by selling applications.
The average price of a Shopify app is $19.17, according to Shopify statistics.
An average Shopify business uses 6 apps to run an online store effectively.
33,000 apps for Shopify stores are downloaded from the app store every month.
On average, the app store helped Shopify eCommerce platform users to install more than 12 million apps.
The number of all applications in the app store has increased 7.5 times since 2015.
Shopify Merchant Statistics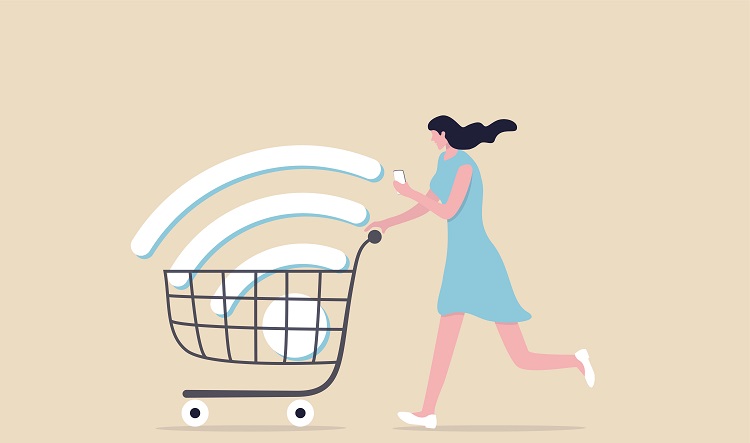 More than 100,000 entrepreneurs use Shopify POS to unify their online and offline businesses.
The transaction fee that merchants who use Shopify POS have to pay is 2.4%.
On average, the conversion rate in a Shopify store is 1.6%.
69% of Shopify payments are made using mobile devices.
In 2020, Shopify processed more than $5 billion in transactions.
27% of businesses that use the Shopify eCommerce platform use the dropshipping model to make sales.
30% of Shopify merchants say that they have a tough time managing successful marketing campaigns.
22% of entrepreneurs who use Shopify report that they experience many problems with building a brand online due to tough competition.
Shopify Plus members grow their businesses by 126% each year, on average.
30,000 Shopify merchants have installed Facebook Messenger on their sites.
12.3% of Shopify stores sell at least one product using the dropshipping model.
According to Shopify statistics, 7.1% of all the products that consumers can purchase online from stores launched on the platform are sourced with the help of drop shipping.
BFCM Shopify Statistics
On Black Friday in 2020, the sales of Shopify stores around the globe reached $1.5 million per minute.
An average Shopify transaction on Black Friday or Cyber Monday is $83 USD in the US and $96 USD in Canada.
Shopify apps were installed 25.8 million times from the time the store was launched.
80% of Shopify users utilize a third-party app.
The peak number of sales per minute topped 10,978 items on Black Friday in 2020.
Globally, Shopify users managed to make $870,000 per minute on Black Friday in 2020.
The items that were purchased on Black Friday 2018 with the Shopify shipping feature made 30,000 miles to reach their customers.
On average, 25.5 million customers get involved in BFCM (Black Friday and Cyber Monday) sales.
According to Shopify statistics, a fifth of the US store orders come from overseas during Black Friday and Cyber Monday.
In 2019, entrepreneurs who have Shopify stores managed to collectively make more than $2.9 billion in sales during Black Friday and Cyber Monday.
Shopify Revenue Statistics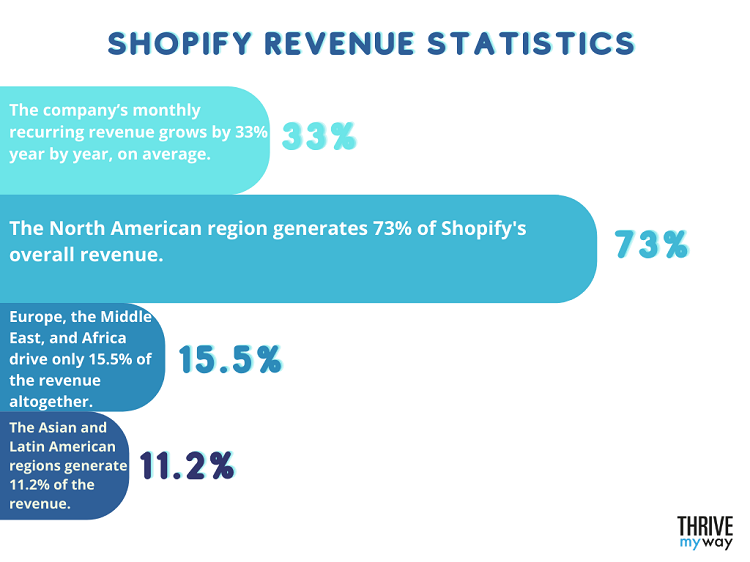 Shopify's revenue grew more than 7 times from 2015 to 2019. Its annual revenue has increased from $205 million to $1.5 billion.
Shopify's revenue doubled in one year. According to Shopify statistics, it has increased from $1.5 billion in 2019 to $2.9 billion in 2020.
In 2016, subscription and merchant solutions formed equal shares of the company's revenue.
In 2020, merchant solutions generated roughly two-thirds of total revenue. In contrast, subscription solutions generated only ⅓ of the revenue.
The merchant solutions revenue reached $2 billion last year.
Half of Shopify's monthly recurring revenue comes from Shopify Plus subscribers.
Shopify managed to make $269.40 million in monthly recurring revenue in 2020.
The company's monthly recurring revenue grows by 33% year by year, on average.
The average revenue per customer for entrepreneurs who use a Shopify online store is $72.
The North American region generates 73% of Shopify's overall revenue.
Europe, the Middle East, and Africa drive only 15.5% of the revenue altogether.
The Asian and Latin American regions generate 11.2% of the revenue.
Shopify Growth Statistics
According to recent analytics, one in five Shopify experts is sure that the stock prices of Shopify will grow by 2025.
The R and D spending of the Shopify platform has increased 10 times from 2015 to 2019.
According to Shopify statistics, businesses that use their solutions to unify in-store and online sales increase their revenues by an average of 30% year by year.
Shopify managed to raise $131 Million in IPO (initial public offering) in 2015. The price of shares has increased by 2,750% in five years.
Shopify overtook eBay in its net worth and sales volume in 2019.
Other Interesting Shopify Statistics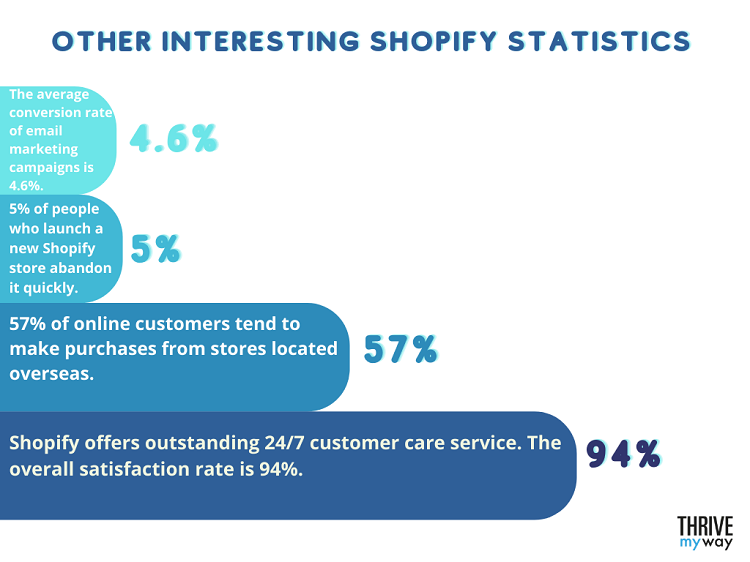 Half of the Shopify merchants are entrepreneurs who started their businesses for the first time.
More than 7,000 employees work directly for Shopify. Moreover, the company plans to hire 2,000 new employees in the upcoming year.
The average conversion rate of email marketing campaigns launched by Shopify merchants is 4.6%.
More than 100 themes are available to customize online stores. Users can select a free or paid Shopify theme with different layouts and designs.
According to Shopify stats, 3D models of products can increase the conversion rate by about twice.
Between 2% and 5% of people who launch a new Shopify store abandon it quickly.
On average, Shopify affiliates make $58 per user signed up for the platform.
57% of online customers tend to make purchases from stores located overseas.
According to Shopify statistics, the company paid $850,000 to ethical hackers from 2018 to 2021 who helped avoid possible data breaches.
Every minute, a new Shopify admin makes their first sale online.
Businesses that run on the Shopify store platform support more than 2 million full-time jobs.
Shopify offers outstanding 24/7 customer care service. The overall satisfaction rate is 94%.
The average response time from Shopify's customer care team is 30 seconds in live chat, 2 minutes by phone call, and 10 hours via email.
You might be interested to check those related posts as well:
FAQs
What is a good conversion rate for Shopify?
According to stats, a successful Shopify store has a 4.9% conversion rate. Only 10% of the best stores can achieve this result. The average conversion rate of the top 20% of Shopify sites is 3.4%. However, the average rate of all eStores that run on Shopify is 1.5%.
What is a bad conversion rate for Shopify?
Indeed, the 0% conversion rate that results in no sales is the worst one. The worst-performing 20% of Shopify websites have a 0.4% conversion rate. However, any result below 1.5%, the average conversion rate, is bad for a Shopify online store.
How many users does Shopify have?
According to Shopify statistics, there are more than 1,000,000 Shopify users globally. Unfortunately, roughly half of them don't run their stores actively. In addition, up to 5% of people abandon using the eCommerce platform quickly, so their stores do not sell anything, even though they may be reachable online.
How many Shopify stores are there in 2021?
The exact information about stores run on Shopify is not public. Nevertheless, according to the statistics, more than 3,600,000 eCommerce websites online have been launched on Shopify. However, only a small share of them are actively used. The number of sellers who use Shopify POS for their offline physical businesses is around 100,000.
How many Shopify stores are successful?
Unfortunately, only 5% of shops launched on Shopify reach success and make a large number of sales online. The main reasons 95% of stores fail are the tough competition, lack of budget, and poor online business management knowledge of entrepreneurs. Also, experts say that an unwisely chosen dropshipping niche also leads to failure.
Conclusion
According to Shopify statistics, this eCommerce platform consistently grows at a high rate. The pandemic that forced many businesses to shift online helped the company gain revenue significantly in the last year.
Shopify isn't the leading eCommerce platform. However, it showcases steady growth, which is more important.
Sources: