Radio and podcasts have been a popular form of receiving information and discussing ideas as long as radio has been in existence.
If you have thoughts you want to share with the world, interesting topics to cover, or just want a fun hobby to do after work, podcasting can be a rewarding outlet.
In this guide, we're going to review the best podcast platforms on the market today so you can get your voice out to the world in 2023.
What are Podcast Platforms?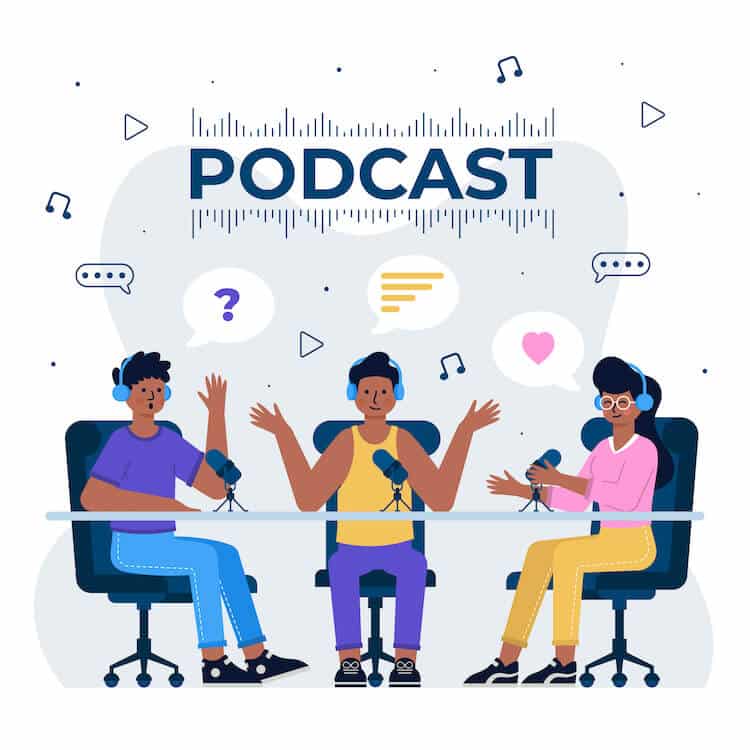 Podcast platforms are hosting platforms that creators can use to store and distribute their audio across various directories like Spotify, Apple Podcasts, and Google Podcasts.
They're one of the best ways to reach a target audience and market what your podcast has to offer listeners.
Top 7 Recommended Podcast Hosting Platforms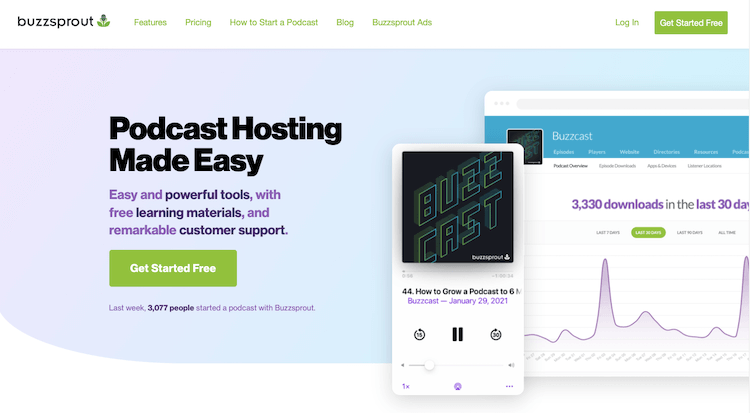 Buzzsprout is a popular podcast hosting platform that supplies podcasters with everything they need to jumpstart their hobby.
This hosting platform offers insightful reporting and analytics designed to help you monitor your podcast's growth, as well as podcast directories to get your voice on various platforms including Spotify.
You can easily create and publish podcasts and monetize them with Buzzsprout ads. As your audience grows, you can even have a subscription for listeners.
Benefits:
Free materials to learn how to improve your podcast and grow your audience.

Multiple tools to market your podcast and monitor its performance.

Create and publish podcasts within the platform.

Responsive and helpful customer support.

Trusted by 100,000+ podcasters and growing.
Pricing:
Free – Upload 2 hours/month (no overages).

$12/month – Upload 3 hours/month (+ additional content for $4/hour).

$18/month – Upload 6 hours/month (+ additional content for $3/hour).

$24/month – Upload 12 hours/month (+ additional content for $2/hour).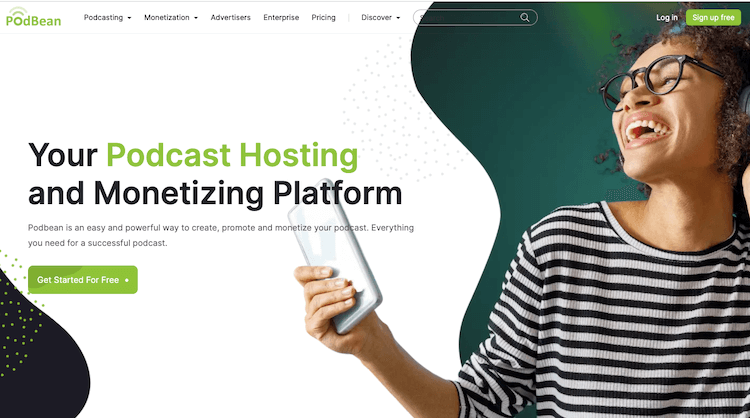 With more than 690,000 active podcasters currently on Podbean, it's no surprise that this podcast platform made it on our list.
Get all the tools and resources you need to achieve your goals, including creating and uploading podcasts directly from the app or your computer, promoting your podcast on integrated social accounts and listening apps, and monitizing your efforts with ads and patron programs.
Benefits:
Free website with every account to market your podcast.

Podcast analytics to monitor your performance.

Intuitive app and online interface.

Live stream capabilities.
Pricing:
Basic –

Free.

Unlimited Audio –

$9/month (billed annually) OR $14/month.

Unlimited Plus –

$29/month (billed annually) OR $39/month.

Network –

$79/month (billed annually) OR $99/month.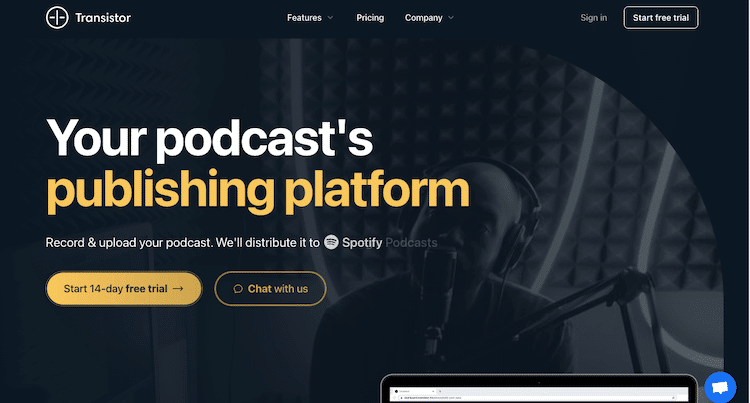 Transistor is a podcast platform that lets you record and upload your podcasts directly to apps like Spotify, Overcast, Google Podcasts, Pocket Casts, and more.
It has unlimited podcast hosting so you can have all of your podcasts on one account without any additional cost to you.
Transistor also automatically builds a website for your podcast to market to your target audience.
Benefits:
Unlimited podcast hosting.

Embed podcast player on your site.

Free website for your podcast.

Detailed stats.
Pricing:
Starter –

$19/month.

Professional –

$49/month.

Business –

$99/month.
Castos is one of the best podcast platforms to grow your audience and monetize your podcast. You can have an unlimited number of podcasts and episodes on your account regardless of the plan you choose.
With Castos, you get access to advertising tools to grow your revenue, as well as insightful podcast analytics across all of the platforms you use.
Benefits:
SEO and advertising.

Customizable website for your podcast.

Manage all of your podcasts in one platform.
Pricing:
Starter –

$19/month.

Growth –

$49/month.

Pro –

$99/month.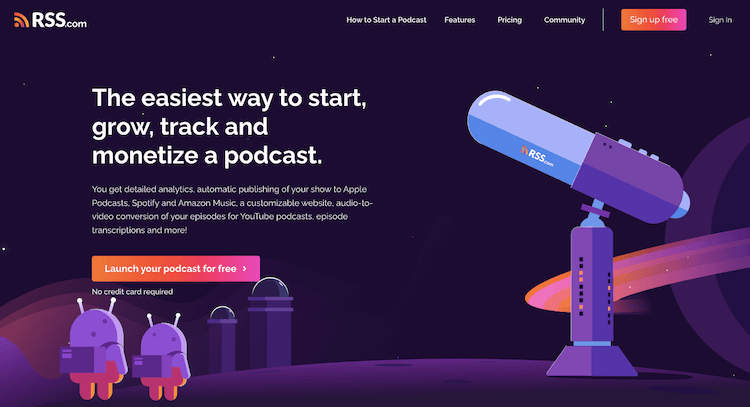 RSS.com is one of our favorite platforms for podcasts with its customizable, easy-to-use web dashboard, social media integrations, and episode embeds.
With RSS, you can see analytics cross-platform to measure your podcast's success and even make money with your podcast through advertising, a donation button, and sponsors.
What we really like about RSS is that you can add soundbites and chapters to your episodes for easier listening and greater accessibility to a broader audience.
Benefits:
Automatic transcripts.

Publish podcasts to YouTube.

Multiple ways to monetize your podcast.

Schedule episodes.

Embedded podcast episode player.

Integrated social media sharing.
Pricing:
Student & NGO –

Starts at $4.99/month.

All-in-One Podcasting –

$11.99/month (paid annually) OR $14.99/month.

Podcast Networks –

$14.99/month (paid annually) OR $19.99/month.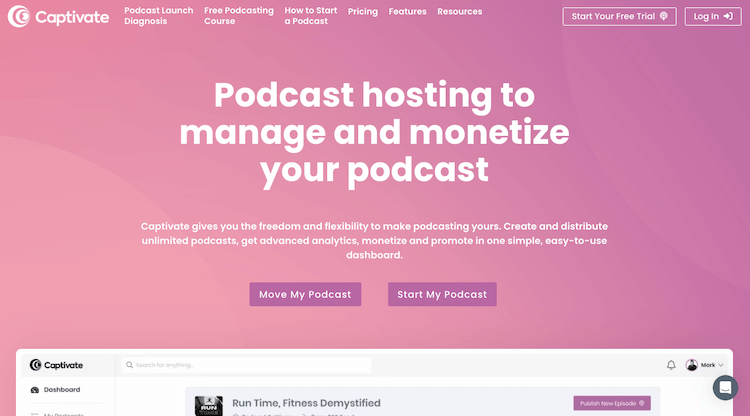 Captivate prides itself on making podcasting easy. With a simple dashboard for creators, Captivate lets podcasters upload their episodes in minutes.
This platform also offers a built-in podcast marketing suite where you can build a website for your podcast and share it with the world.
Benefits:
Resources to help you understand and grow your podcast.

Market and monetize your podcast.

Podcast websites.

Easy-to-understand analytics.

Hosting on the most popular podcasting platforms.
Pricing:
Personal –

$17/month (paid annually) OR $19/month.

Professional –

$44/month (paid annually) OR $49/month.

Business –

$90/month (paid annually) OR $99/month.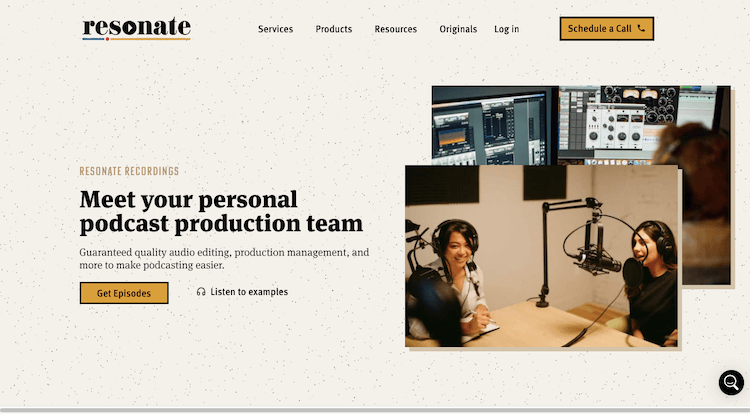 Resonate is a podcast platform designed to give podcasters, "…Quality audio editing, production management, and more to make podcasting easier."
When you sign up for Resonate, you get access to advanced podcast production, audio editing, launch support, video production, marketing, and more all on one comprehensive platform.
Benefits:
Detailed analytics.

Professional podcast production.

Embed players.

All-in-one solution for a professional podcasting experience.
Pricing:
Other Notable Podcast Hosting Platforms
Spreaker is brought to you by iHeartRadio and has everything you need to distribute, monetize, record, and measure the success of your podcast.
Pricing:
Free Speech –

Free.

Broadcaster –

$20/month.

Anchorman –

$50/month.

Publisher –

$250/month.
Megaphone was designed to "maximize your podcasting potential" through publishing on the most popular podcasting apps, ad insertion, and analytics to promote growth for your podcast.
Pricing:
We like Fireside, not just because its name reminds us of telling ghost stories while camping, but also because of its features.
Features like detailed stats and analytics, a comprehensive dashboard with everything you need to manage and grow your podcast, and beautiful, modern websites and blogs included with every account are among the best features Fireside has to offer.
Pricing:
Starter –

$9/month.

Standard –

$19/month.

Professional –

$49/month.
Free Podcast Hosting Platforms
With the Buzzsprout Free Plan you can upload up to 2 hours of content per month. Each episode is hosted for up to 90 days.
There's limited storage and no subscriptions, Magic Mastering, or Cohost AI with the free option.
Spreaker (Free Speech Plan)
With Spreaker's Free Speech Plan you can upload an unlimited number of episodes, automatically upload your podcasts to iHeartRadio, Spotify, and Apple Podcasts, and broadcast live to your audience.
The drawback to this free plan is that it only hosts 1 podcast and offers only 6 months worth of statistics.
Get unlimited storage, downloads, and podcast uploads with the RedCircle free Core Plan.
You can also distribute your podcast to all of the most popular podcasting platforms, get stats for your episodes, embed episode players, and get a podcast webpage.
Additional Podcast Platforms to Explore
Features:
Content upload and publishing.

Social media publishing.

Unlimited number of uploads and podcast episodes.

Download and performance analytics.

Built-in editor.

App integrations.
Features:
Unlimited downloads and uploads, no ads.

Customizable podcast player.

Podcast distribution.

Ratings and reviews.

Free website hosting.

One account for multiple podcasts.
Features:
Create and publish podcast to every podcast app, including Spotify and Apple Podcasts.

Monetization through ads, sponsors, and listeners.

Social media marketing and promotion.

Insights into podcast performance.

Virtual workshops, groups, and help tools.
Features:
Low flat monthly rate.

Get listed in popular podcast apps directly from Pinecast.

Measure growth with analytics.

SEO-optimized tools for growing your audience and targeting specific listeners.

Paid subscribers and weekly payouts.
Features:
Record, publish, and share podcasts.

Submit podcasts to apps like Spotify, Google Podcasts, Apple Podcasts, and more.

Daily stats and tracking of podcast performance.

Recording and publishing from intuitive mobile app.

Monetization through Patreon and Podcorn.
Features:
Publish podcasts on all podcast platforms and sites.

Reports and analytics for podcast insights.

Audio enhancement capabilities.

Embed player.
FAQs
What is Podcast Hosting?
Podcast hosting is a platform that lets podcasters get their voices heard and delivered to an audience. These hosting platforms allow you to store your audio files for download and distribution.
How to Choose a Podcast Host?
You'll want to choose a podcast host that meets your needs as a creator. Consider things like storage capabilities, integrations with other sites and platforms, the audience that uses the hosting platform, and monetization for podcasters.
Where Can I Post A Podcast For Free?
You can post a podcast for free on platforms like Buzzsprout, Spreaker, and RedCircle.
Conclusion
With these top podcast platforms, you can get your voice out there, build an audience, and potentially create a new source of income doing something you enjoy.
Out of all of the podcast hosting platforms out there, our favorites fall down to Buzzsprout, Podbean, and Transistor.