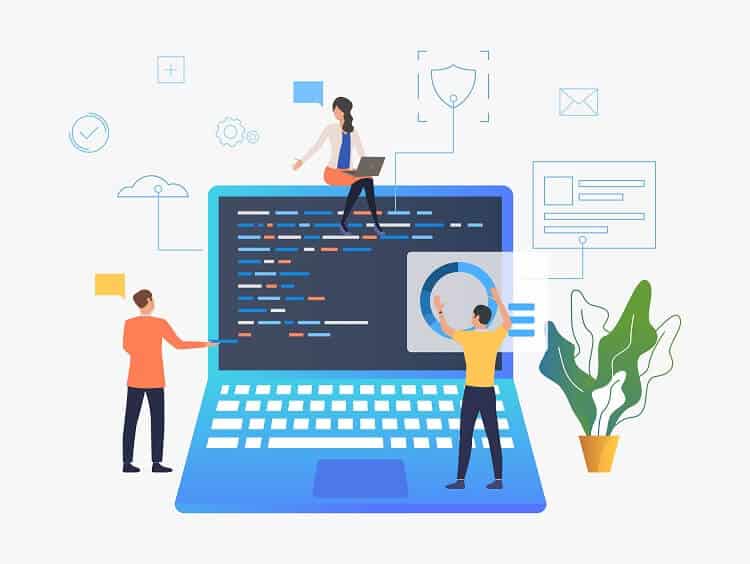 Building a software product is now easier than ever. Thanks to a large number of no-code solutions and a variety of platforms to build an app, anyone can make their new idea come to life quickly. Another major factor is software development outsourcing.
By outsourcing the development team outside of your country (or even continent), businesses can save costs and hire amazing developers at attractive prices. They can also get their products shipped much more quickly and efficiently.
If you're wondering how to get started, here is everything you should know about outsourcing software development.
What is software development outsourcing?
Software development outsourcing is an arrangement when a business hires an external company, agency or a freelancer to do software development for them instead of doing development in house.
It entails giving full control of a project (full product or a feature) to someone else and having them hand in the finished work in turnkey fashion.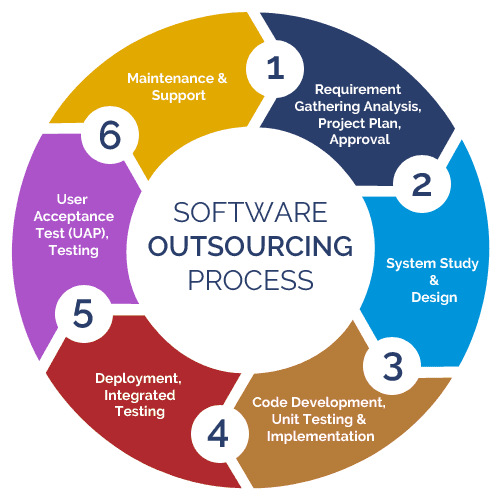 Software development outsourcing was popular in recent decades, but with the rise of remote work after the coronavirus pandemic, many businesses are going this route to save time and money and ship products to their audience faster.
The different types of software development outsourcing
Businesses in the Western world tend to call everything that is outside of their country outsourced. However, there are multiple types of outsourcing.
Onshore outsourcing is when you hire within the same territory. Think of US businesses hiring employees from another end of the United States. This could be for practical reasons such as finding the best talent or saving some extra cash by hiring from a cheaper location – but staying within the country.
Nearshore outsourcing is when you hire from a neighboring country. For example, if you're in the United States and hire from Canada.
Offshore outsourcing is when you hire from completely different countries, usually to save on costs significantly. Think of hiring from Vietnam when your business is located in the United States.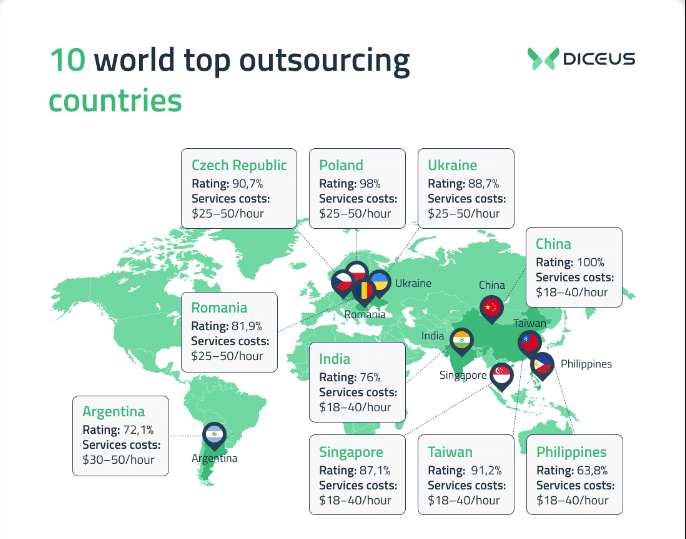 Which one of these is the best?
It really depends on your needs, budget and deadlines.
The benefits of software development outsourcing
The reason why there are so many outsourcing companies around the world is simple – there are many benefits to taking development outside of your place of residence. Here are some of the main perks to consider.
Lower costs
The most obvious advantage of hiring an outsourced workforce is the cost savings. The average salary of a developer is around $120k per year in the United States. And that is just the net salary, without health insurance, taxes, pension plans, bonuses, and more.
When hiring outsourced labor from less developed countries in the world, you can cut down that number to half or even less, depending on where you go and what type of developers you hire. And no matter the programming language or the seniority, outsourced teams are always cheaper.
For example, when outsourcing work on an embedded analytics dashboard, you can save immense amounts of money by going offshore. Or you can save even more by purchasing an off-the-shelf product such as Cumul.io.
Dipping into a larger talent pool
When hiring locally or within your country, you can only access the people who live in the neighboring area. If you need an expert in a specific technology with relevant experience, you might not find the person you're looking for easily.
When tapping into different countries and continents, you can easily find the exact kind of person you need to fill a role. Since you're not limited by geography, getting a professional in the field who lives overseas is no challenge.
The ability to ship a product or features more quickly
Hiring takes time – the average time to fill a role is 42 days. The more senior the role, the longer it takes to find someone amazing.
With outsourcing, you can get a team of experts who specialize in a specific technology and ship a product or a feature much more quickly compared to hiring an in-house expert. And since they have previous experience, there is practically no onboarding period either.
You can scale up or down
When hiring outsourced developers (and more specifically, an agency), you can just as quickly hire 10 developers as you hire one. Professional agencies and development teams have talent at hand that is ready to jump in if need be.
On the other hand, if you want to hire in-house, local talent, finding a team of developers could take months.
More importantly, you can scale down easily if you don't need a dedicated team at some point – just decrease the scope. If you had an in-house team, you would be forced to let them go.
Less micromanagement
Hire experts and let them go at it. Instead of checking in with your developers every waking hour of the day, you can stay in touch with a project manager who handles outsourced software developers.
You can maintain the same level of control but without the constant micromanagement that you would have with an in-house team. Of course, this can be a drawback for some businesses.
What to look for when hiring a software development outsourcing agency/freelancer
If you've never outsourced your work to someone else, it can feel like a scary step. This is why we've prepared a list of steps you can go through before giving someone access to your code and product.
Get recommendations from your personal network
In this day and age, anyone can fabricate testimonials and reviews. Before digging into online reviews, ask your community about agencies that they trusted with outsourcing before. This way, you will not only get feedback about the finished product, but also the project management, communication and other important details.
Ask for specific projects from their portfolio that are similar to yours
You want to hire a group of people that have already done it before, and not generalists that can "build anything". Ask for previous projects that they have completed that are similar to yours in terms of requirements and target audience.
Look at customer reviews
We don't mean the reviews from companies that hired the agency. Take a look at the reviews of a product that the outsourced agency has built. That way, you can get first-hand feedback that is unfiltered and get to the bottom of how the agency really performs.
Check the security protocols and agreements
One of the worst possible outcomes of working with a software agency is them stealing your code and potentially even locking you out of your own product. Before signing anything and beginning work, make sure that they have strict security protocols in place, that protect you and your intellectual property should something go wrong.
Check for culture fit
When hiring outsourced developers, you're going to hire from different locations. Sometimes, this is a completely different continent. And when that happens, there can be a culture mismatch.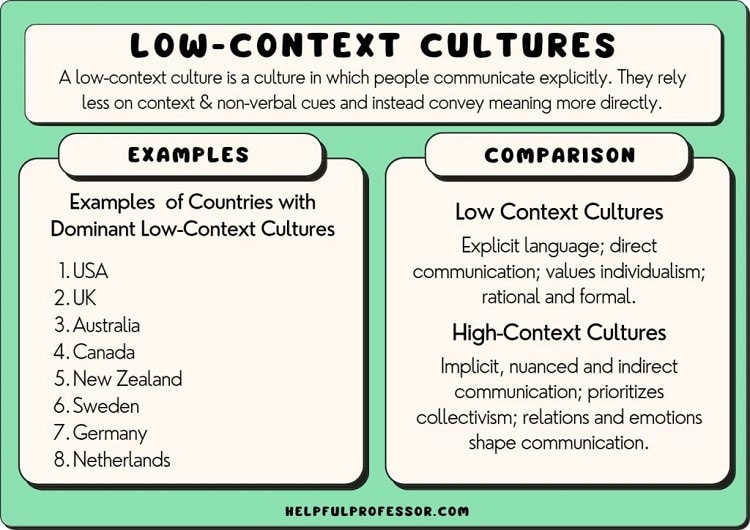 For example, if you're in the USA and hiring from the Philippines, you might find that you and the agency representatives have entirely different ways of communication and collaboration. Investigate the culture of the country where you're outsourcing your work and make sure that you are aligned. Speaking of which…
Make sure you understand each other
If someone can write amazing code and ship great products, that does not necessarily mean that they speak great English too. And while this is not an obstacle for delivering good work, it's a major hurdle for communication.
If the outsourced agency cannot understand what your requirements are, this can lead to missed deadlines, broken features and dissatisfied product users.
Wrapping up
Outsourcing software development could be one of the smartest decisions you make for your business, in terms of the costs savings and the time it takes to deliver a finished product. While it has its pitfalls, when done right, it can result in a better bottom line and happier customers who use your product.
Follow our tips closely and you too can hire an agency or a freelancer who can delight both you and your customers.