Dell Technologies is a corporation within the IT industry that offers hardware, software, and service solutions. Dell includes Dell EMC, Alienware, Secureworks, and Vurtustream.
They have been in operation for nearly 40 years and are a leading name in computers and IT.
General Dell Technologies Stats and Facts 2023
Dell was founded in 1984
Its headquarters are in Round Rock, Texas
Dell operates in 180 countries
They are #31 on the Fortune 500 list
Of their 20+ manufacturing locations, Dell owns 9 of them
They have more than 740 global distribution and logistics centers
They have more than 2,400 global service centers
Dell Technologies operates in roughly 180 countries
They shipped out more than 59 million computers in 2021
More than 170,000 orders are shipped per day
2 Dell PCs are sold every second
Dell Technologies has used more than 27 million pounds of recycled and renewable materials in their new products
Dell Technologies Market Share Statistics 2023
Dell was public until 2013
In 2013, Dell's market share fell to 10.4 percent of PCs worldwide
Dell's Founder and CEO, Michael Dell, bought Dell for $24.4 billion and made it private
Dell Technologies became public again in 2016 after the merger with EMC Corporation, valued at $67 billion
Dell Technologies stock prices are roughly 48.59 per share currently
2.98% of shares are held by insiders
81.66% of shares are held by institutions
Dell has a 25% share of the External Enterprise Storage market, holding the #1 spot
They have maintained the #1 spot in the Storage Software market with a 9.8% share
Dell is #1 in the Hyperconverged and Converged Systems markets with a 31.8% and 42.1% share, respectively
Dell has a 51% share of the Purpose-Built Backup Appliance market, holding the #1 spot
They are leading the Server Units and Server Revenue markets with 15.6% and 17.4% of shares, respectively
Dell is #1 in the Client Business market by revenue
Dell has a 41.8% share of the PC Workstations market, maintaining the #1 spot
They are leading in the Desktop and PC Monitors market with 19.8% and 22.1% shares, respectively
Dell Technologies Usage Statistics 2023
Dell sells an average of 10 million computer units per quarter
Dell is the #3 PC vendor in the world, after Lenovo and HP
Of the 72 million units sold in 2022, Dell has sold 13.3 million
That means Dell has sold 18.4% of all computer units in 2022
Dell Technologies Employees and Customers Stats 2023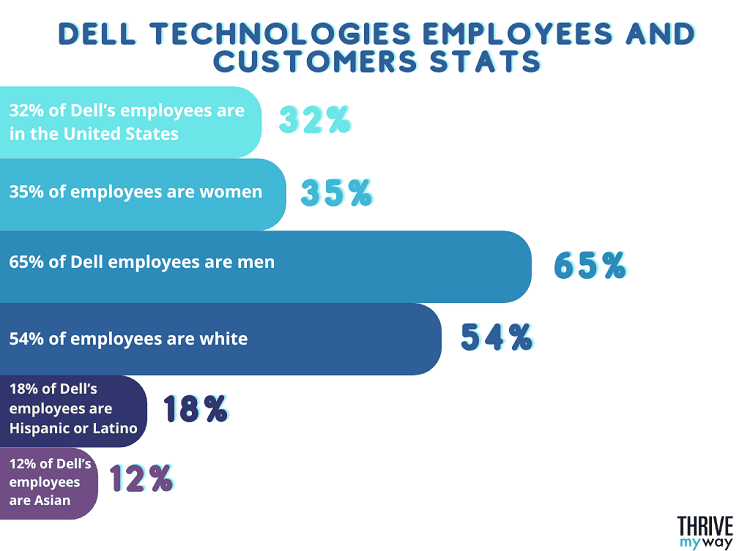 Dell has more than 130,000 employees worldwide
They have more than 35,000 full-time services and support team members
Dell has more than 32,000 full-time go-to-market teams, members
32% of Dell's employees are in the United States
35% of employees are women
65% of Dell employees are men
54% of employees are white
18% of Dell's employees are Hispanic or Latino
12% of Dell's employees are Asian
Dell employees are most likely to be Democrats
Dell employees will stay with Dell for an average of 5 years
The average Dell employee makes $98,699 a year
Dell is used by more than 250 companies
Dell Technologies Careers are rated #110 for Best Employers for New Grads by Forbes
Dell Technologies Careers are rated #287 for Best Employers for Women by Forbes
Dell Technologies Financial Statistics 2023
Dell generated more than $101 billion in revenue for 2022 so far
Dell has a net income of $5.56 billion for 2022
Dell has roughly $92.7 billion in assets
Dell invested $2.6 billion in FY22 into R&D
Over the past 3 years, Dell has invested $7.6 billion in R&D

Interesting Facts About Dell Technologies 2023
Dell operates across Infrastructure Solutions Group (ISG) and Client Solutions Group (CSG)
CSG is the Dell-branded hardware like desktops, notebooks, monitors, projectors, etc.
ISG is the company's activities in the storage, server, and cloud solutions market, utilizing EMC's expertise
Dell holds the #1 positions for both CSG and ISG across the industry
They have the largest GTM and Channel ecosystem
Dell has more than 26,000 patents and patent applications as of 2022
2035 patents were issued to Dell Technologies in 2021
They are a 10x honoree of the 2022 World's Most Ethical Company Award from the Ethisphere Institute
Dell Technologies is #2 in Newsweek's 2021 America's Most Loved Workplaces
Dell is #7 in Forbes' 2021 World's Best Employers
You might be interested to check those related posts as well:
FAQs
How successful is Dell Technologies?
Dell is #3 among computer vendors worldwide. While they did have a drop in market share prices roughly ten years ago, their recent acquisition of EMC has bolstered their company significantly.
Dell remains a steady name in the computing world, and many companies use Dell Technologies products.
What is the average salary at Dell Technologies?
The average salary of a Dell employee is $98,699 a year. This is an average across all positions at Dell, including Product Specialist, Account Manager, Software Engineer, Analytics and Insight Manager, and many others.
A software engineer at Dell can expect to make more than $125 annually.
What are Dell Technologies' main products?
Dell Technologies offers many computing units on the market, including desktops, notebooks, monitors, peripherals, and projectors. They also offer storage and cloud solutions since their acquisition of EMC.
Dell is most known for its computers, two of which are sold every second.
Conclusion
Dell Technologies has been a steady name in computing since the 1980s. Dell holds the #3 spot for biggest computer retailer in the world.
Their current business practices are likely to keep them near the top for many more years to come.
Sources:
Dell Technologies
Featured Customers
Forbes
Indeed
Statista 1, 2, 3
Yahoo Finance
Zippia