Cognizant started as an internal side-project of a much larger company based out of Chennai, India. However, following its release in the world in 1996 and its initial public offering in 1998, it has found roaring success as a Fortune 500 company providing IT services and business process outsourcing services.
Let's take a look at 40+ of the most eye-opening stats and facts about Cognizant.
General Cognizant Stats and Facts 2023
Cognizant is an international IT service and consulting B2B company situated in the USA
The headquarters for Cognizant is in Teaneck, New Jersey, USA
Cognizant was founded by Kumar Mahadeva and Francisco D'Souza on 26 January 1994 as an in-house unit of Dun & Bradstreet
Cognizant took on its very first external clients in 1996
The first Cognizant IPO took place in 1998, followed by a period of super-fast growth in the early 2000s
Over its lifetime, Cognizant has made some 78 competitor acquisitions in countries all around the world
Dun & Bradstreet Satyam Software (DBSS) rebranded itself as Cognizant Technology Solutions in 1997
Cognizant acts as Facebook's content monitor, among hosting other services, including financial services and providing services to healthcare providers and payers
IMS sold its entire 56% majority stake in Cognizant in 2003, which was followed swiftly by a "poison pill" stakeholder rights plan to prevent hostile takeover attempts
Cognizant Market Share Statistics 2023
Cognizant market share is about 3.88% as of Q2 2022
Cognizant stock is currently (as of 17 August 2022) at $69.01
Cognizant stock over 2021-22 reached a 52-week high at $93.47 and a 52-week low at $63.26
Cognizant has a profit margin of 11.74% and an operating margin of 15.32% in 2022
Cognizant Usage Statistics 2023
5 of the top 10 internet companies use Cognizant services
Cognizant business consulting statistics include the fact that all 30 of the largest pharma companies use Cognizant services
9 of the top 10 European banks use Cognizant services
23 of the top 25 healthcare plans are provided by Cognizant

Cognizant Employees and Customers Stats 2023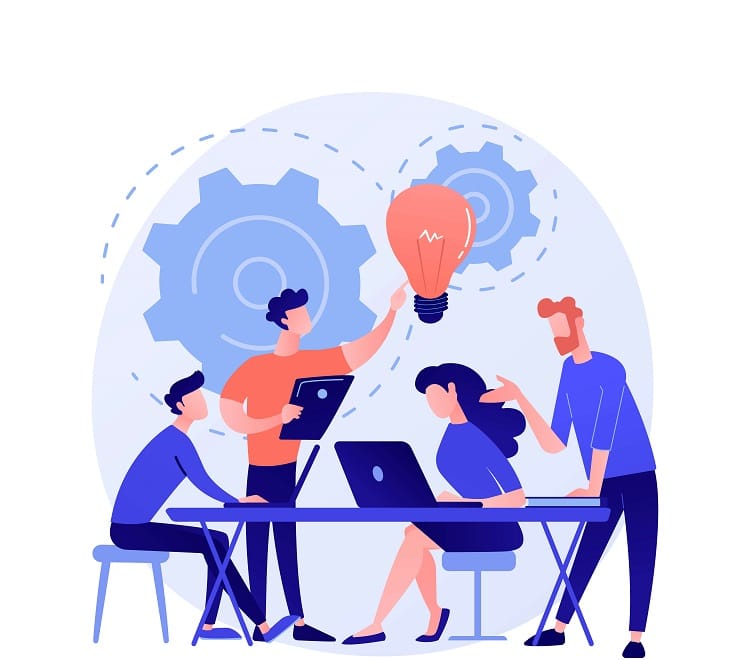 Cognizant employs around 330,600 people all around the world, the near-majority of which (150,000) are located in 10 locations across India – the original headquarters of the progenitor company
Only 35% of Cognizant employees are women, whilst 65% of the employee roll list is made up of men
Cognizant's main employee ethnicity is Asian (at 42%), followed closely by White employees (at 36%) and finally by Latinx employees (at just 10%)
Generally speaking, Cognizant employees work at the company for a period of about 6.5 years
The average salary of a Cognizant employee is a yearly $84,545
64% of Cognizant employees are minorities, whilst 49% of the company's executives are minorities
Cognizant employee count showed that around 6,000 consultants were on the books in 2018
Cognizant Revenue Statistics 2023
Cognizant revenue in 2021 was $18.5 billion, a record profit following 8 consecutive years of growth
Cognizant revenue in 2020 was $16.6 billion
Cognizant revenue in 2013 was $8.8 billion
In 2022, it is projected that Cognizant revenue will reach $19.25 billion
In 2022, it is projected that Cognizant gross profit (of revenue of $19.25 billion) will be $6.91 billion
Cognizant Benefits Stats 2023
Cognizant employees enjoy health insurance benefits, including medical, dental, vision, life insurance, and accidental coverage
Benefits of Cognizant statistics include maternity and paternal leave, employee discounts, stock options, and a 401(k) plan, as well as 10 days paid time off
Cognizant green card statistics show that employees may receive Visa and green card sponsorship, annual performance bonuses, and the opportunity to work flexibly from home
Cognizant offers benefits such as employee assistance programs and employee mentoring programs
Things You Didn't Know About Cognizant 2023
During this first IPO, Cognizant raised $34 million (less than the IMS Health underwriters were hoping for)
Cognizant is composed of several different horizontal and vertical business units, including Banking & Financial Services, Healthcare, Insurance, Manufacturing and Retail (vertical), Analytics, Mobile Computing, BPO, and Testing (horizontal)
Cognizant has come under intense global scrutiny for an incredible (indeed, countless) number of illegal actions over the years, including poor working conditions, tax evasion, discrimination, Companies Act violations, bribery, corruption, and wage theft
Cognizant Ranking in Fortune 500
Cognizant became a member of the Fortune 500 in 2011
As of 2021, Cognizant is ranked #185 on the Fortune 500 companies list
Cognizant's Fortune 500 ranking of #185 in 2021 is its highest rank since first appearing (at #484) on the list in 2011. It has been steadily climbing since then
In 2015, Fortune magazine recognized Cognizant as the 4th most admired IT services company in the world
In 2017, Fortune magazine placed Cognizant on its "Future 50" list
For 10 consecutive years, Cognizant appeared in Fortune's "100 Fastest-Growing Companies" list from 2003-2012
You might be interested to check those related posts as well:
FAQs
What is the CEO of Cognizant's salary?
The current CEO of Cognizant is Brian J. Humphries, who makes a salary of $1,230,262 per year (1.23 million US dollars) as of 2022. However, this is not the only money Brian J. Humphries makes.
In fact, in addition to this incredible amount of money, he last year took home $4,086,930 as a bonus and a further $14,097,855 in stock. In total, Cognizant's CEO made $19,687,285 (19.69 million US dollars).
How many companies does Cognizant serve?
Cognizant serves some of the biggest companies worldwide with internet and data services, healthcare services, and IT solutions. It is impossible to say exactly how many companies worldwide – from small and medium-sized businesses to large corporations – use Cognizant.
Suffice it to say that the majority of the world's largest companies in the internet, pharma, banking, and healthcare are served by Cognizant.
How many employees does Cognizant have?
Cognizant employs 330,600 employees around the globe, with about half of them (150,000) based in various locations around India. This is quite a large number of employees, even for a Fortune 500 company.
Since it originated in India, it is one of the few Fortune 500 companies with a majority Indian workforce.
Conclusion
Cognizant supplies many, many different services to many thousands of companies all around the world – including some of the biggest companies known (such as Facebook).
Despite countless criminal acts, it continues to pull in billions of dollars in revenue each year.
Sources
Below is a full list of the sources used in the writing of this article:
Salary
Wikipedia
Zippia
Expanded Ramblings
Big Wire
Statista
Finance
Fortune
Cognizant