The world continues to export a lot of its work to outside entities and even other countries.
The practice of this extensive outsourcing has led to some interesting changes and relationships with the new global business model.
Let's take a look at some recent outsourcing stats.
General Outsourcing Stats and Facts 2023
About 300,000 jobs are outsourced annually from the United States.
Price and economic reasons are the top justifications for outsourcing at 70%.
Other reasons companies tend to outsource their work also include access to new tools and processes, speed to market, and flexibility.
Robotic Processing Automation (RPA) is a digital enabler that 64% of leading companies prefer.
In the Americas, the two biggest sectors to outsource their work are the Defense and Government.
With an estimated worth of $75.1 billion dollars about two years ago, the global outsourced customer experience market continues to see a steady gain even with the COVID pandemic.
In 2019, the global outsourcing industry had a worth of an astounding $92.5 billion and projections for 2025 show it reaching upwards of $114 billion.
On average, the total IT budget in the U.S. increased in 2019 from 12.7% to 13.6% in 2020. That's a big increase, which would lead companies to rely on a more affordable option like outsourcing.
It's estimated that the global IT outsourcing market in 2025 will be worth $397.6 billion.
36% of workers in the U.S. consider themselves "gig workers". These folks constitute some of the outsourcing work that companies enlist.
There are 59 million Americans that consider themselves "gig workers" or freelancers.
At this point, Artificial Intelligence has been adopted by 58% of companies.
In 2019, IT outsourcing's global revenue was about $66.5 billion.
The most outsourced industry sector is accounting.
America outsources a lot of its manufactured goods, as much as 70%-80%.
40% of help desk positions for banks are outsourced.
The most popular countries that receive outsourced IT work are India, the Philippines, and the U.S.
U.S. businesses tend to outsource to low-income countries. About 68% do for their IT and accounting services.
The US, UK, and Australia are the top countries that outsource in the world.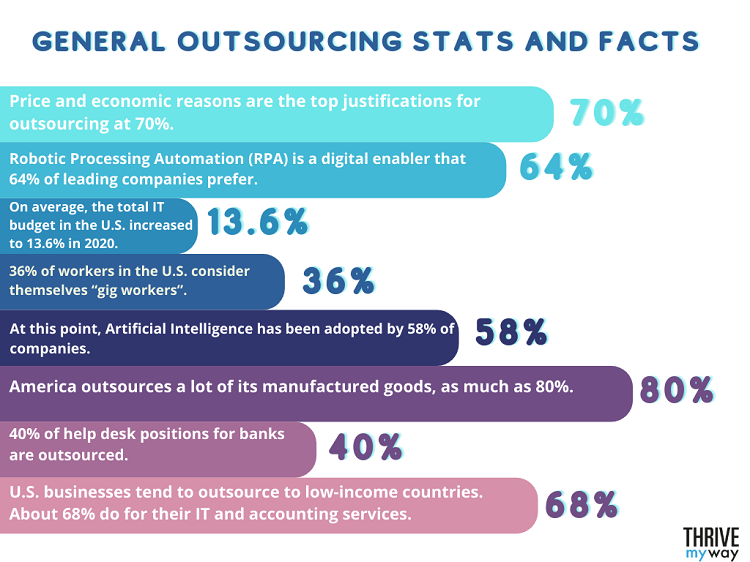 Outsourcing Pros and Cons Statistics 2023
About 89% of companies stated that they would not risk outsourcing their strategic planning.
About 50% of businesses state that outsourcing work results in lower quality.
A lot of concerns in terms of outsourcing include data security, but a lot of outsourcing companies are attempting to address this issue, as 68% claim data security worries as they transition to cloud technology.
Based on a survey, big companies that have between 10,001 and 50,001 workers have a keen understanding of the benefits of outsourcing, and how necessary it is:
61.1% of those companies had plans of moving to implement some outsourcing.
Of the smaller companies polled that are 1,000 to 10,000 workers, about 51.6% planned on outsourcing.
Overall, businesses tend to feel positive about their outsourcing experience with 78% saying they like their outsourcing partners.

Small Business Outsourcing Statistics 2023
Small businesses are less likely to outsource. Larger businesses are more likely to outsource at 66%.
Over 1 in 3 small businesses outsource some of their work.
Of small businesses, 24% outsource in order to run their business more efficiently.
Small businesses also outsource in order to give more free time to their in-house employees and increase access to skills.
You can turn a low conversion rate into a high one. But you can also in the long run cost your company if you aren't measuring and thinking about the right things. – Rand Fishkin
HR Outsourcing Statistics 2023
The majority of services offered by most HR outsourcing companies are as follows:
45% is consulting
36% is benefits administration
24% is a time tracking
19% is insurance services
10% is performance management
When asked what a business' main concern was, and why they would outsource HR, 51% mentioned recruiting as their top concern.
Outsourcing Trends 2023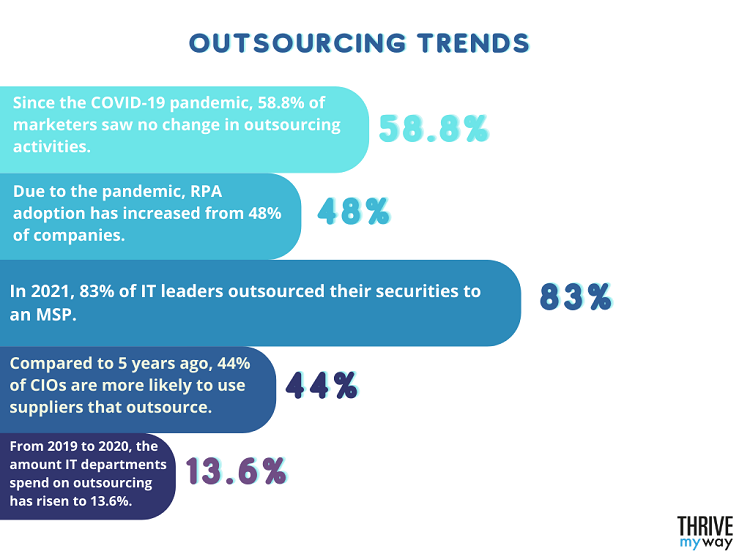 Since the COVID-19 pandemic, 58.8% of marketers saw no change in outsourcing activities.
Due to the pandemic, RPA adoption has increased by 5% or more from 48% of companies.
In 2021, 83% of IT leaders outsourced their securities to an MSP.
Compared to 5 years ago, 44% of CIOs are more likely to use suppliers that outsource.
From 2019 to 2020, the amount IT departments spend on outsourcing has risen from 12.7% to 13.6%.
The countries that have seen the most outsourced work are India for IT, and then for customers service, it's the Philippines. China is popular for its manufacturing capability and Poland and Ukraine is also heavy contender for IT outsourcing.
You might be interested to check those related posts as well:
FAQs
What percentage of work is outsourced?
It's difficult to calculate the exact percentage, but to give an idea of the extent; in the U.S. 68% of businesses outsource their work.
Which industry outsources the most?
IBM is the company that outsources the most in the world
IT is the most outsourced industry as every company requires it
How many jobs have been lost to outsourcing?
Since 2001, 560,000 jobs have been lost in California to China alone
In 2018, 14.4 million workers were hired by US overseas affiliates
How much do companies save by outsourcing?
On average, by outsourcing, a business can save up to 15% of its average budget.
Conclusion
As the world adjusts to remote work that requires more technical support we will continue to see a rise in outsourcing, especially since this global economy is becoming more interdependent.