Affiliate marketing is one of the highest revenue streams for many businesses and individuals. It is a fascinating area of marketing and sales.
And here are some statistics to showcase its usefulness in online digital marketing.
General Affiliate Marketing Stats and Trends 2023
Affiliate marketing will be worth $8.2 billion in the US by the end of 2023.
In the UK, marketers rated affiliate marketing as Excellent or Good 46% of the time in 2016 and 2017.
74% of US consumers will consult several affiliate marketing websites before committing to a purchase.
Affiliate marketing is worth $12 billion annually across the world.
In 2020, the term 'affiliate marketing' saw a 44% increase in search traffic on Google.
The amount of content published by affiliate marketers has grown by 175% between 2019 and 2020.
81% of affiliate marketing websites are selling products to customers.
In 2017, there were more than five billion clicks on affiliate marketing content.
Also in 2017, there were more than 170 million transactions worldwide that were generated by affiliate marketing.
80% of merchants have allocated more than 10% of their budget to affiliate marketers.
83% of customers say a coupon is the top reason they made a purchase.
Commission Factory owns more than 75% of the Australian market.
78% of CMOs believe that they have not mastered affiliate marketing.
The retail sector makes up about 43% of all affiliate marketing sales.
9 out of every 10 marketers have said that affiliate marketing is important for their digital marketing strategy.
Affiliate Marketing Demographic Statistics
64% of all affiliate marketing happens within the US, despite the US having just 4.25% of the world's population.
5% of all affiliate marketing spending happens within the UK, despite the UK having just 0.87% of the world's population.
Affiliate marketing results are best for audiences within the 25-54 age range.
37% of those who made their first purchase online since April 2020 did so through affiliate marketing.
54.23% of affiliate marketers are male.
42.97% of affiliate marketers are female.
Affiliate marketing is the seventh most demanded and desirable skill by marketing agencies.
31.86% of affiliate marketers are aged between 35 and 44.
India had the highest number of searches for 'Affiliate Marketing' in 2020.
The US had the second-highest number of searches for 'Affiliate Marketing' in 2020.
1.85% of affiliate marketers live in India.
9.71% of affiliate marketers live in Canada.
57.44% of affiliate marketers live in the USA.
5% of all affiliate marketers are between 18 and 24 years of age.
Of all affiliate marketers, 55.32% are married.
A third (33.67%) of all affiliate marketers are single.
Affiliate Marketing Industry Statistics
40% of marketers believe that affiliate marketing is a useful skill for job seekers to have.
16% of all online sales have at least one touchpoint that is related to an affiliate marketing website.
Despite being an initial failure, Groupon is now one of the biggest successes for affiliate marketing.
42.17% of affiliate marketers prefer to promote between one and ten products on their channels.
7.53% of affiliate marketers work with more than 300 products at any one time.
If the publisher does it right, affiliate marketing is not blocked by ad blockers.
0.67% of YouTube videos have at least one affiliate marketing link.
Mobile affiliate marketing sales grew by 49% in 2020 from 2019 in the UK.
Affiliate marketing is generating approximately 1% of the UK's GDP.
79% of marketers are using affiliate marketing to grow revenues and increase conversions.
In Australia, 61% of affiliate marketers use the 'last click' attribution model. In comparison, 13% of affiliate marketers use the 'first click' attribution model.
Top Marketer's Affiliate Networks
94% of publishers are using multiple affiliate networks to secure revenues for their business.
80% of publishers expect that their revenues will increase by the end of 2023.
ShareASale has the largest proportion of the affiliate marketing industry (55%).
Amazon offers affiliate marketers a commission of between 1% and 10%.
Amazon has 900,000 publishers included in its affiliate marketing campaign.
ShareASale has more than 700,000 affiliate marketing publishers on its network.
Awin has 205,000 publishers using their network.
Clickbank has more than 100,000 publishers on its platform.
The number of brands requesting to be placed in the Amazon Associates program increased by 150% in 2020 from 2019.
eBay is one of the most lucrative networks with commissions that are between 50% and 70% of the site's profits.
Top Traffic Sources for Affiliate Marketers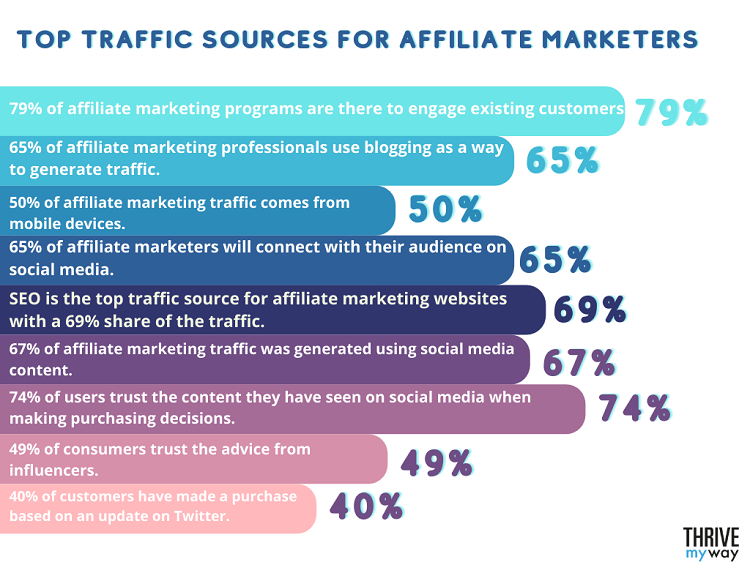 79% of affiliate marketing programs are there to engage existing customers.
65% of affiliate marketing professionals use blogging as a way to generate traffic.
50% of affiliate marketing traffic comes from mobile devices.
65% of affiliate marketers will connect with their audience on social media.
SEO is the top traffic source for affiliate marketing websites with a 69% share of the traffic.
67% of affiliate marketing traffic was generated using social media content.
74% of users trust the content they have seen on social media when making purchasing decisions.
49% of consumers trust advice from influencers.
40% of customers have made a purchase based on an update on Twitter.
Top Categories Affiliate Marketers Prefer to Promote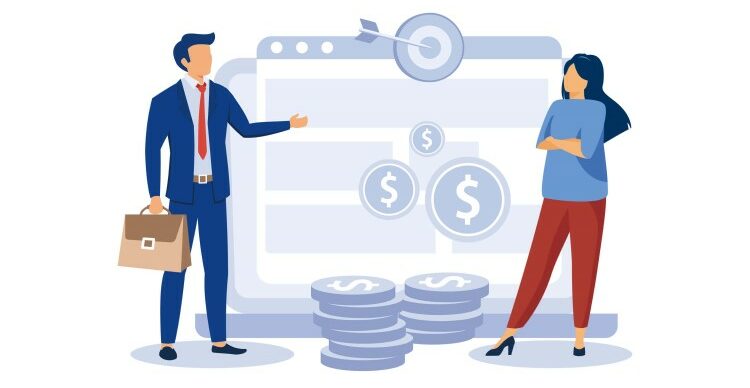 Fashion (18.7%), sport (18.7%), outdoor equipment (18.7%), and health (11.1%) are the most popular categories for affiliate marketers.
Art is the least popular affiliate marketing category, with just 1.1% of affiliate marketers within this niche.
24% of affiliate marketing revenue is generated by the telecom and media niche.
Within the science and technology category on Youtube, 3.6% of videos have an affiliate marketing link, making it the most popular topic on the video-sharing site.
On Pinterest, the most popular affiliate marketing topic is women's fashion, with 4.62% of posts containing an affiliate link
Most Profitable Niches for Affiliate Marketing Statistics
25% of all affiliate marketing programs are for fashion.
Web hosting is one of the most competitive and profitable affiliate marketing niches.
Life insurance is one of the fastest-growing affiliate products since the pandemic.
Software affiliate marketing programs are some of the most lucrative, with 30% of commissions on offer.
The travel industry offers commissions of approximately 1% to 3%.
Accommodation affiliate programs can pay affiliate marketers approximately 3% to 12%.
Payment Choices of Affiliate Marketers Statistics
48.69% of affiliate marketers prefer to take payments from merchants via direct payment.
19% of affiliate marketers prefer to be paid via PayPal.
2.69% of affiliate marketers like to be paid in BitCoins.
Affiliate Marketing Merchants, Publishers, and Advertisers Statistics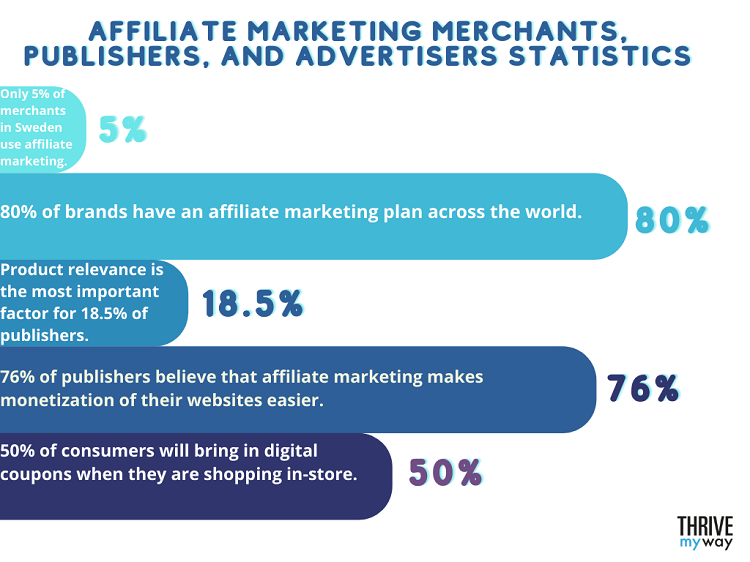 Only 5% of merchants in Sweden are using affiliate marketing.
80% of brands have an affiliate marketing plan across the world.
Product relevance is the most important factor for 18.5% of publishers.
76% of publishers believe that affiliate marketing makes monetization of their websites easier.
50% of consumers will bring in digital coupons when they are shopping in-store.
Publishers believe that affiliate marketing is only slightly behind AdSense in generating revenue.
Instagram is going to release a new affiliate marketing feature on their posts.
Apple now has an affiliate marketing program.
Affiliate Marketing During COVID-19 Statistics
Ad revenue decreased by 20% during the Covid-19 pandemic for affiliate marketers.
Amazon suspended its affiliate marketing program due to the Covid-19 pandemic.
More than 100 travel affiliate networks reduced their commissions.
Some affiliate programs cut commissions by 70%.
55% of affiliate marketers worked from home before the pandemic started.
Affiliate Marketing Fraud Statistics
Affiliate marketing fraud cost $1.4 billion globally in 2020.
The biggest fraud problem is when publishers claim for false clicks/purchases.
The rate of fraud in affiliate marketing is estimated to be about 9% across the industry.
It is estimated that fraud will cost merchants approximately $100 billion by 2023.
In 2017, a study thought that 39.1% of Amazon affiliate marketers were involved in some sort of fraud.
One out of four app installations is considered to be fraudulent when involving affiliate marketing.
Click fraud is one of the most popular ways that fraud is undertaken, with 14% of all fraud a result of click fraud.
Loan companies are losing millions from affiliate marketing fraud, where they accept a potential loan for a non-existing customer and pay the marketer.
Typosquatting is a type of affiliate marketing that has become a popular scam choice in recent years.
40% of clicks are considered to be completed by bots.
Affiliate Marketing Revenue & Earnings Statistics
In France, affiliate marketing was worth €772 in 2019.
73% of merchants earn the expected revenues from their affiliate marketing programs.
60% of merchants in the US reported that their affiliate marketing programs earned $5 million or more in 2021.
9% of affiliate marketers will have an annual income of more than $50,000 in the US in 2021.
Jason Stone earned more than $7 million in 2019 from
affiliate marketing alone.
35% of affiliate marketers earned more than $20,000 for their efforts in 2019.
In 2020, 48% of affiliate marketers earned more than $20,000 from their content and commissions.
Lawrence Systems earns approximately $2,500 per month with affiliate marketing on its YouTube channel.
Some affiliate programs pay affiliate marketers $1000 per sale they make.
PayScale surveys found that the average affiliate marketing salary was $51,639 per year.
34% of publishers who have less than 5,000 unique visitors per month make their living from affiliate marketing.
Affiliate marketing is considered the second-best revenue stream for online publishers.
Affiliate Marketing Conversions and ROI
43% of all affiliate conversions within the US were from loyalty and cashback campaigns in 2018.
Affiliate marketing programs that rely on blogging tend to convert 300% more than those that use other forms of content.
40% of US merchants report that affiliate marketing is the top revenue stream for their business.
Conversion rates on affiliate marketing content have increased by 240% between 2019 and 2020.
Affiliate marketing has a conversion rate of between 0.5% and 1%.
For each $1 that UK firms invested within their affiliate marketing projects, they got back $16.
It takes at least six months before the average affiliate marketer makes money from their content.
Affiliate marketers who sell eBooks can earn 70% commissions.
Pay-per-call affiliate marketing programs are delivering conversion rates between 10% and 15%.
Affiliate Marketing Growth Statistics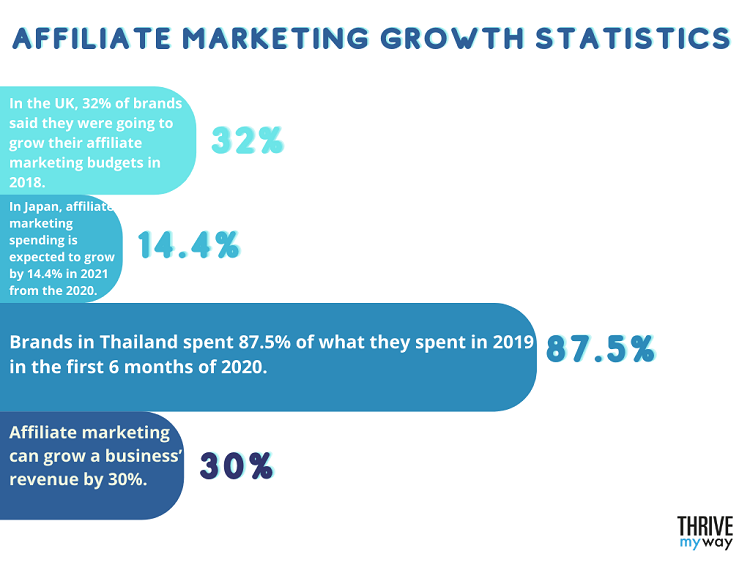 In the UK, 32% of brands said they were going to grow their affiliate marketing budgets in 2018.
In Japan, affiliate marketing spending is expected to grow by 14.4% in 2021 from the 2020 figures.
Brands in Thailand spent 87.5% of what they spent in 2019 in the first 6 months of 2020.
In 10 years, the money spent on affiliate marketing within Japan has tripled.
Affiliate marketing can grow a business's revenue by 30%.
You might be interested to check those related posts as well:
FAQ
How many affiliate marketers are there?
It is hard to get an exact count of how many affiliate marketers are active at any one time. However, there are at least 900,000, as Amazon has that many publishers on their list. There could be many more than that, with some estimations being that at least one million affiliate marketers are probably active right now.
What is a good conversion rate for affiliate marketing?
Affiliate marketing has an average conversion rate of between 0.5% and 1%. The best eCommerce websites only have a conversion rate of between 1% and 3%. Therefore, a rate that is above 1% but below 3% should be considered a good conversion rate.
What is the success rate of affiliate marketing?
It is hard to determine the success rate of an affiliate marketer. There are lots of things to consider, and some affiliate marketers have several websites, some of which succeed and others that fail. However, with hard work and determination, nearly half of the affiliate marketers can make a full-time salary on their efforts.
Conclusion
Affiliate marketing is a great, growing industry with plenty of potential. It helps businesses across the world sell more of their products and introduces customers to new products and services.