Every social media platform has its unique features and capabilities. But sometimes it's difficult to keep all of the features and their nuances straight. That's what we're here for. Today, let's take a look at Snapchat's Quick Add feature.
What Is Quick Add On Snapchat?
Much like the Facebook "People You May Know" feature, Snapchat's Quick Add allows you to quickly find and add people you know or who may interest you on the platform.
To find the Quick Add feature, open Snapchat and make sure you are logged in. Then tap the profile icon or avatar in the top left of the screen. Scroll down and select "Add Friends." You will see an option to invite friends, a list of friends who added you, and the Quick Add list.
How Does Quick Add Work?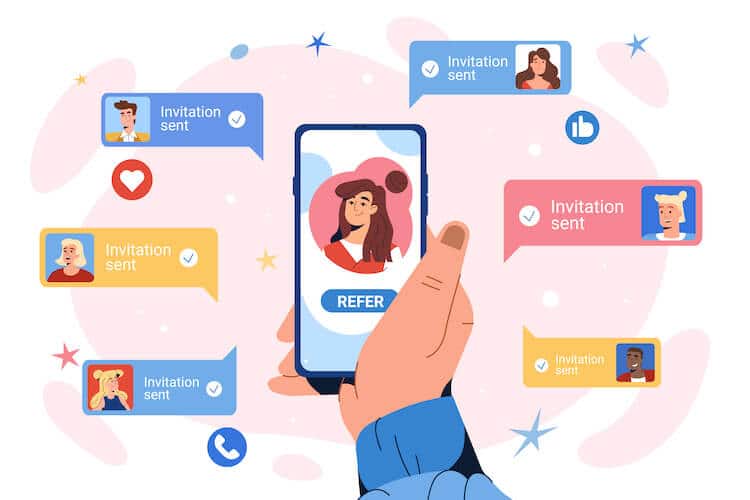 Quick Add is particularly useful if you are new to Snapchat and want to quickly find your friends, but seasoned users may find it beneficial in extending their network too.
Snapchat uses an algorithm to suggest profiles that you might be interested in connecting with. The app takes into consideration several factors, which may include:
Contacts – If you have enabled permission for Snapchat to access your contacts, you will see those profiles show up on your Quick Add list.

Mutual friends – Social media is all about networking and does a lot of the leg work for you. Friends of your friends will populate your Quick Add list.

Similar profiles – Profiles with similar interests will also show up on your Quick Add list. Maybe you are sharing Stories on a specific subject. If others are too, the app might put them on your list.

Location – If the Snapchat app has access to your location, it might suggest people who frequent the same places that you visit.

Activity – The Snapchat app will also indicate which users have been active within the last day.
Quick Add suggestions will display the user's name, avatar, username, and the number of mutual friends if any, and whether they are in your contacts. If you see someone you want to add as a friend, you can do so quickly by tapping "add," or you can also delete the suggestion by clicking the "x."
Turning Off Quick Add
While a Quick Add list might be convenient for finding friends, some people prefer a little more privacy and don't want to appear as recommendations for people they do not know.
Others do not appreciate constantly receiving random friend requests. If this is the case, it's easy to turn off the Snapchat Quick Add feature. Follow these steps to disable Quick Add:
Open the app and tap the profile icon in the top left corner.

Open the "Settings" menu by tapping the gear icon.

Select "See Me in Quick Add" under "Privacy Controls."

Toggle the option off to stop appearing in others' Quick Add lists.
Reciprocity in Quick Add
The Quick Add feature is reciprocal. Just as you have a list of suggested profiles in your Quick Add list, your profile may also appear in other users' Quick Add lists. Consider the following information:
Quick Add suggestions based on existing friends, subscriptions, and contacts – You may show up on someone's Quick Add list because you share friends or because you are a contact on their phone (even if they aren't a contact in yours.) Likewise, if you share similar subscriptions, you may populate their Quick Add list.

Likelihood of showing up in someone's Quick Add if they show up in yours – You will likely show up on someone's Quick Add list if they show up in yours because you share mutual friends, are in each other's contact lists, or because of similar interests.

Quick Add is a finite list with limitations on the number of suggestions – There is a chance you may

not

show up on another user's Quick Add list even if they show up on yours. This may be because they have a wider range of contacts or mutual friends.
FAQs
Do you still have questions about Snapchat's Quick Add? Here are some of our most frequently asked questions on the subject.
Is Quick Add on Snapchat Mutual Friends?
In many cases, yes! The Snapchat algorithm will look for mutual friends that you may want to connect with. However, that is not the only information taken into consideration. Many of the people on the Quick Add list may be complete strangers with similar interests.
Is Snapchat Quick Add Based On Location?
If your location permissions are enabled on Snapchat then some of the users on your Quick Add list might be solely based on location. That does not mean that all of them are based on your location.
How Do You Refresh the Quick Add on Snapchat?
The best way to refresh your Quick Add list on Snapchat is by clearing the cache on the Snapchat app. Begin by opening Snapchat and making sure you are logged in. Tap the profile avatar in the top left. Then tap the gear icon to get to Settings. Scroll down to Privacy Controls and tap "Clear Data."
Scroll to the bottom and tap "Clear Cache." Confirm that you want to clear the cache. You will get a message that Snapchat will need to restart. Once you log back in, you should have a new list of suggested friends on Quick Add. Note that some of the people listed may be the same because the algorithm is using the same information as before.
Conclusion
Quick Add on Snapchat is a quick and easy way to find friends and make connections on Snapchat. It's important to remember that not all suggested profiles on Quick Add are based on mutual friends; sometimes it is based on similar interests and the users may be strangers.
If you don't want to appear on a stranger's Quick Add list, make sure you follow the steps outlined above to turn off the Quick Add feature for your account.