Reputation has become very important in today's online world. While customers can't see the exact products they're buying online, they are having to find ways to trust brands more.
Here are some statistics about the reputation that demonstrate why you need to consider improving yours today.
Key Reputation Management Stats for 2023
75% of customers say they will trust a brand more if there are positive reviews of the company online.
60% of customers will not buy from a brand if there are negative reviews of the company online.
72% of US consumers wrote a review in 2020. This is 6% higher than in 2019.
63% of customers wrote a positive review in 2020.
32% of customers wrote a negative review in 2020.
73% of customers will only read the reviews that have been published in the past month.
50% of consumers will only read reviews if they've been published in the past 14 days.
One in three business owners believes that their business has been negatively affected by bad reviews that can be found online.
49% of executives believe that their current CEO's reputation is directly related to their brand's reputation.
54% of customers think brands need to engage more with customers about their online reputation.
61% of customers will have a more positive experience if the mobile experience is better.
Only 73% of customers have been asked to write a review in 2020.
Responding to a review within the healthcare industry can double patient satisfaction.
62% of customers have a different experience from the one they experienced in person.
43% of brands believe that only customers who can verify their purchase should be able to publish a review of a brand/product/service.
Trust in Online Reviews Statistics
85% of customers trust online reviews as much as personal recommendations from friends.
73% of consumers believe that reviews that are older than three months are not trustworthy enough.
The average consumer will only trust the reviews on a brand if there are more than 40.
An average star rating of between 4.2 and 4.5 is the ideal point for success with reviews.
A perfect five-star rating is considered less trustworthy.
It takes 40 positive reviews to undo the damage of one single negative review.
45% of customers will happily post a positive review if the brand has responded positively to a negative review the customer has previously posted.
65% of consumers do not trust the reviews that are published on eCommerce websites.
34% of customers say that their poor reviews of products are not published by brands.
Reasons for Online Reviews Statistics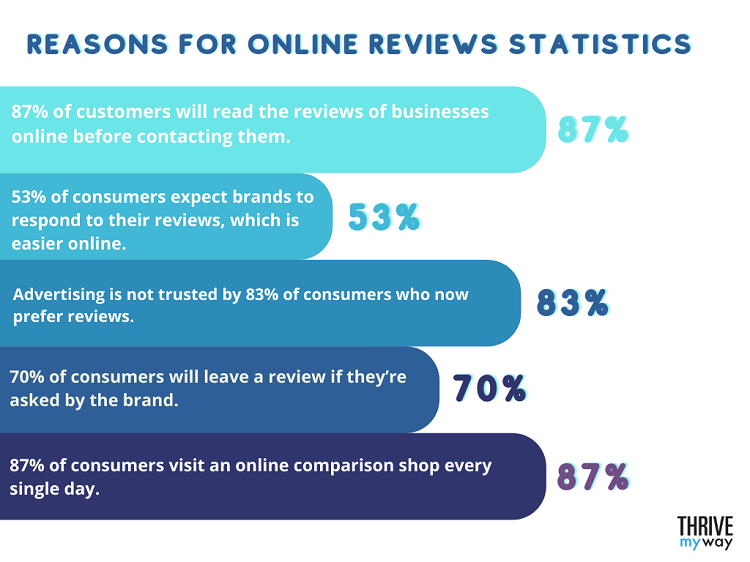 Customers will read an average of 7 reviews before making a purchasing decision.
87% of customers will read the reviews of businesses online before contacting them.
53% of consumers expect brands to respond to their reviews, which is easier online.
Advertising is not trusted by 83% of consumers who now prefer reviews.
70% of consumers will leave a review if they're asked by the brand.
87% of consumers visit an online comparison shop every single day.
On average, a consumer will mention brands in their social media posts 90 times a week.
Reputation Management Statistics About Hiring and Retention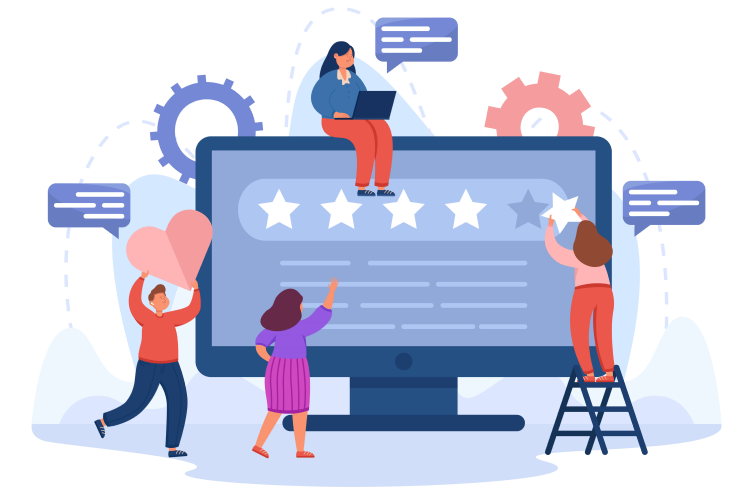 69% of potential recruits will reject a potential job offer if the employer doesn't have a good reputation online.
Even if potential recruits are offered a 100% pay raise, 30% of them will still reject a job offer if the company has a bad reputation online.
94% of job seekers will apply for a role with a company if they have a good reputation online.
Companies with a positive reputation will get twice as many candidates to apply for an open position as a company with a bad reputation.
A bad review online will cost the average brand 10% in wages to hire and retain employees.
Only 50% of brands monitor their employer reputation online.
93% of recruiters are now using LinkedIn to find talent online for their open positions.
Using a DIY approach to recruiting can achieve a 28% response rate. While using LinkedIn to find talent online is popular and has a very good success rate, there are plenty of other options.
73% of recruiters have used social media to successfully place a candidate using social media.
57% of employers won't interview a candidate if they can't find them on social media.
54% of brands will not hire a candidate based on their social media profile.
12% of employees state it is in their employment contract to market themselves on social media to help build brand trust.
Large businesses are now hiring full-time reputation managers.
24% of employees say their employers have contractual agreements about what they can publish on their personal social media profiles.
Just under a third of employees (31%) have stated that they will search for information about their co-workers, professionals, colleagues, or competitors.
Only 6% of people have an automatic notification when they have been searched for online.
Impact of Positive and Negative Reviews Statistics
Customers will tell more people (15 vs 11) about a bad experience compared to a good experience.
Products that have numerous 1 or 2-star reviews will not convert 86% of potential customers.
Only 48% of customers will consider using a business if they have an average rating of 4 out of 5 or below.
Only 19% of customers will consider using a business if they have an average rating of 3 out of 5 or below.
Only 13% of consumers will consider buying from a business if they have a one or two-star rating.
67% of customers have stated they would not use a business if a review stated they weren't Covid-19 secure.
The loss from a bad reputation in the UK was $663,531 in 2019 for 5% of businesses.
One in seven UK companies lost $65,350 in revenues because of negative reputations online.
85% of consumers will actively search for a negative review of a business before they make a purchase.
50 positive reviews online can improve click-through rates by 266%.
Top Review Sites Statistics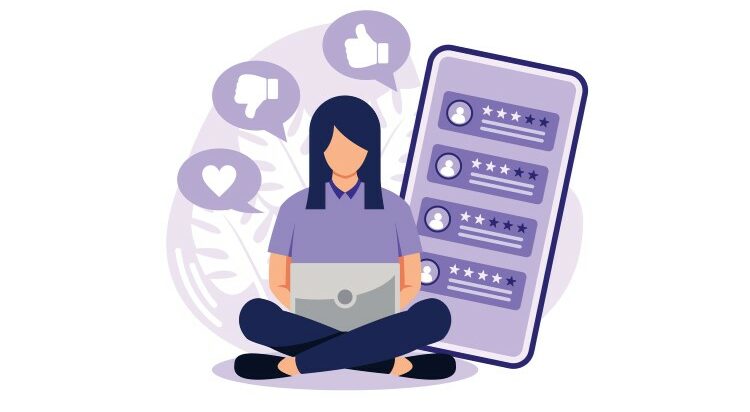 An additional star on Yelp can help increase your revenues by approximately 9%.
63% of users reference Google reviews when they're choosing a brand to buy from.
The most popular review platform by customers is Better Business Bureau (BBB)
A free Yelp account can add $8,000 a year in revenue for small businesses.
59% of consumers will look at 2-3 review sites before they consider buying from a brand.
98% of Yelp users will buy from a business they've found on the review site.
The most reviewed product on Amazon has nearly 250,000 reviews.
97% of travel industry businesses believe that their reputation on Trip advisor is important for their success.
158.03 million consumers use Google My Business every month, making it one of the most used review sites in the world.
19% of the global reviews are now on Facebook Business pages.
8.4% of the world's reviews are on TripAdvisor.
Hotels that respond to reviews on TripAdvisor get 12% more reviews and improve their average star rating by 0.12.
Fake Reviews Statistics
46% of consumers believe that in 2019 they read several fake reviews written by the brands themselves.
It is estimated that between 10 and 30% of all reviews are fake.
Unsubstantiated online reviews or trolls maliciously targeting a business have negatively impacted more than half (51%) of businesses.
88% of businesses and consumers believe it is almost impossible to remove inaccurate information about them online.
82% of customers think that they've read a fake review within the past 12 months.
Those who are 18-34 are less trusting of online reviews with 92% believing that they've seen a fake review within the past 12 months.
Those who are over 54 are the most trusting of online reviews, with only 59% believing they've seen a fake review in the past 12 months.
More than half of consumers (54%) would not purchase if they thought the product had any fake reviews.
Nearly all customers (95%) think there is some form of censorship or there are fake reviews when they don't see any bad reviews for a product/brand.
30% of consumers believe reviews are fake if there is not a single positive review.
72% of customers believe that fake reviews have become the norm within eCommerce.
Supplements have the largest share of fake reviews on Amazon with an estimated 64% of fake reviews.
Beauty products also have a high number of fake reviews on Amazon with more than 63% considered to be fake.
Reputation Management and SEO Statistics
97% of customers search for a brand's reputation on Google.
12% of customers daily search for companies to find out if a company can be trusted.
Only 10% of Google users will look past the first page of Google.
64% of consumers trust the review results on Google when they're looking to see whether they can trust a brand or not.
20% of businesses are unhappy with how Google portrays their business on the first page.
80% of searches that include the term, 'near me' for a brand/service are done on mobile devices.
Reviews are the second most important factor in local searches on Google.
Google has confirmed that positive reviews will influence your rank on search results by 7%.
If a business improves its online rating from 3 stars to 5 stars, then it can expect to see 25% more traffic.
62% of customers do a search engine check to see what information is online about them.
92% of search traffic is controlled by Google.
90% of a consumer's impression is based on the first page results of a search.
Facebook Business reviews appear on the first page of Google for the majority of brands.
More than one billion name searches are completed every single day.
Reputation Management Revenue Statistics
Increasing a rating by one star in the hospitality industry has helped hotels increase prices by 11% while maintaining the same occupancy rate.
A 1% increase in online reputation rates can increase revenues by 1.42%.
A 1-star improvement in a restaurant's reputation online improves revenues by 9%.
86% of consumers will pay more to buy from a brand that has a positive reputation.
41% of brands that have a negative reputation online report a significant loss in their revenue.
A single negative review can potentially lose a business 22% of its revenue.
Four negative reviews can lose a brand 70% of its revenue.
Putting a review on a product page or landing page can increase conversion by 270%.
Consumers are more than four times more likely to complete a transaction when there are five or more reviews for the product.
50% of sales are lost because customers can't find any information about the brand online.
54% of executives believe that reducing the number of negative reviews would improve revenue growth for their business.
41% of brands believe that if they could reduce undesirable search results, they would be able to convert more visitors into customers.
The loss in revenue within the US due to bad reviews is estimated to be $537 billion in 2020.
Customers who write reviews for eCommerce brands influence about $400 billion in sales within the US.
Reputation Management Valuation Statistics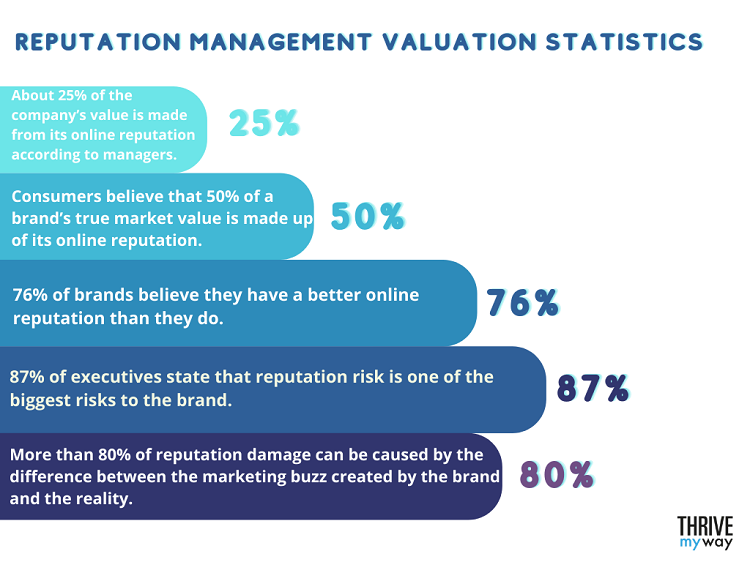 About 25% of the company's value is made from its online reputation according to managers.
Consumers believe that 50% of a brand's true market value is made up of its online reputation.
Online reputation solutions can cost companies between $5,000 and $20,000.
The time to manage online reviews can be anywhere between 50 to 200 hours every quarter.
The online reputation management market in the US is set to be worth $410 million by 2025.
The US, Europe, Africa, and the Middle East will see the biggest rise in the reputation management market by 2025.
76% of brands believe they have a better online reputation than they do.
87% of executives state that reputation risk is one of the biggest risks to the brand.
Customers are the biggest stakeholders in online reputation management.
More than 80% of reputation damage can be caused by the difference between the marketing buzz created by the brand and the reality.
You might be interested to check those related posts as well:
Conclusion
Online reputation is one of the most important parts of a business's success. Without proper reputation management, which most businesses don't currently do, brands can be missing out on a significant amount of potential revenue.