The real estate market has hit an all-time high, and it doesn't show signs of slowing down.
Are you looking to join a thriving Christian homeschooling community in Valdosta GA? Check out the real estate statistics in the area on ThriveMyWay and explore available properties through eXp Realty's listings.
Here are a few real estate stats that show the importance of this multi-trillion-dollar business.
Real Estate Market Statistics 2023
Almost 90% of home sales are coordinated with a real estate agent.
More than 65% of Americans own property.
The most popular place to buy a home is in the suburb (51%). This is followed by small towns (20%), urban areas (14%), and rural areas (13%).
In 2020, over 5.6 million homes were sold in the US.
As of 2021, the average cost of a listing was $374,900. This is a 32.6% increase since 2020.
Most homes spend 31 days on the market before being sold. But in 2021, the average time on the market was 10.
Almost 30% of homes are sold for the above asking price.
Homebuyers spend 8 weeks on average looking for a house.
The value of all the world's real estate hit $326.5 trillion in 2020.
Real Estate Demographics Statistics 2023
37% of homeowners are millennials between the age of 25 and 40.
33% of home sales are first-time homeowners.
Over 80% of people over the age of 65 own their homes.
3 out of every 4 millennials would rather buy a new home than a previously owned home.
64.2% of white Americans are homeowners, compared to only 41.1% of American Americans.
1 out of every 4 homes sold in 2021 was to a Gen X'er.
62% of homebuyers are married couples. 19.2% were single women.
Real Estate Agent Statistics 2023
In the US, there are more than 2 million real estate agents. More than 60% of them are women.
The average real estate agent has 9 years of experience under their belt.
2 out of every 5 people pick their real estate agent based on family or friend recommendations.
Roughly 75% of people will work with the first agent they interview.
40% of agents are located in just four states – California, Florida, Texas, and Arizona.
68% of real estate licenses are held by agents. The other 32% are held by brokers.

Real Estate Income Statistics 2023
The average down payment made for a house was $59,880.
24% of homeowners still have some amount of student debt.
Less than 1% of all homes sold in the US were for under $125,000. Less than 0.5% were sold for over $750,000.
The median income for a first-time homebuyer is $112,500.
28% of first-time buyers use a loan or gift money for their downpayment.
Real Estate Trends 2023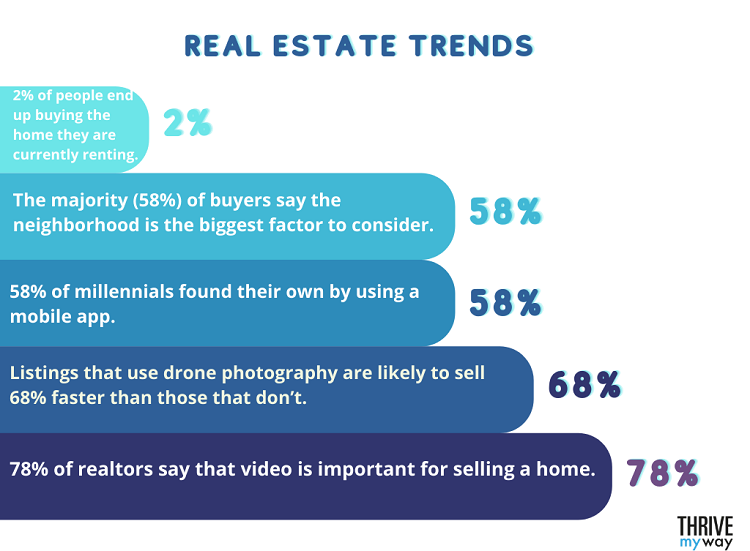 2% of people end up buying the home they are currently renting.
The majority (58%) of buyers say the neighborhood is the biggest factor to consider.
58% of millennials found their own by using a mobile app.
Listings that use drone photography are likely to sell 68% faster than those that don't.
78% of realtors say that video is important for selling a home.
Homes listed on Thursday sell for $3,000 more than homes listed on other days of the week.
According to Zillow stats, 29 % of real estate website traffic comes from Zillow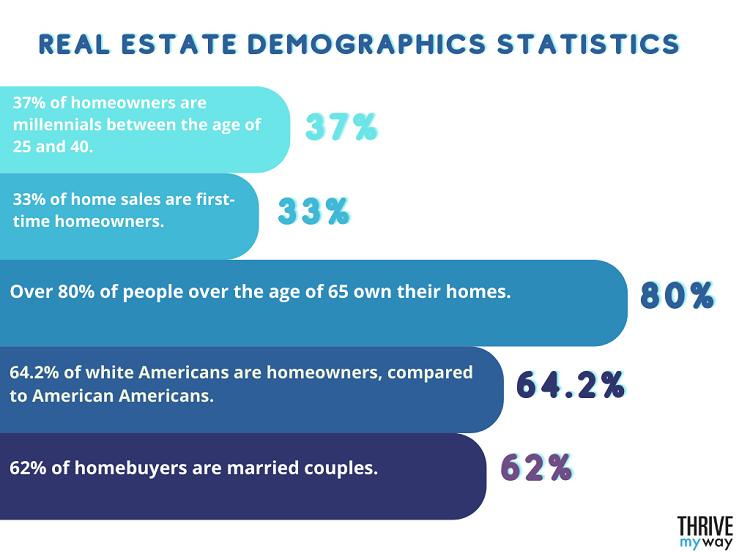 In terms of the cheapest location to purchase a property in the US, Mississippi takes the top spot for the cheapest average property price. However, this is not reflected in the average cost of a listing.
You might be interested to check those related posts as well:
FAQ
How many homes are sold in the US?
In 2020, over 5.6 million homes were sold in the US – the highest number of sales since 2006. 822,000 of those were newly built homes.
2008 had the fewest number, with only 4.1 million sales.
How much do top realtors make?
The average salary for a real estate agent in the US is $71,487 for men and $50,489 for women, however, the top 10% can make above $112,000 per year.
The highest-paid real estate agent in the world is based out of Dallas, Texas.
In 2019, he made over $1.569 billion selling 3,982 homes.
What percentage do real estate agents make?
Most real estate agents get paid a commission on the home sale price. This can be anywhere from 3% to 6%.
However, this is a negotiable sale to sale. Commercial real estate agents can make more (upwards of 10% commission).
Although the listing agent may earn a certain percentage, this is usually split between the broker, the buyer's agent, and the buyer's broker.
Conclusion
The past few years have been some of the biggest for the real estate industry.
Despite tough competition for both buyers and sellings, the property continues to be one of the most lucrative businesses in the world.
Sources:
Small Biz Genius
Finances Online
The Close
Fits Small Business
National Association of Realtors