DoorDash is a popular food delivery service that has 2 million drivers delivering to customers every day.
If you're thinking of driving for DoorDash, you probably have a few questions like, "Does DoorDash pay for gas?"
In this guide, we'll cover what you need to know about DoorDash's pay model, if DoorDash pays for gas, and how you can make the most out of the time you spend dashing.
Does DoorDash Pay For Gas In 2023?
DoorDash does not pay for the gas of its delivery drivers. If you drive for DoorDash, you'll have to cover gas and other car-related expenses such as repairs or car maintenance.
How DoorDash's Pay Model Works
DoorDash drivers are Independent Contractors working on a project-by-project basis with DoorDash.
Drivers are paid for the food deliveries they make to customers that have ordered through the DoorDash app, either on a per-delivery or hourly basis.
Dashers make approximately $2 to $10 per delivery or $10 to $19 dollars per hour driving for DoorDash.
The amount a driver is paid, though, ultimately comes down to their location and the demand for DoorDash.
Drivers are paid on a per-weekly basis, or they can opt for instant pay. Because drivers are Independent Contractors, they're responsible for all vehicle-related expenses as well as their taxes and tax deductions.
Why DoorDash Doesn't Pay for Gas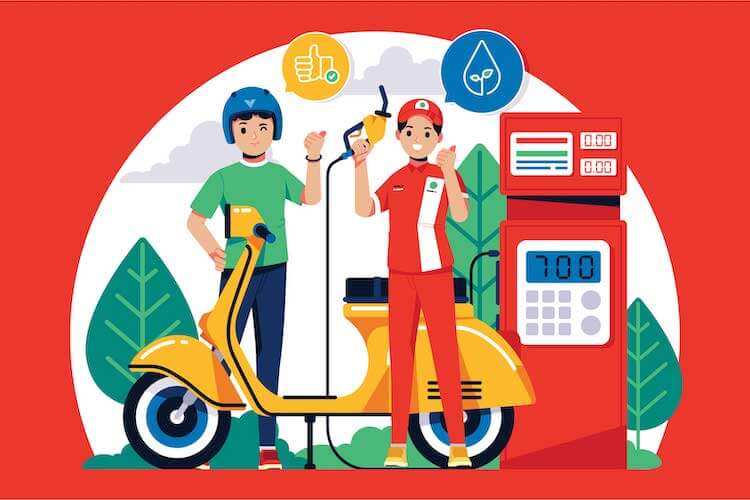 It's not so much that DoorDash doesn't want to pay drivers for the gas they spend on deliveries, it's that they can't pay for gas based on the terms of employment.
When you drive for DoorDash, you essentially work for yourself. Drivers are considered Independent Contractors, and therefore are only working with DoorDash on a project-by-project basis.
Drivers aren't employees of DoorDash with annual salaries, and therefore, DoorDash cannot cover the cost of gas.
Pros and Cons of Driving for DoorDash
So what are the pros and cons of driving for DoorDash? These lists may help you weigh your options and determine the risk vs reward for dashing in your area.
Pros
A fuel-efficient way to make money in cities, like New York and San Francisco for example.

DoorDash offers a Dasher Direct program where you can earn 2% back on every gas purchase you make driving for DoorDash.
Cons
Income isn't guaranteed. You'll make more or less depending on where you live, the time of day you can drive, and how many other dashers are in your area.

If you live in an area with higher gas prices and you have to travel farther distances, that money can add up quickly.
Using DoorDash Red Card and Tax Deductions on Gas
The good news is that DoorDash offers drivers a Red Card and there's a few tax deductions that you can claim at the end of the year to lessen your tax obligation to the IRS.
What's the DoorDash Red Card, and How Does It Work?
The DoorDash Red Card is essentially a credit card that dashers use to pay for DoorDash deliveries. It's not connected to your account and in no way impacts the money you earn, except to maybe increase your revenue.
DoorDash Red Cards are delivered to dashers as part of a welcome package after they've made a certain number of deliveries. The Red Card is preloaded by DoorDash and only works at certain times and places to pay for orders by customers.
DoorDash Red Cards give drivers the opportunity to take on different types of deliveries, such as shop and deliver deliveries, so they can earn more money.
And should you leave your Red Card at home, you can even pay for a delivery using your own credit card, save the receipt, and submit it to DoorDash for reimbursement later.
What tax deductions can you claim as a DoorDash Driver?
Because DoorDash Drivers are self-employed, they can write off the money they spend on gas for the mileage traveled dashing.
The Federal mileage reimbursement rate is currently 56 cents/mile and includes gas and vehicle maintenance.
The miles you spend delivering orders, in-between deliveries, and driving home from DoorDashing can all be deducted from your end-of-year taxes.
Keep in mind that DoorDash does not have a mileage tracker, so you'll want to download a mileage tracker to get an accurate representation of the miles you spend dashing.
Other tax deductions you can claim as a driver include:
Insulated delivery bags.

Cell phone usage.

Parking and tolls.

Health insurance.

Car payment (if the car is used solely for delivery purposes).
Note: For your information only. Get in touch with a tax professional regarding eligible tax deductions.
Tips for DoorDash Drivers to Save on Gas
So how can you save on gas and get the most out of every delivery? Follow the tips below to maximize your earnings.
Use a fuel-efficient vehicle and avoid unnecessary idling.
Hopefully you're already driving a fuel-efficient car with the current gas prices, but if you aren't, see if you can use a family member or friend's car to deliver DoorDash orders.
DoorDash lets drivers dash with any car as long as they have a valid driver's license, a clean driving record, and insurance.
Another way to save on gas while out on deliveries is by reducing the time you spend idling.
Turn off your vehicle when you're waiting on, picking up, or delivering an order, and don't drive around unnecessarily waiting for a DoorDash order to come in.
Utilize cash back credit cards and reward apps for gas savings.
You can also use Dasher Direct to earn 2% back on the money you spend on gas or opt for cash back credit cards, like the Citi Premier® Card, or gas-saving rewards apps such as GasBuddy.
Consider driving during peak hours and alternative transportation options in cities.
If you live in a big city, you're already a step ahead when it comes to saving gas as a DoorDash driver.
Cities are the biggest hotspots for deliveries, so driving during peak hours in these locations is sure to give you the most out of your trip and your gas money. Peak hours are typically around lunch (11 to 1), dinner (5-9), and late-night (after 10).
For dashers in places like New York where lots of deliveries can be made within a tight radius, you can even opt for alternative transportation options like a scooter or bike.
FAQs
How Much Do You Make With Doordash After Gas?
How much you make with DoorDash after gas depends on your location and the demand for DoorDash in your area. If you take orders that are $2 or more per mile, you will make a profit. Otherwise, you'll lose money.
How Much Does DoorDash Pay Per Delivery?
Dashers make approximately $2 to $10 per delivery or $10 to $19 dollars per hour driving for DoorDash.
Is DoorDash Worth It After Gas?
DoorDash can be worth it after gas if you take deliveries that cover your gas cost. You don't want to take deliveries that are less than $2 per mile.
Conclusion
Does DoorDash pay for gas? DoorDash does not pay for gas because its drivers are Independent Contractors, and are therefore considered self-employed by the government. That said, DoorDash does offer drivers ways to earn money back on the gas they spend dashing.