Can you buy from Amazon without an account?
Amazon, the world's largest online retailer, offers a vast selection of products and services, but understanding their account requirements is crucial before you dive into your shopping experience.
In short, you cannot complete a purchase on Amazon without an account.
While browsing the extensive catalog of products is possible without being logged in, once you reach the checkout phase, you'll be prompted to sign in or create an account.
Creating an Amazon account is a simple process that will help streamline your shopping experience.
Can You Buy from Amazon Without an Account?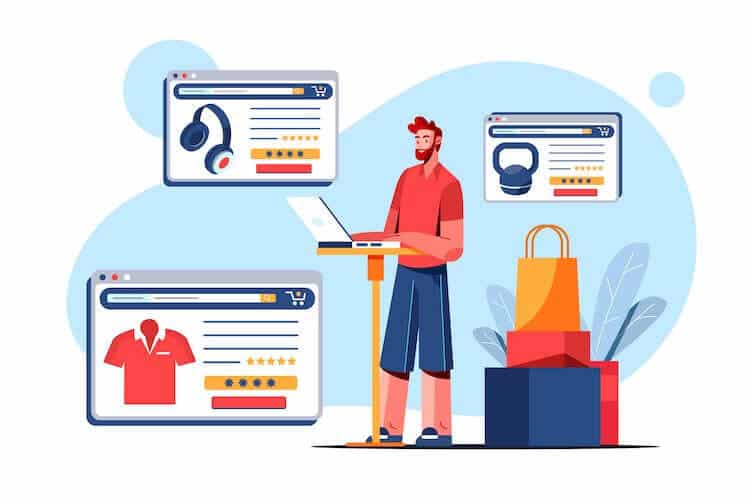 When it comes to online shopping, Amazon is one of the most popular platforms worldwide.
As a potential customer, you might wonder whether you can buy items without creating an account.
Unfortunately, Amazon requires an account to complete your purchase.
When you find an item you'd like to buy, you need to sign in to your Amazon account to add it to your shopping cart and proceed to checkout.
If you're not signed in, the website only offers an "Add to Cart" option, which necessitates an account.
However, there's a workaround for ordering without creating your own Amazon account.
You can ask a friend or family member, who already has an account, to purchase the item on your behalf.
Alternatively, you may be able to use guest checkout options on other online shopping websites, depending on the item you're looking to buy.
Keep in mind that creating an Amazon account has its benefits. It allows you to save your shipping information, track your orders, and manage your billing details.
Additionally, you can take advantage of features like wish lists and personalized recommendations to enhance your shopping experience.
An account also makes it easier to process returns and deal with customer service issues if needed.
How To Create An Amazon Account
Creating an Amazon account enables you to access numerous features and services such as Amazon Prime, Prime Video, Amazon Music Unlimited, and Prime Gaming, among others.
This section will guide you through the process of setting up your Amazon account.
1. Visit the Amazon Registration Page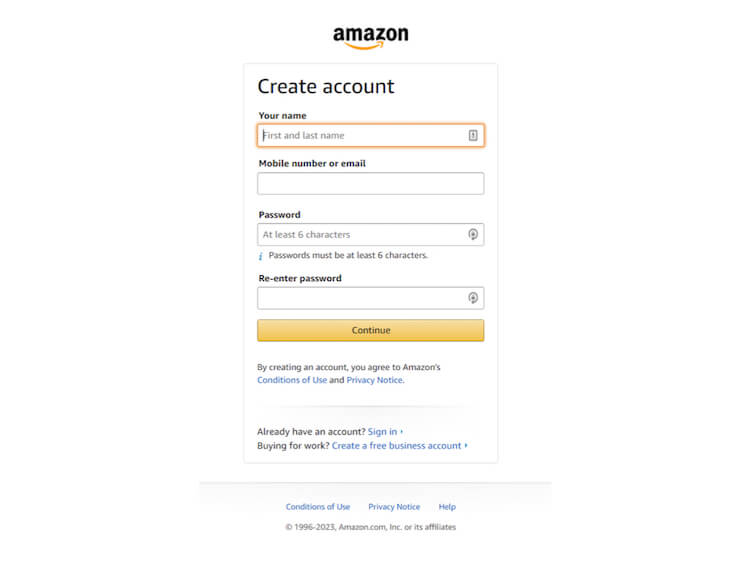 To begin, visit the Amazon registration page and provide the required information, including your name, email address, and a password.
Make sure to use a strong password for enhanced security.
2. Click "Verify Email"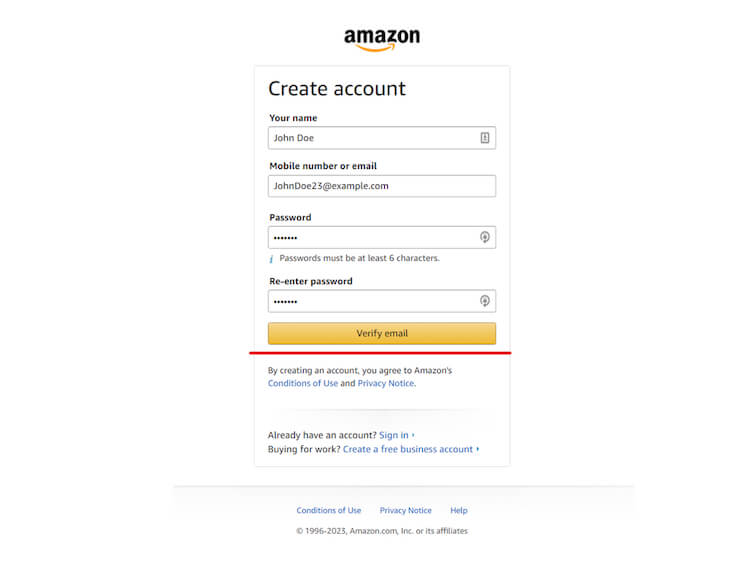 After providing the necessary information, click "Verify Email" to create your account.
3. Add a Payment Method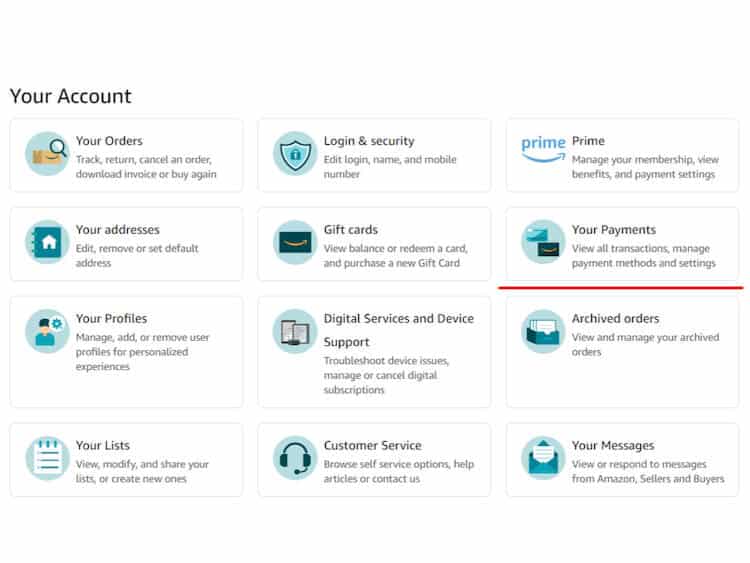 Once your account is created, you can set up various account features, like adding a payment method.
Popular payment methods include credit cards, debit cards, or linking your bank account directly.
Additionally, you may use Amazon gift cards or, in some cases, link your Paypal account for payment.
4. Consider Prime Benefits
For those interested in Amazon Prime, you can sign up for an Amazon Prime membership for access to benefits like Prime Day, Prime Video, Prime Music, and Prime Reading.
You can also share some of these Prime benefits with family members using Amazon Household.
To cater to your business needs, you may consider setting up an Amazon Business Prime membership, or explore selling on the platform by creating an Amazon seller account.
By creating your Amazon account, you have unlocked a world of convenience in shopping, entertainment, and more.
As you explore the numerous features and services offered by Amazon, you'll discover new ways to fulfill your personal and business needs.
Can You Order On Amazon Using A Family Member's Account?
If you're wondering whether you can use a family member's account to make a purchase on Amazon, the answer is yes.
You can also consider using Amazon Household.
This program allows you to share Amazon benefits with other adults, teens, and children.
With Amazon Household, you'll be able to share Prime benefits, such as free shipping, Prime Video access, Amazon Music Unlimited, Prime Reading, and more, with up to 6 people.
Keep in mind that both the adults in the household must have an active Amazon Prime membership to fully enjoy these perks.
Amazon Household streamlines the process of making purchases and sharing account access without needing to share sensitive account information or payment methods.
Risks of Using Another User's Account
You should be aware that using someone else's Amazon account without permission is a violation of Amazon's Terms of Use and can lead to account suspensions or other actions.
So, always make sure to get permission from the account owner before using their Amazon account for purchases.
Can You Order From Amazon Without An Amazon Prime Account?
Yes, you can order from Amazon without an Amazon Prime account.
While having a Prime account offers several benefits such as faster shipping, access to Prime Video, Prime Music, Prime Reading, and exclusive deals on Prime Day, it's not required to make purchases from Amazon.
If you don't have a Prime membership, you can still shop on Amazon for various products.
However, keep in mind that without a Prime account, you won't have access to exclusive benefits like Prime Early Access or Prime Wardrobe.
You can still use Amazon Pay to checkout and manage your payment options, such as adding a debit card or bank account.
What's the Difference Between a Regular and Prime Account?
When shopping without a Prime account, you might notice some differences, for instance, you'll have to meet a minimum order threshold to qualify for free shipping as it is not automatically provided like it is for Prime members.
You also won't have access to additional services like Amazon Fresh, Prime Gaming, and Prime Video, which are only available to Prime members.
For those looking to start an Amazon Seller Account, you can still do so without a Prime membership.
However, options such as Amazon FBA (Fulfillment by Amazon), Business Prime, or special promotions during Prime Day may have different rules and requirements for non-Prime sellers.
While you won't have access to all the perks that come with Amazon Prime Membership, you can still enjoy Amazon's vast selection of products and services without subscribing to Prime.
You might be interested to check those related posts as well:
FAQs
Can You Order With An Amazon Gift Card Without An Account?
Unfortunately, you cannot use an Amazon gift card to make a purchase without first creating an account.
Amazon requires all customers to have an account in order to complete the transaction, regardless of the payment method used.
Creating an account is quick and easy, and once completed, you can apply the gift card to your purchase during checkout.
Is There Any Way To Check Out As A Guest On Amazon?
No, Amazon does not offer a guest checkout option.
To make a purchase on Amazon, you need to create an account with a valid email address and payment method.
This helps ensure a smooth and secure shopping experience for both the buyer and the seller.
Once your account is set up, you can enjoy the vast selection of products and services available on Amazon's platform.
Conclusion
In summary, you cannot order from Amazon without an account.
While it may be technically possible to browse through Amazon's extensive catalog, you will need to create an account to complete a purchase.
By creating an account, you can enjoy the benefits offered by this massive online platform.
Although it may seem like an inconvenience, it's a relatively simple process that helps you enjoy everything Amazon has to offer.