Thanks to today's technology, almost anything can be done over a screen, including court proceedings.
The virtual court has existed for a while, but with Covid-19, it has only become more prevalent.
Here are the facts on virtual court stats!
General Virtual Court Stats and Facts 2023
In February of 2021, judges in the state of Texas reached 1,000,000 court hearings held virtually.
In a 2021 study of people who participated in virtual court, 76% of all civil hearings and 72% of all criminal hearings were held virtually.
Use Of Technology In The Judicial System 2023
In a recent survey, 72% of respondents said they submitted proposed exhibit and hearing bundles to the courts via email.
In 2020, Arizona civil courts experienced an 8% decrease in default judgment due to lack of appearance, thanks to virtual courts.
Fairness In Virtual Court Stats and Facts 2023
On average, virtual bond amounts are set 54% to 90% higher than in-person hearings.
A mock jury was given two testimonies by children, one virtual which had more accuracy, and one in person, which was less accurate. More than half the jury found the in-person testimony more believable.
In a study surveying immigration courts, 50% of judges claimed they had instances where they changed credibility assessments made during virtual court once they had conducted an in-person hearing.

Virtual Court Challenges Stats and Facts 2023
As of 2018, 42 million Americans did not have access to a computer or the internet.
23% of people feel that virtual hearings decrease court access, likely due to a lack of access to the technology required.
In a study surveying respondents who had participated in virtual hearings during the pandemic, 40% found accessing evidence in a case to be "Very Challenging."
Virtual Court Before and During The Pandemic
Before 2020, 37 states allowed those without a lawyer to e-file court documents in some cases. Since then, 10 more states have followed, adopting policies and allowing more virtual access to pro-se litigants.
In 2020, Arizona civil courts experienced an 8% decrease in default judgments due to lack of appearance.
Between April and June of 2019, Michigan courts held 0 virtual court hearings. By 2020 Michigan courts held more than 35,000 virtual hearings, totaling nearly 200,000 hours.
Pre-pandemic, no jurisdictions consistently used virtual court proceedings for eviction cases. By November of 2020, 82% of courts were permitting/ encouraging virtual hearings.
By November 2020, 15% of courts were mandating virtual hearings when applicable.
Virtual Court Stats For The Future 2023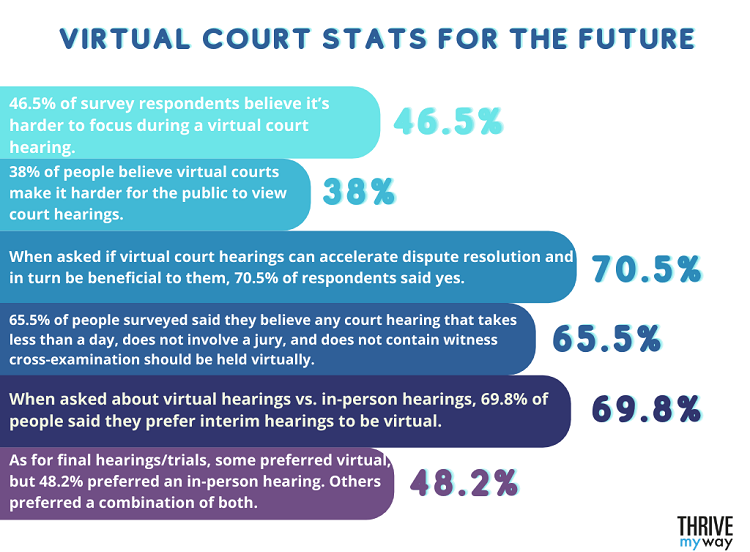 46.5% of survey respondents believe it's harder to focus during a virtual court hearing.
38% of people believe virtual courts make it harder for the public to view court hearings.
When asked if virtual court hearings can accelerate dispute resolution and, in turn, be beneficial to them, 70.5% of respondents said yes.
65.5% of people surveyed said they believe any court hearing that takes less than a day does not involve a jury and does not contain witness cross-examination should be held virtually.
When asked about virtual hearings vs. in-person hearings, 69.8% of people said they prefer interim hearings to be virtual. 10.1% preferred in-person.
As for final hearings/trials, 16.8% preferred virtual, but 48.2% preferred an in-person hearing. Others preferred a combination of both.
You might be interested to check those related posts as well:
FAQs
How long are virtual court hearings?
A typical court hearing can take anywhere from minutes to days, depending on the case. With technical difficulties being the main cause, virtual hearings can take up to 34% longer than in-person.
What is the percentage of the public that has faith in virtual courts?
In a recent study, it was found that 42% of respondents feel that virtual hearings increase access to court and increase trust in the system.
How many participants support holding virtual court hearings?
In a study where respondents were asked to rate the overall difficulty in accessing and participating in virtual hearings, roughly ⅓ found it very challenging.
How many judges believe in the effectiveness of virtual courts?
In a study of law officials, including judges, 70% found virtual courts to be more cost-effective. However, a great majority also found virtual testimony can be less effective than in-person.
Conclusion
In a time of uncertainty, the vast world of technology gave those seeking to uphold justice an outlet.
Despite mixed feelings about virtual court hearings, none can argue against the effectiveness it brings during trying times, as represented in these virtual court stats.
Sources:
The COVID-19 pandemic and the courts
The impacts of the Covid-19 Pandemic on State and Local Courts Study 2021
How Courts Embraced Technology, Met the Pandemic Challenge, and Revolutionized Their Operations
4 Things You Need to Know About Virtual Court Hearings
The Impact of Video Proceedings on Fairness and Access to Justice in Court
Are Virtual Court Proceedings Here to Stay?