A Content Delivery Network, or CDN, is an important service for increasing the page load speed of your website.
These CDN stats will show you why it's a beneficial service that's worth investing in.
CDN Stats for Market 2023
4,148 of the top 100,000 websites on the internet use a CDN, which is over 41%.
Only 3.4% of the entire internet uses a CDN.
The CDN industry was worth $11.76 billion in 2020.
North America is the largest market for CDN.
The top 5 biggest CDN companies are Amazon Web Services Inc, Akamai Technologies Inc., Google, Fastly Inc., and Limelight Networks.
CDN Growth Stats 2023
By 2026, the CDN industry is expected to reach $49.61 billion. That's a Compound Annual Growth Rate (CAGR) of 27.30%.
Mobile app CDN is predicted to grow at a rate of 22.3% by 2026.
The average size of a web page has grown dramatically, from 702 kB in 2010 to 2,409 kB in 2016.
64% of web page content is images.
During the pandemic, data service providers saw a 30% – 45% increase in internet traffic.
Asia is the fastest-growing market, with a forecasted 18.46% increase in revenue expected by 2025.
CDN Benefits Stats 2023
A website with a CDN can load 2x faster than a site without a CDN by reducing file size and decreasing the distance between where the content is stored and where it loads.
A CDN can also decrease website latency by an average of 83%.
Using a CDN can take a load of 60% or more off your origin server.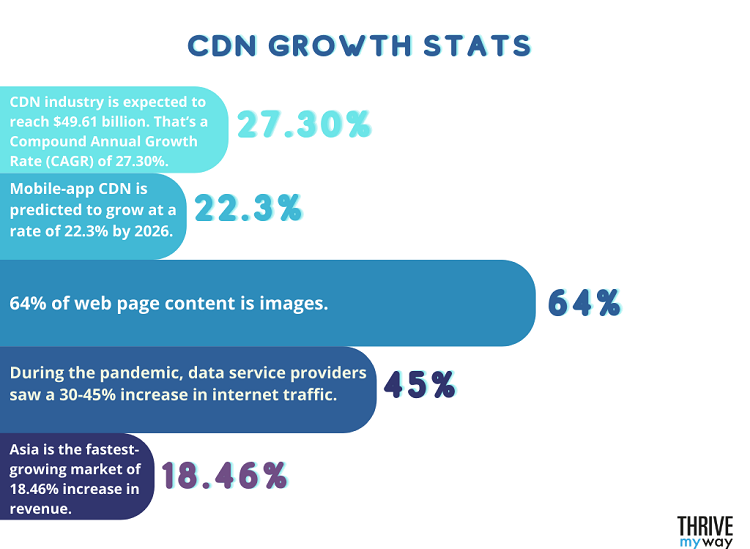 You might be interested to check those related posts as well:
FAQs
How much does a content delivery network cost?
The cost of using a CDN depends on several factors, including the service provider and the amount of data that is transferred.
However, you can expect to pay, on average, around $.02 to $.2 per gigabyte of data.

Who uses content delivery networks the most?
Any company or website can use a CDN to improve the performance and loading speeds of their site.
Media and entertainment is the biggest market, with over 34% of websites using a CDN service.
However, the other sectors include healthcare, IT, retail & e-commerce, and government.
How much can a content delivery network speed up a web page?
CDN services can increase page load times by 50%.
Hosting your media files in different locations around the world, reduce the number of requests made to a single server.
As a result, your page loads faster and your users get the content they need in half the amount of time.
Conclusion
You can reduce web load times and increase user engagement by using a CDN on your website.
It's a simple and seamless service that all companies can benefit from.
Sources:
Mordor Intelligence
KeyCDN
Allied Market Research
Globe News Wire