For both B2B and B2C companies, live chat is a valuable tool that can improve customer conversion, satisfaction, and loyalty.
We've put together a list of live chat statistics to show you just how popular it is for many businesses.
Key Trends and Live Chat Stats for 2023
Almost 80% of companies say that live chat has increased sales, revenue, and customer loyalty for their business.
40% of companies in the US, Europe, and China use live chat software for customer engagement.
The top live chat software companies are Zendesk, Freshchat, Salesforce Live Agent, Zoho SalesIQ, and LiveChat.
Live chat has the highest satisfaction rate (73%) out of any form of customer communication. Email communication has a 51% satisfaction rating while phone support has 44%.
Having a live chat service increases a company's conversion rate by 3.87%.
44% of people say live chat is the most valuable tool a company can offer on their website.
Live Chat Usage Stats 2023
60% of customers expect an immediate response when initiating a live chat.
B2B companies make up 61% of live chat clients. B2C makes up only 33%.
74% of B2C companies and 85% of B2B companies use live chat for sales. However, only 31% of B2C companies and 54% of B2B companies use live chat for marketing purposes.
The average company received 8,423 chat messages per month in 2020.
From 2019 to 2020, the use of live chat on mobile dropped by 0.5%. This is likely due to people spending more time at home on their computers instead of mobile devices.
Live Chat Demographic Stats 2023
Live chat is the preferred customer experience method for people between the age of 18 and 49.
Mexico has the highest customer satisfaction rate of live chat experiences out of any country (94.11%), followed by Australia (93.59%) and Canada (88.36%).
63% of millennials prefer using a live chat system over traditional channels like email or phone.
Live Chat Response Time Stats 2023
On average, a customer only has to wait 35 seconds to connect with a live chat agent.
Once a chat has been started, customers wait an average of 2 minutes and 40 seconds for a response from the chatbot or live chat rep.
On average, companies had a chat duration of 10 minutes 57 seconds in 2020, which is an 18% increase from the previous year.
Customer Preference for Stats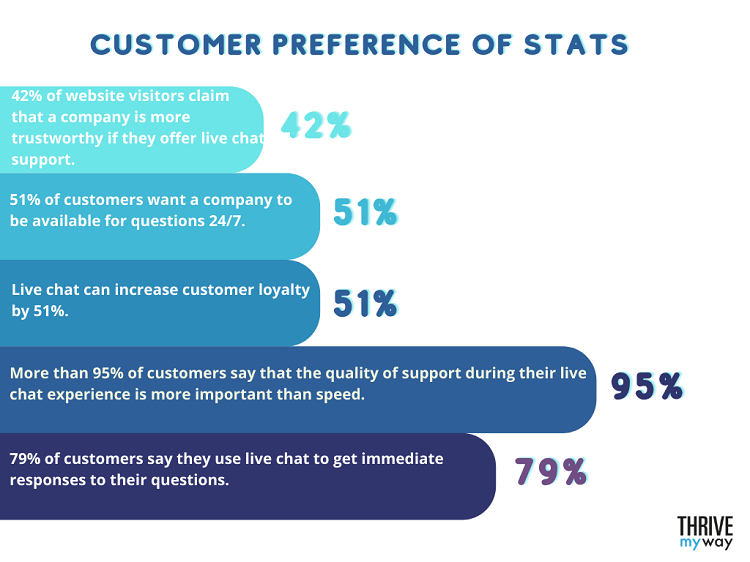 42% of website visitors claim that a company is more trustworthy if they offer live chat support.
51% of customers want a company to be available for questions 24/7.
Live chat can increase customer loyalty by 51%.
More than 95% of customers say that the quality of support during their live chat experience is more important than speed.
79% of customers say they use live chat to get immediate responses to their questions.
Phone Support vs Live Chat Stats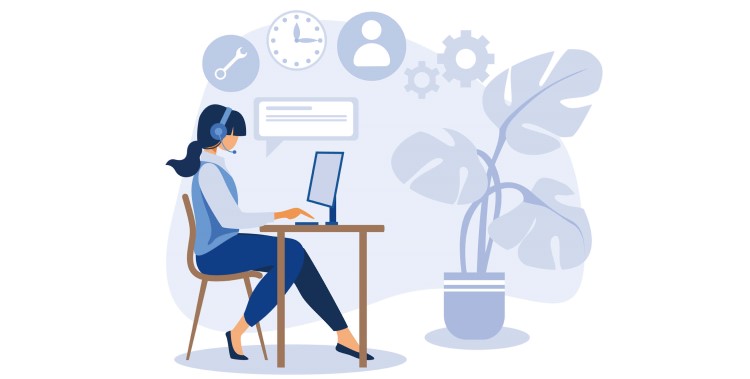 Companies with chat support pay roughly 15 to 33% less than those with phone support.
In 2021, customer service using phone support dropped by 7%.
42% of customers prefer live chat over phone conversations because they don't have to wait on hold for an agent.
Live Chat and Business Stats
The real estate industry has the highest global customer satisfaction rate, followed by transportation and technology.
59.56% of businesses used canned messages in their customer support responses.
Almost 2% of messages are proactive chats (initiated by the agent instead of the customer).
72% of customers expect the live chat agent to already know their contact details and purchase history.
Customer Satisfaction Stats
Only 10.8% of all chats are rated by customers.
In 2020, the average customer satisfaction rate was 85.6%, a 1.3% increase from the previous year.
Companies with a CSAT score of over 90% had a longer wait time than companies with a lower CSAT score (1 minute 32 seconds vs. 30 seconds).
Chatbots have a slightly higher satisfaction rating (87.58%) than chats that had to be handed over to a live customer service representative (85.8%).
92% of users have a positive experience with live chat, which is higher than a phone, email, Facebook, or Twitter customer service.
Live Chat Financial Stats 2023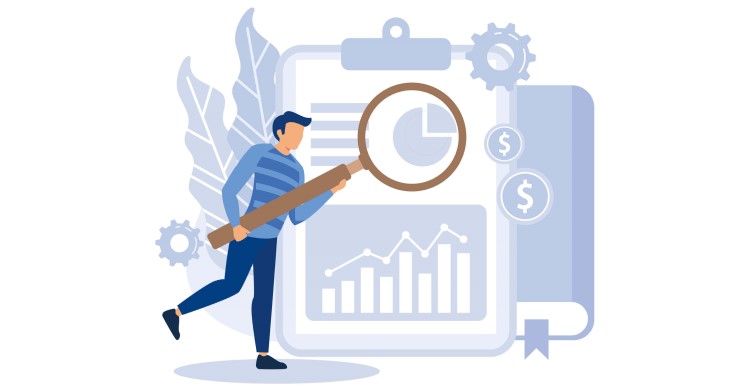 Businesses can reduce costs by up to 30% just by adding a chatbot to their website.
Live chat customers spend up to 60% more than people who don't.
Customers that interacted with a live chat agent are 82% more likely to make a purchase.
Implementing live chat software can generate a 48% increase per chat hour for the company.
Proactive chat can have a 105% return on investment.
Live Chat Stats for Company Improvement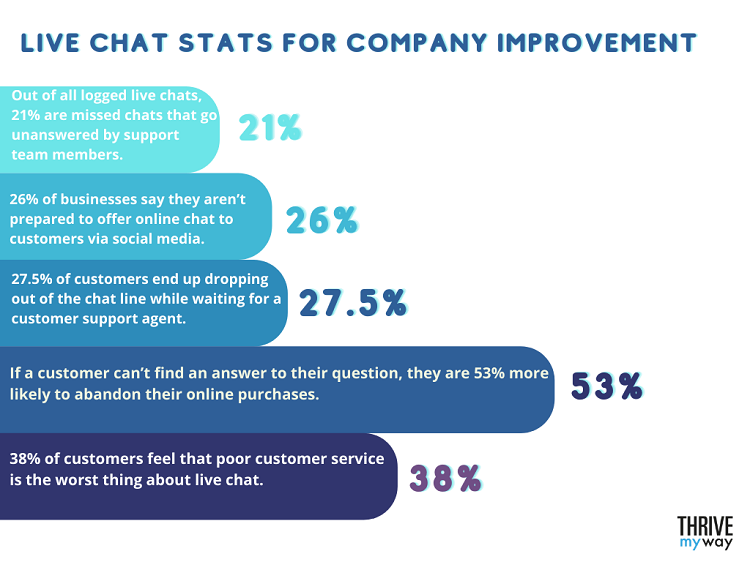 Out of all logged live chats, 21% are missed chats that go unanswered by support team members.
26% of businesses say they aren't prepared to offer online chat to customers via social media.
1 in 5 people will tell their friends about a bad live chat feature or experience with a representative.
27.5% of customers end up dropping out of the chat line while waiting for a customer support agent.
If a customer can't find an answer to their question, they are 53% more likely to abandon their online purchases.
38% of customers feel that poor customer service is the worst thing about live chat.
Over half of the companies with live chat support do not provide customers with a chat transcript.
Future of Live Chat Stats
The live chat support market is expected to reach around $987 million by the end of 2023.
Retail and e-commerce are two of the fastest-growing industries for live chat adoption.
81% of customer service departments plan on investing more in live chat support in the future.
With more customers demanding support through live chat, companies are expected to implement chat software on their websites or mobile apps.
Not only is live chat crucial to enhancing the customer journey, but it's also one of the most efficient and financially responsible tools for customer support.
Chat is the biggest unicorn in digital marketing right now. – Larry Kim
You might be interested to check those related posts as well: