The digital nomad trend of being location independent has become increasingly popular over the last few years, which is why it's no surprise that many people are seeking remote working opportunities.
Besides having endless possibilities for travel, digital nomads can also live a more affordable and flexible lifestyle compared to the typical in-office employee.
Here are 34 digital nomad stats that explain the full impact of the digital nomad movement.
Key Digital Nomad Stats 2023
In the U.S. alone, there are over 10.9 million digital nomads.
33% of digital nomads own their own businesses.
Digital nomads who spend at least six months abroad can save between $2,500 and $4,000 a year due to reduced lifestyle costs for food, child or pet care, and transportation.
Only 7% of employees worked at home before the pandemic. But in July 2020 (a few months after the pandemic started), this number rose to 42%.
Due to the COVID-19 pandemic and the inability to travel internationally, 76% of American digital nomads prefer to work from the U.S.
An astounding 81% of digital nomads report being highly satisfied with their work and lifestyle arrangements.
Interesting Digital Nomad Statistics
4% of digital nomads can fully support themselves by working less than 10 hours a week. The majority (70%) still work an average of 40 hours a week.
Digital nomadism has increased employee productivity by 35% for companies and businesses.
Many workers are relatively new to the digital nomad lifestyle. For example, ⅓ of all digital nomads have been working remotely for less than a year.
The majority (53%) of digital nomads plan to work remotely for two years, while 34% only plan to be on the road for a year or less.
69% of people between the age of 25 and 40 would choose the ability to work remotely over any other company benefit.
The biggest industry for digital nomadism is IT (12%), followed by education and training (11%), and consulting and coaching (11%).
Digital Nomad Demographics Statistics
The gender split between digital nomads is almost even (50.19% are female, and 49.81% are male).
The majority of digital nomads in the U.S. are white (70%).
83% of digital nomads are generally college-educated, while 2% don't have a high school degree.
Digital nomadism is a very popular lifestyle for Millennials. 42% of all digital nomads are between the ages of 25 and 40.
Gen X fills 22% of the remote workforce, while Gen Z and Baby Boomers are closely tied at 19% and 17%, respectively.
The average age of a digital nomad is 32 years old.
63% of digital nomads are in a relationship, and 20% live abroad with children.
Income Statistics for Digital Nomads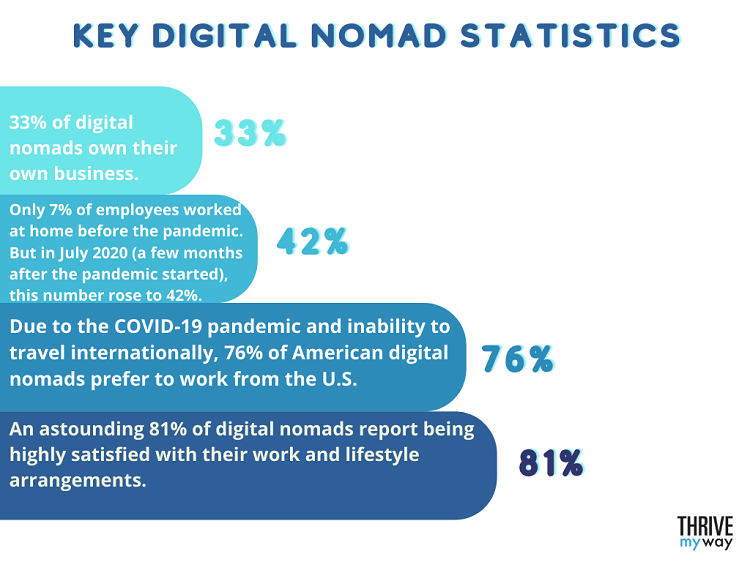 The average salary of a digital nomad is $51,116 per year. The average digital nomad hourly rate is between $10 and $30.
Men make slightly more compared to women ($55,744 compared to $46,488 annually).
Only 18% of remote workers make more than they would if they held an in-office position. Most digital nomads (46%) report that they make less.
Statistics about Digital Nomad Difficulties
9% of independent professionals find it difficult to stay motivated and free of distractions.
The biggest challenge of having location independence is finding fast and reliable internet speed.
Other difficulties include loneliness (33%), being overworked (33%), career progressions (25%), and communicating with coworkers in different time zones (20%).
However, loneliness is the #1 reason why most remote workers living abroad return home.
When it comes to long work hours, 33% of nomads say it's hard to disconnect from their job at the end of the day. That's why 45% claim they work more hours than they did the year before.
Biggest Digital Nomad Communities Statistics
54% of digital nomads only visit 1 or 2 countries a year.
In 2021, Taiwan was reported to be the best country for digital nomads based on personal satisfaction. This is followed by Mexico, Costa Rica, Malaysia, and Portugal.
Italy, Kuwait, and South Africa have the lowest approval rating in terms of providing a positive nomadic lifestyle.
Digital nomads are also flocking to exotic locations to work. Southeast Asia (especially Bali and Thailand), Costa Rica, and the Caribbean are just some of the most popular destinations.
Digital Nomad Trends and Future Predictions
People are becoming increasingly more interested in digital nomad life. The term "digital nomad" saw a 247% increase on Google Search from January 2019 to April 2021.
Sixty-four million Americans would like to join the digital nomad community, while 19 million plan to actually do so in the next three years.
By 2035, it is expected that the number of people living the digital nomad lifestyle will reach over 1 billion.
You might be interested to check those related posts as well:
FAQs
What is the cheapest country for digital nomads?
Although costs will depend on your accommodation and lifestyle, Goa, India, and Pokhara, Nepal is considered to be two of the cheapest destinations for digital nomads. The average cost of living in both places is around $650 a month.
Do I need a digital nomad visa to work in a different country?
Many countries require that you obtain a digital nomad visa if you plan on working or staying for extended periods of time. For example, American digital nomads should apply for a working tourist visa if they plan on staying in Portugal, Croatia, the Czech Republic, Germany, the Bahamas, etc despite having visa-free entry as non-working tourists.
What do digital nomads need?
First and foremost, digital nomads need a laptop or computer and a reliable internet connection. To be a successful digital nomad, it's also important to have an area where you can be productive. For some, that could be a separate room in their house, a coworking space, or even a quiet coffee shop.
Digital nomadism is an enticing lifestyle for many freelancers, business owners, and employees. With more and more people joining the digital nomad movement, we can anticipate this major lifestyle shift to become a more mainstream way of working.