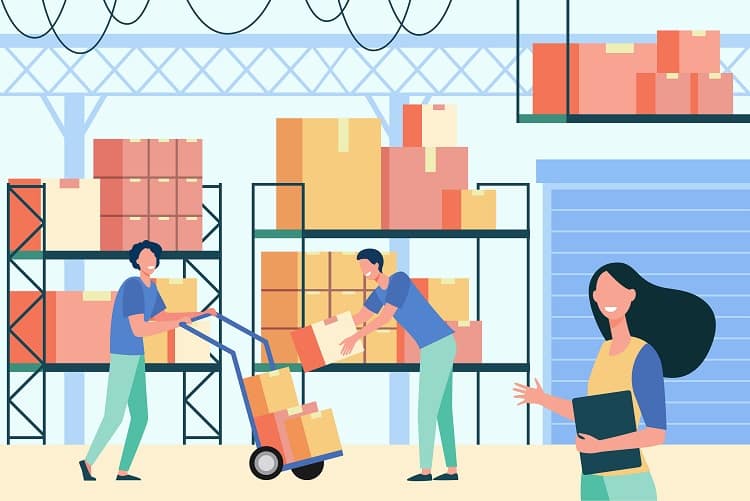 Introduction
One of the most challenging aspects of engaging in the world of e-commerce, particularly when it comes to Amazon, is "What to sell on Amazon"? There are many ways to earn money on Amazon, from opening up a marketplace to becoming a wholesaler.
You might need more than just relying on your intuition to determine the ideal product to sell in today's competitive market. Experienced Amazon sellers leverage the power of data-driven decision-making when picking up products to invest their time in, pricing them, and smartly allocating resources.
An online marketplace like Amazon opens up possibilities for selling products, but a larger part of choosing the product involves pricing it right. Generally, sellers adopt CPQ tools that help configure product offerings based on customer needs and calculate the optimal price considering various factors like competition, demand, cost, etc.
Therefore, consider choosing a product that can be priced competitively and yet drive revenue to your business. In this post, we'll cover some key product categories (with product examples) that help you guide on what to sell on Amazon.
Let's begin!
Apparel, fashion accessories, and footwear
Apparel, accessories, and footwear is an evergreen category as there are new fashion trends frequently, along with seasonality that keeps consumer demand high year-round.
For instance, consumers search for warmer clothing during the fall and winter, while the spring and summer months trigger demand for lighter clothing and footwear.
Moreover, as a retailer, you can explore the niche and leverage a remarkable opportunity to curate garments tailored to specific body types, occasions, materials, sizing, style, etc.
For example, create a niche for selling any of the following sub-categories in retail clothing:
All-size fashion
Sustainable clothing
Ethnic or cultural wear
Fitness and activewear.
Moreover, you can explore gender-neutral accessories or try clubbing the apparel offerings with fashion accessories like trendy bags, sleek wallets, stylish sunglasses, and fashionable belts.
Why should you target this category?
Here are some reasons:
Looking to start your journey to becoming a big retailer on Amazon?
Well, begin with comprehensive market research to understand your target audience, their needs, and your competitors.
Some tools you can use:
Google Trends
Social media listening tools like Mention, Hootsuite, Sprout Social, etc.
JungleScout
Once you complete the research and have any of the best-suited tools, identify a niche that allows your products to stand out and offer a unique value proposition.
Next, you'd want to find reliable suppliers to source apparel, accessories, and footwear. This could be local manufacturers, wholesalers, or even international suppliers available on platforms like Alibaba. Lastly, create an Amazon seller account to get started and choose how would you like to facilitate the delivery.
You can hire third-party delivery or leverage Amazon fulfillment services which provide same-day delivery. Moreover, 72% of US consumers benefit from Amazon Prime's same-day or next-day deliveries.
Beauty and Personal Care Products
The next answer to the question of what to sell on Amazon is beauty and personal care products. These products (mostly) are targeted at women for skin, hair, nails, and oral hygiene.
In this category, products like conditioners, facial moisturizers, serums, shampoos, lipsticks and mascaras, deodorants, etc. fetch high sales in the United States.

Source: Top-performing product sub-categories of beauty and personal care in the USA.
Here's a full list of products to help you quickly understand the category.
Market researchers might find success by focusing on people eager to try novel items, particularly those that are all-natural, organic, and chemical-free. It's also worth investigating for retailers since the business brings in billions of dollars annually.
To get started, find the customer data of those who prefer niche beauty and wellness products.
Amazon Brand Analytics is available to sellers who own a brand. It provides invaluable insights into search terms used by customers, clicks, and conversion share for specific products and demographic information of the buyers.
Discover qualitative data in Amazon niche product reviews and Q&As since it helps you understand what buyers value in such things. Also, look for positive reviews, complaints, and customer expectations in reviews.
Tools like Jungle Scout, Helium 10, or Viral Launch can provide in-depth insights into customer behavior, competition, and market trends, specifically for Amazon.
Socialbakers can help analyze your niche's customer behavior and preferences (via social analytics) based on their engagement with relevant content.
Before you list your beauty and personal care products, use Ahref's Amazon keyword analyzer tool to discover trending items. In turn, you can leverage the data to strategically position your brand and its products in alignment with consumer trends and demands.
However, consider researching health and personal care products, as these items may need certain labeling and disclaimers in their product descriptions. Additional restrictions may apply when selling such products in the USA because they might be FDA-regulated.
Pet Supplies
If you are stuck with the question of what to sell on Amazon, consider selling pet supplies since 70% of households in the USA have a pet. The pet industry is thriving, thanks to the fact that many households are home to multiple furry friends, where pet ownership has jumped up from 67% reported by Petage in 2020-21.
With a growing demand for a diverse range of pet supplies, this particular category has emerged as a highly lucrative market since it is a niche category with relatively lesser competition.
From essential pet food and treats to trendy holsters and nail grinders, there is no shortage of options to pamper pets.
For example:
Pet Food & Treats
Pet Toys
Pet Beds & Furniture
Pet Health Supplies
Pet Accessories
Here, Google Trends provides valuable data on how many people search for specific pet supplies.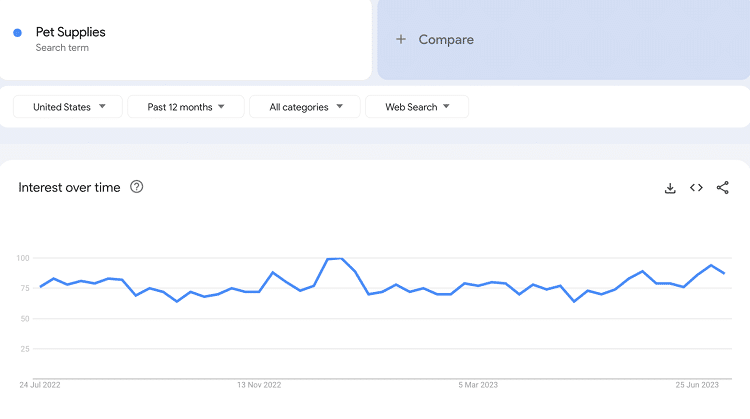 Source: Google Trends
Identifying high-volume, low-competition keywords can give you an idea of what products are in demand but have less competition.
Toys and games
The games, toys, and puzzles category consistently hold a high demand on Amazon. These items serve not only as entertainment but also contribute to the cognitive development of youngsters. Whether a parent, a game enthusiast, or an entrepreneur looking to explore this category, Amazon provides a lucrative platform for selling such products.
Popular items within this category vary widely, from classic board games like Chess, Monopoly, and Scrabble to popular children's toys and innovative puzzles. However, beyond these best-sellers, there is scope for introducing unique product ideas.
For instance, you can partner with a Print-On-Demand (POD) company to create custom versions of popular games like chess boards, Ludo, Snake & Ladders, or other personalized puzzles. This could differentiate your offerings in a highly competitive market.
While games, toys, and puzzles enjoy steady demand throughout the year, seasonal trends significantly influence this category. Therefore, timing your marketing and inventory management to capitalize on these seasonal trends can greatly enhance your sales and profit.
Here's a quick overview of keyword research in the same category on Google Trends.

Source: Google Trends
The above graph shows that toys are highly seasonal, and there is a surge in demand around the Christmas holidays.
Next, consider using AMZscout to run Amazon's sales reports showing an uptick in searches and purchases of games, toys, and puzzles leading up to and during this season.

Source: AMZScout
This exemplifies the idea that a well-strategized product launch and targeted marketing campaign can yield excellent results around this time.
You can do some careful planning and gain a keen understanding of market trends to profitably sell games, toys, and puzzles on Amazon.
Use BSR to Identify Potential Profitable Products
Lastly, this is not a product but a pro tip that helps decide what to sell on Amazon.
Understanding the platform's Best Sellers Rank (BSR) is crucial for your success as an Amazon seller.
The BSR ranking system reflects an item's recent and historical sales. The lower the BSR number, the better the product is selling. This is a valuable metric as it helps identify which items are in-demand.
High-demand items, indicated by a high BSR, are more likely to be profitable for you as a seller.
When evaluating product categories using BSR, you should find categories with at least three products showing a high BSR. This signifies a general demand within that product category rather than a single item dominating the market.
Suppose you find a category with only one product having a high BSR. In that case, the particular product has monopolized consumer interest in that area, leaving little room for new entrants.
Let's find this out with an example.
Suppose you are interested in selling sports products. Consider selling basketballs but find only one item with a high BSR in this category.
On the other hand, in the "football" category, you find several items with a high BSR.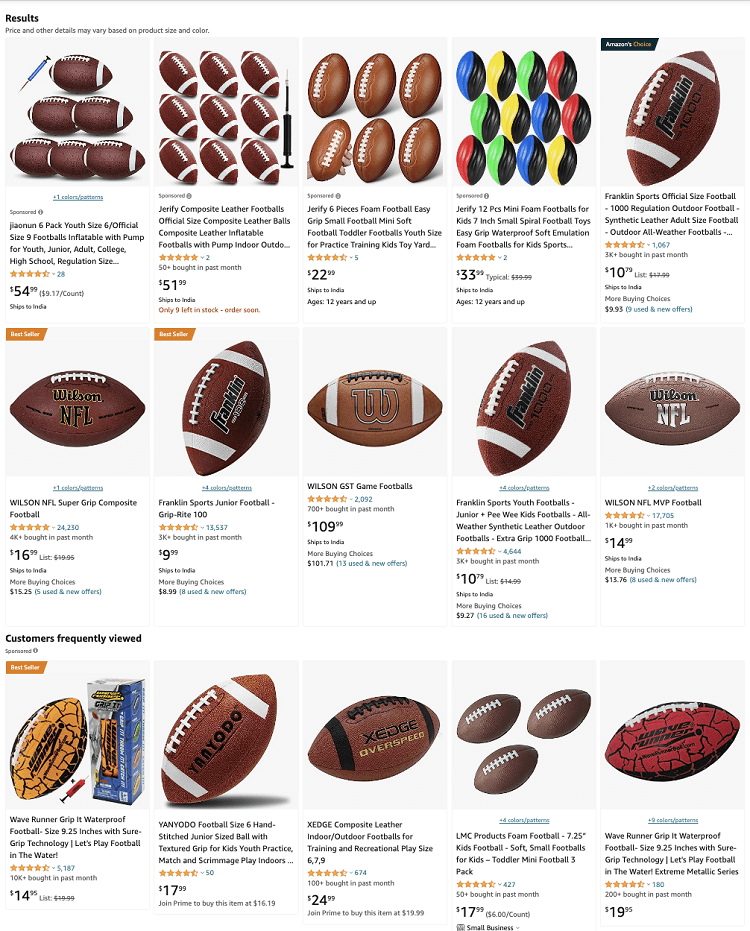 Source: Amazon
In such a situation, it would be strategic to prioritize selling footballs over basketballs. This is because the multiple high-BSR items in the football category suggest consumers are open to considering different options before purchasing.
It also indicates healthier competition and greater opportunity for a new seller like yourself to succeed.
Over to You
Deciding what to sell on Amazon requires careful research, an understanding of market demand, and keen insights into customer preferences.
Whether it's the evergreen categories like fashion or trending niches like beauty products leaning towards natural, organic, and chemical-free options, success lies in delivering unique value propositions. Considering factors like seasonality, market size, competition, and potential growth is vital.
Before deciding what items to sell on Amazon, consider leveraging tools like Amazon BSR, Google Trends, and various market research tools to identify high-demand, low-competition products. It's about choosing the right product that aligns with market trends and your business objectives.