Technology has made our lives easier. It has also facilitated communication, business, government, and more.
However, with the good, there often comes the bad. In the case of the internet, the downside is cyberbullying.
In this post, we will share some of the latest cyberbullying stats, trends, and facts.
But before we start, let's quickly explain what cyberbullying is.
Cyberbullying is bullying in the digital space, including on social networking platforms.
It can take place on phones, tablets, and computers.
It takes the form of instant messaging, social media posts and messages, explicit images, and forum posts.
Some online casinos and other online businesses have also been accused of cyberbullying over the years.
Key Cyberbullying Stats, Trends, and Facts 2023
73% of school students say they feel they've been bullied in their lifetime.
44% say they think they've been bullied in the last 30 days.
Overall, 36.5% of people feel they've been cyberbullied in their lifetime. Of these, 17.4% report it has happened in the last 30 days.
60% of teens say they have experienced some form of cyberbullying.
70% of teens report that someone has spread rumors about them online.
87% of young people have witnessed an instance of cyberbullying online.
95% of teens actively use the internet, and 85% regularly use social media.
It's not only school kids that experience cyberbullying. Adults are often the perpetrators of or the victims of cyberbullying, but it tends to be called harassment and sometimes even stalking when adults are involved.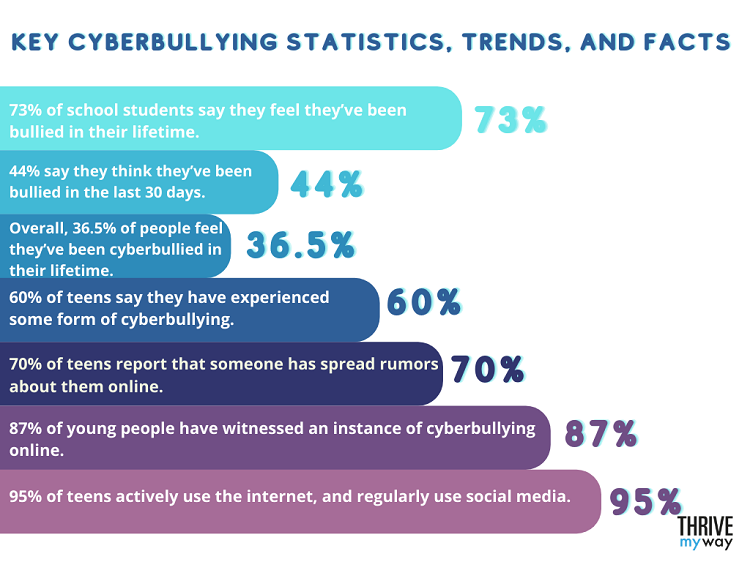 Statistics on Bullying by Country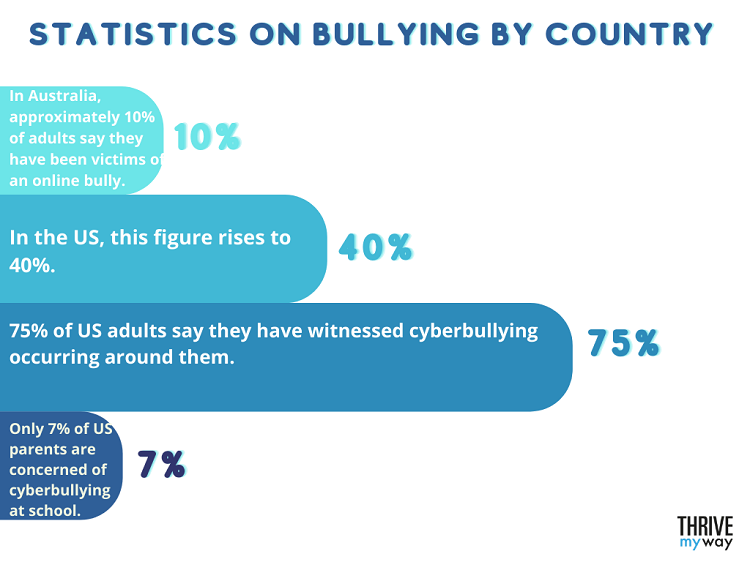 In Australia, approximately 10% of adults say they have been victims of an online bully.
In the US, this figure rises to 40%.
75% of US adults say they have witnessed cyberbullying occurring around them.
One in three kids in 30 countries has been an online bullying victim at school or elsewhere.
Among internet users in Canada aged between 15 and 29, one in five say they have been cyberstalking or cyberbullying victims in the last five years.
Only 7% of US parents are concerned about cyberbullying at school.
In Russia and Japan, parents have expressed high levels of confidence that their kids have not experienced any kind of cyberbullying at school or otherwise.
Social Media and Cyberbullying Statistics
When school students were asked to indicate which social networking sites they had experienced cyberbullying on, 42% said Instagram, 37% said Facebook, 31% on Snapchat, 12% on WhatsApp, 10% on YouTube, and 9% on Twitter.
There is a connection between intensive social media use and mental health problems.
One-fifth of all bullying takes place on social networks.
School Cyberbullying Statistics
Students who have been cyberbullying victims are more likely to have problems adjusting at school and have behavioral and mental health problems.
23% of students reported doing or saying something cruel or mean to someone else online.
School teachers report that cyberbullying is their #1 safety concern in the classroom.
Adult Cyberbullying Statistics
Young adults experience the highest levels of cyberbullying. For example, 24% of 26-35 year-olds have reported substantial lifetime cyberbullying.
13% of 46-55 year-olds have experienced substantial lifetime cyberbullying.
Celebrities are the most targeted adults online.
The average person assumes that they have permission to criticize, harm, or hurt those in the public eye using their keyboards.
Reasons People Get Cyberbullied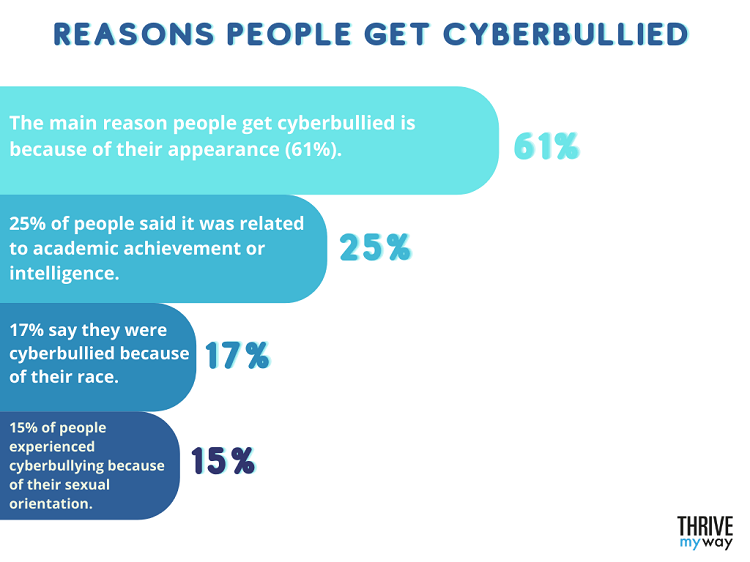 The main reason people get cyberbullied is because of their appearance (61%).
25% of people said it was related to academic achievement or intelligence.
17% say they were cyberbullied because of their race.
15% of people experienced cyberbullying because of their sexual orientation.
Who is Prone to Cyberbullying Statistics
Girls are more likely than boys to be both perpetrators and victims of cyberbullying.
Around 50% of LGBT youth and LGBTQ students experience harassment online, which is higher than the average rate of 20%.
Cyberbullying Prevalence Statistics
A 2020 survey found that 44% of internet users had personally experienced online bullying behavior and online harassment.
28% reported severe forms of online harassment such as stalking, threats of physical bullying, sexual harassment, and sustained harassment.
Cyberbullying Impacts Statistics
64% of cyberbullying victims say it has affected their ability to feel safe at school and learn and has resulted in low self-esteem.
When teens experience cyberbullying incidents, they are at a greater risk of suicidal thoughts, behaviors, and self-harm than those who haven't.
A teenager who experiences traditional bullying or cyberbullying is nearly two times more likely to attempt suicide or show evidence of suicidal behavior.
Suicide ideation and attempts among adolescents have nearly doubled since 2008.
Suicide is the 2nd leading cause of death for individuals between 10 and 34 years of age.
Cyberbullying Awareness Statistics
The country with the highest rate of cyberbullying awareness is Sweden, at 91%.
Globally, 75% of people are aware of cyberbullying.
65% of parents know that their teens could be experiencing cyberbullying via a social media site such as Facebook.
Cyberbullying Prevention and Action Statistics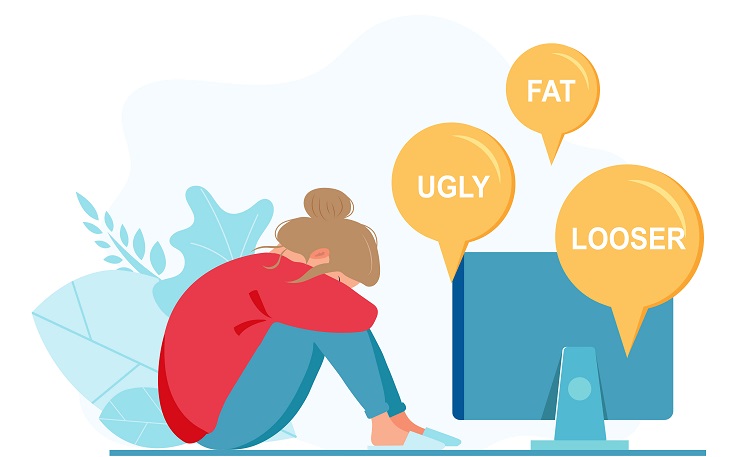 Research has found that 59.4% of parents have talked to their children about online safety and safe practices after cyberbullying.
Google Trends data indicates much more attention is focused on cyberbullying than in previous years.
During Q3 of 2021, Facebook removed 9.2 million pieces of guideline-violating content.
During Q3 of 2021, 4.6% of videos removed by YouTube were deemed cyberbullying or online harassment.
Anti-Bullying Campaigns Statistics
66.3% of tweens say they have tried to help cyberbullying victims.
Younger children are more likely to try and stop cyberbullying than teens and older peers.
71% of teens say that blocking someone is best for cyberbullying prevention.
48 US states have recognized that cyberbullying behaviors threaten the well-being of teens and adolescents and have added it explicitly to their harassment laws.
Law enforcement officials should be contacted when cyberbullying involves death threats or threats of violence, extreme intimidation or extortion, or there is any evidence of sexual exploitation.
You might be interested to check those related posts as well:
FAQs
What country has the highest rate of cyberbullying in Asia?
Three countries report the highest rates of cyberbullying in Asia. They are China (58%), India (50%), and Singapore (46%).
What country has the lowest rate of cyberbullying?
The Netherlands is one of the countries with the lowest rates of cyberbullying. Two other countries with the lowest rates of cyberbullying are Iceland and Spain.
Which country has the highest rate of cyberbullying?
The three countries where cyberbullying is most prevalent are India, Brazil, and the United States.
Conclusion
The cyberbullying statistics above are more than just a series of numbers. They represent real people who have fallen victim to online bullying or harassment.
We used several resources when compiling this list of cyberbullying statistics, including the following: