Since it was founded in 1984, Cisco Systems has grown to become one of the largest tech companies on the planet. They're most famous for developing and producing communication equipment, networking software, and technology products.
Despite being one of the most well-known companies, there are still a few things you might not know about their operations.
General Cisco Systems Stats and Facts 2023 2023
Cisco System's first product was released in 1985. It was a network interfacing card built for Digital Equipment Corporation
Cisco Systems went public on February 16, 1990. At this time, its market capitalization had a value of $224 million.
On the Fortune 500 list, Cisco comes in at 74.
In the early 2000s, Cisco was the most valuable company in the world. It's now the 56th.
From 2020 to 2021, Cisco Systems' revenue grew by only 1%.
The highest Cisco System stock price was $82 in 2000. As of August 2022, it is worth around $45 per share.
Cisco Systems Market Share Statistics 2023
In 2000, Cisco Systems became the most valuable company in the world, with a value of over $500 million.
Cisco's infrastructure platforms segment currently owns 37.5% of the market share. Huawei owns 28.1%, while Juniper has 24.40%.
However, the infrastructure platforms segment is in decline, with a -.89% 6-year growth rate.
In enterprise network infrastructure, Cisco Sytems owns 55.7% of the market share.
Cisco manages 45.4% of the ethernet market share, followed by Huawei (10.7%), Arista (7.3%), and HPE (5.8%).
Cisco Systems Acquisition Statistics 2023
Since its founding, Cisco Systems has acquired over 200 firms. That's an average of 6 companies per year.
Cisco's acquisitions make up roughly 50% of all its business activity.
In total, Cisco Systems has spent more than $70 billion on different acquisitions.
The majority of acquired companies are in the LAN switching and Voice over Internet Protocol (VoIP) industries.
Its most expensive acquisition was Cernet Corporation, which it bought for $7 billion.
Cisco Systems Employee Stats 2023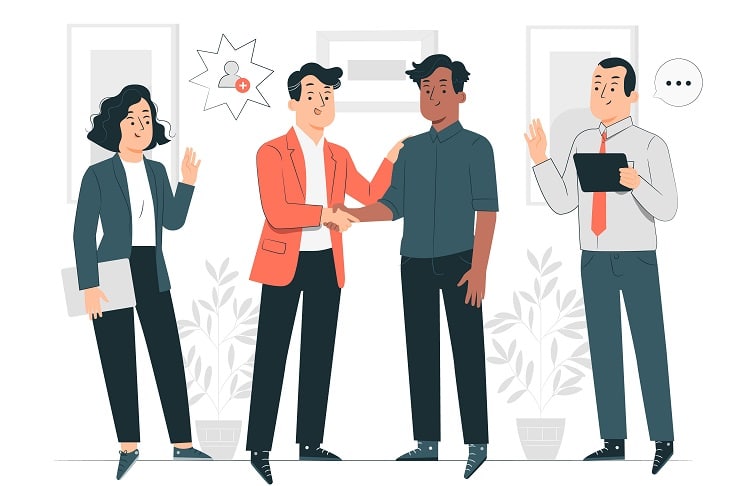 Cisco has over 79,500 employees and 200 offices in over 80 countries around the world.
In 2020 and 2021, Cisco Systems ranked #2 on the Forbes' 100 Best Companies to Work For list.
In 2013, Cisco Systems laid off approximately 6% of its employees.
Over 15,000 employees work in the San Jose headquarter office.
The second biggest office is in North Carolina, with a total of 7,000 employees working full-time.
Cisco gave all employees the option to work remotely starting in 2021.
Cisco Systems Stats About Products 2023
Cisco has several industry focuses. Their biggest Cisco System products are in security, communication, and collaboration (VoIP), infrastructure (routing and switching), and datacenter and virtualization.
Cisco's VoIP product, Webex, has grown to become over a $1 billion business for the company.
Cisco acquired Scientific Atlantica and Linksys, two other Cisco phone systems products for home and enterprise usage.
Cisco also operates Network Emergency Response Vehicles (NERV)s for natural disasters and emergency crises.
For home users, Cisco produces cable modems for broadband technologies.

Cisco Systems Revenue Statistics 2023
In 2021, Cisco Systems reported over $49.8 million in revenue.
Cisco System's biggest revenue year was 2019 when they generated $51.9 billion.
49.3% of Cisco's revenue comes from its switching products. An additional 27.7% comes from routing services.
Over the past 5 years, Cisco Systems has only seen revenue growth of 0.3%.
Cisco's gross and net margins have only increased by 61% to 64% and 17% to 21.3%, respectively, in 10 years.
Cisco Systems Interesting and Fun Stats and Facts 2023
The name "Cisco" is derived from San Francisco.
Cisco System's logo is a graphic representation of San Francisco's Golden Gate Bridge.
In 2009, Cisco acquired Pure Digital Technologies, the maker of the Flip Video camera. However, this technology became obsolete with the rise of the smartphone.
The company was started by husband and wife duo Leonard Bosack and Sandy Lerner.
When Cisco went public in 1990, Lerner was fired, and Bosack quit in response. They sold their shares and parted ways with the company.
The Cisco Networking Academy is a free educational program that is available on a variety of tech-related topics.
You might be interested to check those related posts as well:
FAQs
Who is Cisco's biggest competitor?
In terms of infrastructure platforms, Cisco's biggest competitors are Arista Networks, Juniper Networks, and Huawei. In addition, Checkpoint Software is one of its largest competitors in the security market. Cisco also faces competition from other companies, including Dell, HPE Aruba, NETGEAR, VMware, and Extreme Networks.
What percentage of routers is Cisco?
Cisco Systems is one of the largest switches and router providers. They currently own around 37.50% of the router market share, ahead of Nokia, Juniper, Arista, and Huawei.
Despite being the largest player, Cisco's router business has declined since 2016, when it originally owned over 40% of the market share.
How many customers does Cisco Systems have?
As one of the largest tech companies in the world, Cisco is used by more than 87% of Fortune 500 companies. Their largest customers include utility companies, government agencies, educational institutions, and enterprise businesses.
Conclusion
Although Cisco has only been around for 40 years, it has grown and changed tremendously in terms of usage and product offerings. With fiercer competition and a volatile market, it will be interesting to see how the company evolves over the next few years.
Sources:
Cisco
Statista
Investopedia
Seeking Alpha
ICSID
I-Medita
Companies Market Cap