Nuelink Review 2023: How I scheduled and Automated a Month's Worth of Social Media Content and Saved 5 Hours per Week!
In today's attention-driven world, the more attention you attract, the more possible revenue you make.
With approximately 5 billion users. Social media stands out as an infinite source of attention.
Whether you're a business owner, an e-commerce seller, a content creator, or involved in any other pursuit,
Maintaining a consistent social media presence is no longer a luxury; it is a necessity.
The problem? Consistency in the social media game requires a tremendous amount of time and energy—not just on one platform, but on at least 4 or 5 platforms.
This is where social media management and automation tools shine.
What Is Nuelink?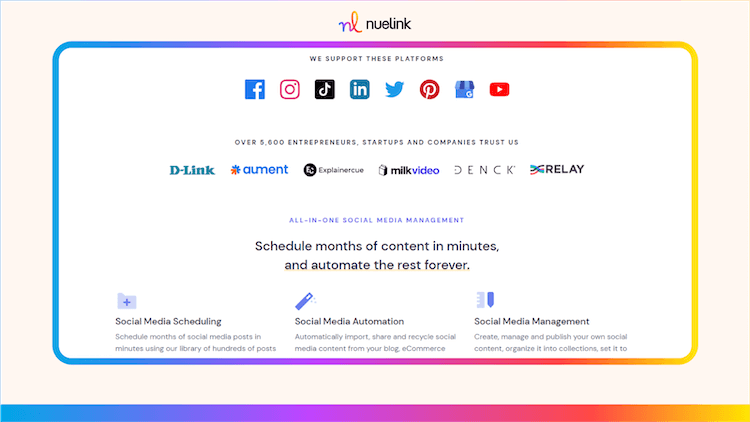 Imagine hiring an assistant for just $35 per month. She never gets tired, never misses a deadline, and pays attention to every detail.
You hired her to handle your social media presence.
The peace of mind you've experienced since the day you hired her for your social media presence is unbelievable.
You can schedule a 20-minute e-meeting with her once a month or so, and from there, she takes care of everything: managing, scheduling, automating, and even occasionally creating content for all the major platforms like LinkedIn, Facebook, YouTube, Twitter, Pinterest, and more.
Well, this is exactly what is Nuelink! Your favorite social media management and automation tool.
Nuelink helps get social media tasks done. Or, to be more accurate, Nuelink gets social media tasks done for you.
Who can benefit from Nuelink?
SMM agencies

Social media managers

Content creators

E-commerce sellers

Bloggers

Podcasters

Small, medium, and large businesses
Nuelink Pricing & Plans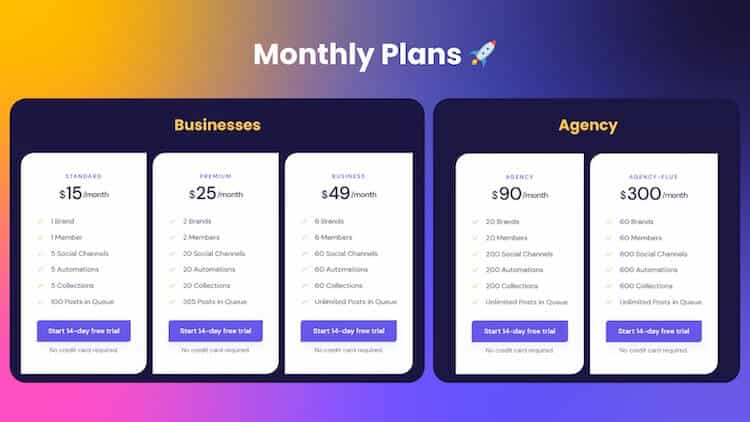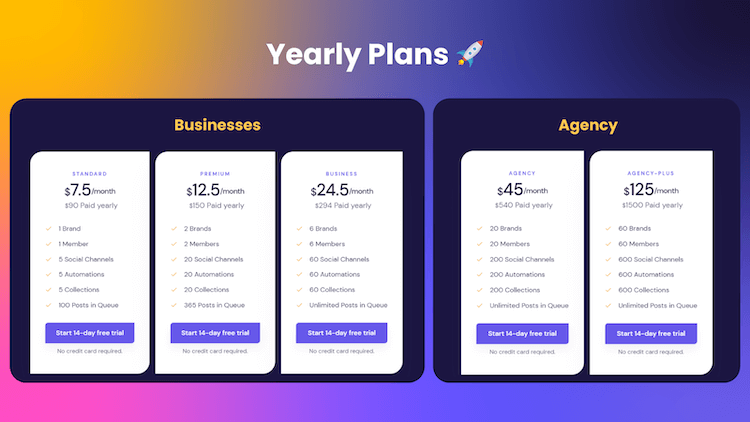 Schedule & Automate Months of Content in 20 Minutes with Nuelink: A Step-by-Step Guide
What users are saying about Nuelink?
On various review platforms like Capterra, Trustpilot, and G2, Nuelink proudly holds an impressive rating of no less than 4.7/5.
Here are some testimonials from their loyal users: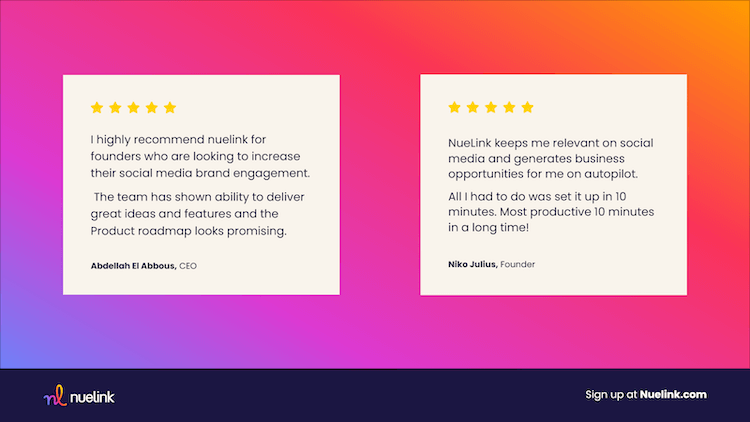 Nuelink Features
We need a book, not just an article, to cover all the Nuelink's features.
But hopefully, you will get an idea of how useful Nuelink can be from the following features:
Schedule and post content to 12 social media platforms: Facebook, LinkedIn, Instagram, TikTok, YouTube, Twitter, Pinterest, Google Business Profile, Telegram, Webhook, Discord, and Slack. You can bulk-upload an entire library of content as a CSV file.
Automation is what Nuelink does better. With an arsenal of automation features, you can auto-post content from other platforms without lifting a finger. These automation features help bloggers, e-commerce sellers, podcasters, social media managers, and agencies.
Social Media Cross-posting
This feature alone can save users a ton of time. Easily auto-post your social media content from one channel to your other channels. You can cross-post all types of content, as long as they are supported by the platform you're posting to. It currently offers:
Instagram Crossposting

LinkedIn Crossposting

Pinterest Crossposting

Twitter Crossposting
Pre-built content library
With this feature, Nuelink's users can benefit from scheduling and posting already in-house & already-made content (written and designed by the Nuelink team. No AI included).
You can find there everything from motivational quotes to memes, and fun posts…
To gain a clear understanding of what works and what doesn't in your social media strategy, Nuelink's integrated tool provides access to various analytics and data for every link you share on social media. Once you activate the link shortener feature, each link will automatically be shortened to Nuelink, allowing you to view statistics on link clicks.
Nuelink Alternatives
Hootsuite was and still dominates the market of social media management tools. Nobody can question the credibility of such a company, but the problem that many users have experienced with this tool is the high prices.
Compared to Nuelink pricing, Nuelink offers prices that are x10 more affordable than Hootsuite.
We can say that Buffer's pricing is much more affordable than Hootsuite's. The problem that most Buffer users have found is that you need to pay $6 to $12 monthly for each additional channel, which is not suitable at all for agencies.
Luckily, Nuelink doesn't have this problem. For example, if you pay $90/month for an agency plan with Nuelink, you will get 200 social channels, which is more than enough for most agencies.
Without a doubt, Nuelink's features in this battle are of much higher quality.
What goes beyond the features battle is that MeetEdgar only offers a 7-day free trial, which is probably not enough to test the tool in-depth. On the other hand, Nuelink offers a 14-day free trial with no credit card required.
Another thing is that MeetEdgar has limited weekly automation, and you can't buy additional weekly automation. The only choice left is to upgrade your account to the next plan.
If your budget for a social media management tool is not higher than $249 per month, forget about Sprout Social. $249/month is the minimum price you can pay to get an account on Sprout Social, not to mention the additional $199/month for every extra user.
Even though Sprout Social's features don't stand a chance against Nuelink's features, it remains the most expensive tool in the social media management field."
FAQs
Which Social channels does Nuelink support?
Nuelink allows you to schedule content on Facebook, Instagram, Twitter, LinkedIn Profile and Company Pages, YouTube, TikTok, Pinterest, and Google Business Profile.
How do I pay?
Nuelink uses Stripe to handle the payments, which means you can use any credit or debit card to pay for your subscription.
What if I change my mind?
You can cancel your subscription at any time. If you believe you were charged for your subscription or you upgraded to a paid plan by mistake, you can easily contact the Nuelink support team at [email protected], and they will sort it out
Conclusion
The main question that arises is whether Nuelink is worth investing in as a tool for social media management and automation.
Nuelink has quickly gathered a large customer base, with over 400 reviews, 98% of which express satisfaction. You can verify these reviews on trusted platforms like Trustpilot, G2, and Capterra.
However, what works for others doesn't mean necessarily work well for you, isn't it?
Nuelink understands this.
This is why you can try their 14 days free trial to test it yourself and then decided if it is worth it or not (Don't worry, No credit card is needed).