If your Instagram photo can't be posted, it's usually an easy fix. The issue may be with your device, the app, or due to an Instagram policy
Have you ever tried to upload an Instagram post that simply wouldn't load? Or maybe you even received a "photo can't be posted" error on Instagram. It can be incredibly frustrating when social media doesn't work the way it is supposed to.
Let's look at some reasons why a photo is not posting on your Instagram account and then how to fix the issue.
Why My Instagram Photo Can't Be Posted?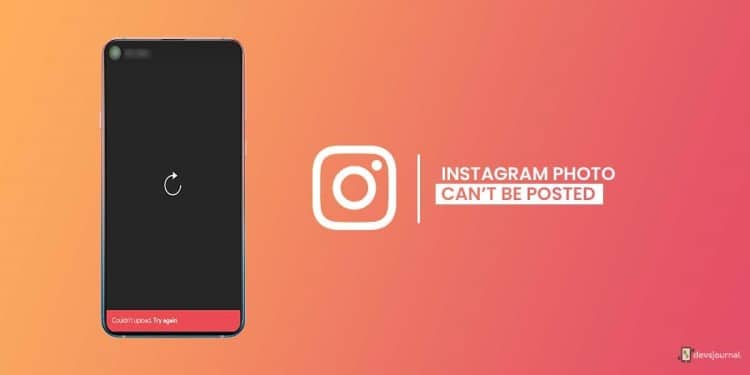 There are a handful of reasons why your Instagram photo can't be loaded. Once you have identified the issue it is usually pretty easy to fix Instagram.
Photo Violates Instagram Policies
Like other social media platforms, Instagram has Terms of Use and Community Guidelines that dictate what types of images may or may not be posted. Photos containing nudity or graphic violence will be blocked.
Likewise, content containing illegal activities, hate speech, glorification of self-injury, and/or spam violates Instagram policies. Be sure that the content you are posting is appropriate for the Instagram community at large.
Photo Size Exceeds the Maximum Allowed Size
The resolution of your photo may come into play. An image may have a width of up to 1080 pixels and a height of 1350 pixels. If an image exceeds the allowable size, Instagram will crop the image.
However, some images are too large to even be uploaded via your mobile device, in which case you may attempt to upload them via a computer on a browser like Google Chrome. Once uploaded, you can crop the photo on Instagram.
The Device Doesn't Have Enough Storage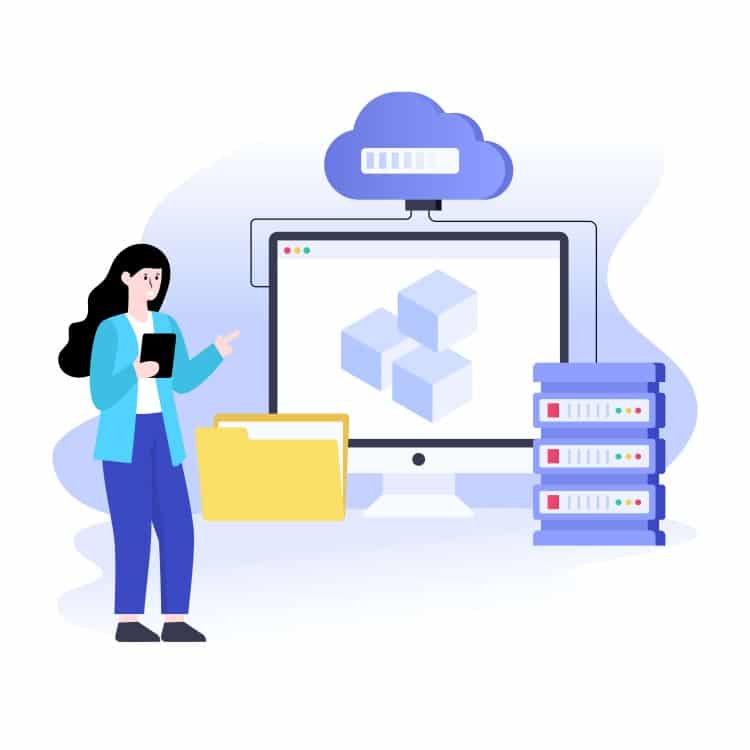 Sometimes the culprit is your device. If you are running low on storage you may find that your photos will not post to Instagram.
Instagram Cache Is Full
Likewise, your picture may not be posting if the Instagram cache is full. The cache is where temporary data is stored that generally helps a program run more quickly. However, because space is finite, when the cache is full it can slow or halt the system.
The Instagram App Has A Bug Or Glitch
All apps, including Instagram, may have bugs or glitches at some point in time. A glitch is simply a temporary fault in a system that will often correct itself. A bug or glitch in the Instagram app could be the reason a photo or image is not posting.
Instagram Servers Are Down
Your device and app may be running perfectly fine, however, if the Instagram servers are down, you won't be able to post your photo.
The Instagram servers will likely not be down for long, but you will have to wait until they are up and running again before you will be able to do any activity on your Instagram account.
To find out if Instagram servers are having an outage, head over to DownDetector. You may also try scrolling your Instagram feed to see if it is acting properly. If not, there's a good chance the servers are down.
Unstable Internet Connection
A strong internet connection is imperative for most social media apps. If your connection is unstable, or if your Wi-Fi is down, you won't be able to post any images to your Instagram account.
How to Fix the 'Instagram Photo Can't be Posted' Issue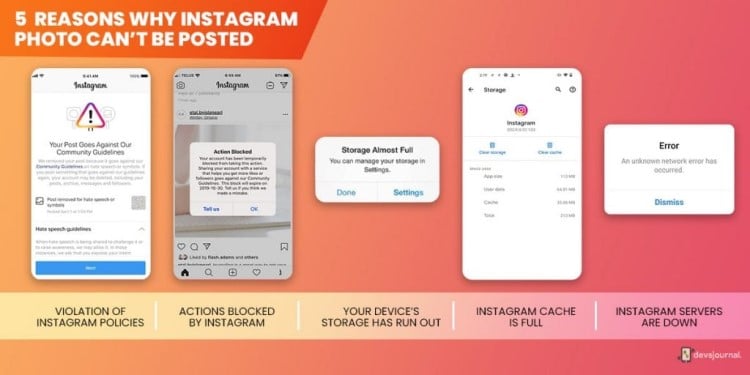 Now that you have an idea of what the issue might be, read on to see how you can fix it.
Restart Your Device
If ever you have trouble with an app or website, a good first step is to simply restart your device. This gives the technology a chance to flush out unnecessary data, shut down background tasks, and essentially debug itself.
If you are an Android user, hold the Power button and then select "restart."
If you are an iPhone user, press and hold one of the volume buttons along with the side button until the "slide to power off" toggle appears. Once the phone has turned off, press and hold the side button until the Apple logo appears.
Comply With Instagram Photos Terms And Policy
If you have found that your photo violates any of Instagram's Terms or Policies, then do not post it. Make sure you comply with the guidelines to keep the community and yourself safe.
Resize The Image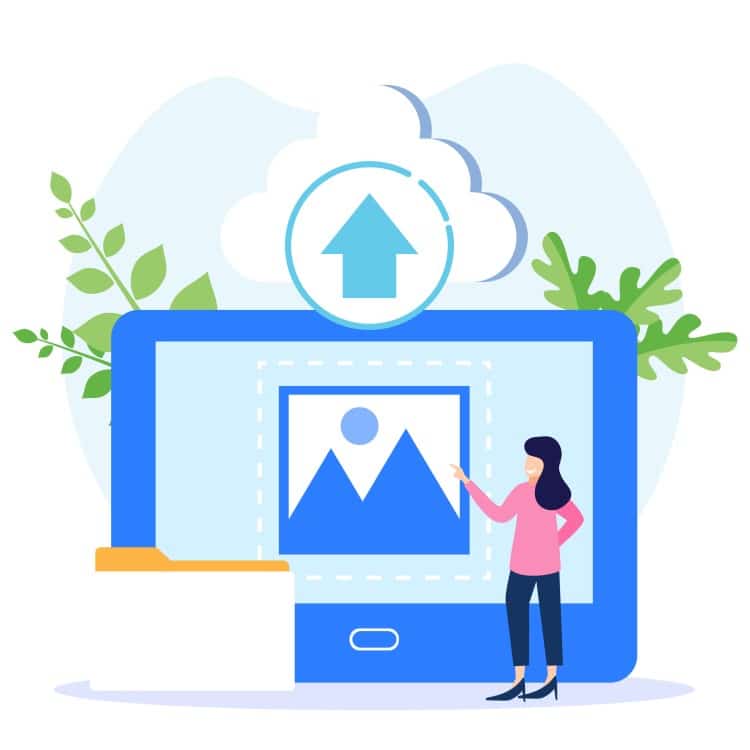 If you find that your image is too large, you can try cropping it. Both Android and iPhone devices allow you to crop images within the photo gallery. However, if you want to change the resolution, you will need a third-party app.
Free Up Your Device's Storage
There are several ways to free up some storage on your device. You can delete old photos and videos from your camera roll, delete unnecessary apps, or purchase more storage.
On an Android device, open Settings > Device Maintenance or Device Care > Storage. Check to see the amount of storage you are using. Loading sometimes takes a few minutes.
On an iPhone, open Settings > General > iPhone Storage. Check to see the amount of storage you are using. Loading sometimes takes a few minutes. Your device may offer suggestions for how to regain storage space.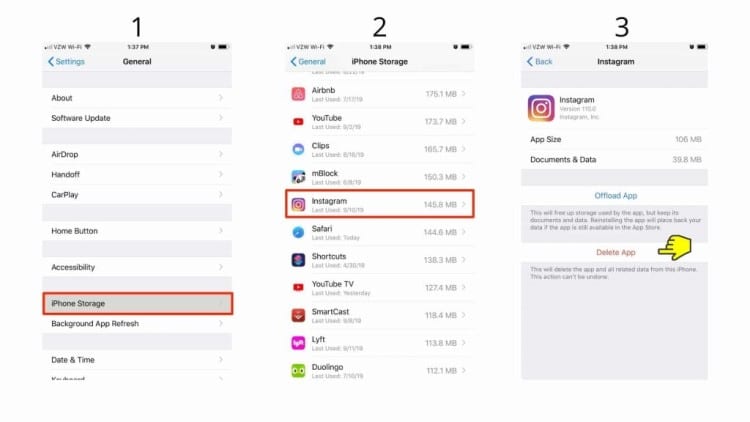 Clear Instagram Cache
A full cache may be slowing down the app, so another thing to try is clearing the cache. Note that this option is only available to Android users as to clear the cache on an iPhone you will need to delete and reinstall the app.
(See below for how to do this.) While the option to "offload app" on an iPhone will free up storage, it still maintains data from the app, so it's not a good choice when trying to clear the cache.
Android users, open Settings > Apps or Application Manager > Instagram > Storage or Clear Data. Confirm that you would like to clear the cache.
Update Instagram App
If you are still unable to post your photo to Instagram, you may need to update the Instagram app.
If you have an Android phone, open the Google Play Store and tap your profile. Choose "manage apps & device." Locate Instagram and tap "update."
iPhone users, open the App Store and tap your profile. Scroll down and locate Instagram. Tap "update."
Once you have updated the Instagram app verify that you can now post photos.
Uninstall Instagram App
If updating the Instagram app didn't fix the issue, you will want to try uninstalling and reinstalling the app. This process will also automatically clear the Instagram cache stored on your device.
If you are using an Android device, open the Google Play Store, tap the Profile icon, and select Manage apps & devices > Manage. Find Instagram and tap "uninstall." Once the app is removed, go back to the Google Play Store and reinstall Snapchat.
If you are using an iPhone, find the app and tap and hold. Tap Remove App > Delete App. After confirming that you want to delete the app, you will return to the App Store and reinstall Instagram.
Check Your Internet Connection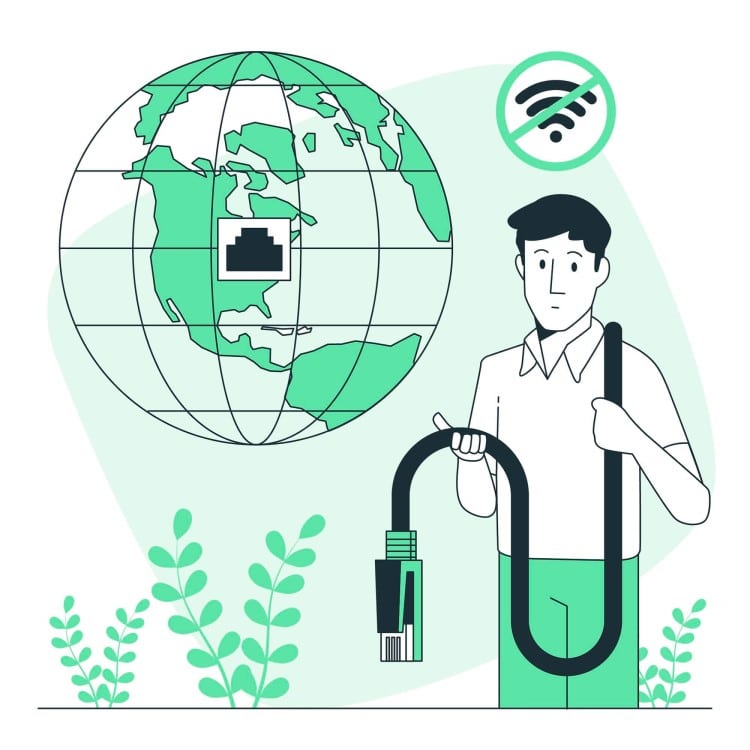 Finally, if your Instagram photos still aren't posting make sure you check your internet connection. For Instagram to function properly you need a strong internet connection.
Confirm that your device is connected to the internet in the settings app. If no Wi-Fi connection is detected, you will want to restart your wireless router. Also, be sure to check that there are no loose cables.
After confirming that your device is connected to the internet, open Instagram and try posting your photo again.
Conclusion
If you're an Instagram user attempting to post one or multiple photos that simply will not upload, it can feel annoying and time-consuming. But if you look at a few of the most common reasons why photos can't be posted on Instagram you can quickly problem-solve the issue.