Does TikTok tell you who viewed your video? What happens if you accidentally share a TikTok video? If you share a TikTok, will the creator know your account? Read on to get an explanation!
Overview of Video Sharing on TikTok and Privacy Settings
If your account is Public on TikTok, your video has the possibility to be seen by anyone else who has a TikTok account. Plus, once the video is shared outside of TikTok, even more people can see it, including those who do not have TikTok accounts.
TikTok allows sharing with the Share button in the app, you can share the app with other apps, or copy the link to go to different apps. Additionally, within the share button, there are options to Save the video. However, only videos with download permissions turned on will have this option. Not all videos allow downloads.
TikTok has a lot of privacy options including:
Private accounts that prevent Duets, Stitches, and downloads; as well as require approval to follow

Ability to adjust these settings on public accounts

Ability to choose who can comment on videos, send DMs, and whether the account will be Suggested to others

Toggling comments for individual videos

Ability to choose who can send direct messages

Toggling who can Duet and Stitch videos

Toggling what videos can be downloaded

Toggling Activity Status to hide when an account was last active; this feature is also only available to people over the age of 18

Toggling location settings off

Ability to remove original sounds from uploads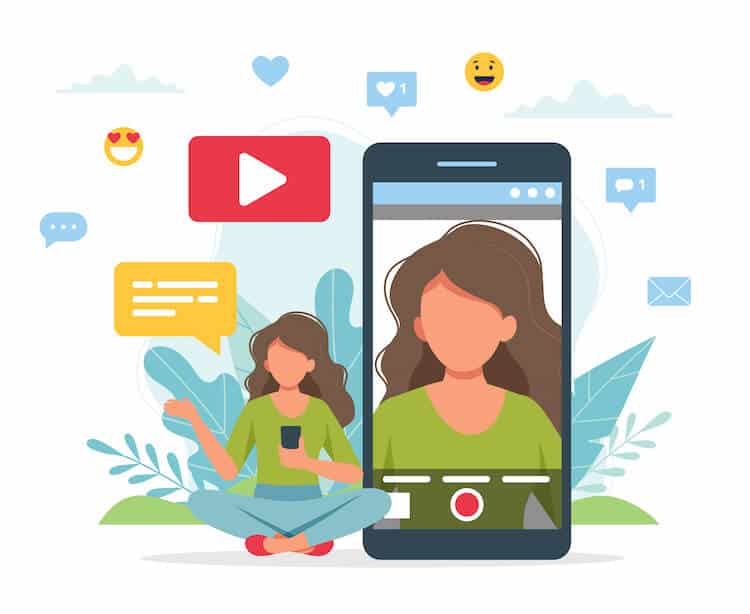 Additionally, for account users aged 13-15:
Accounts are set to Private by default and this cannot be changed

TikTok will not suggest this account to others for following

Videos cannot be downloaded by default and this cannot be changed

Direct Messaging is unavailable

No one can duet or stitch videos from this account, but the user can duet other videos

Commenting is set to Followers that You Follow Back but can be turned Off entirely

Video stickers are unavailable
And, for accounts for users aged 16-17:
Accounts can be public if desired

TikTok will not suggest this account to others for following

Video download settings will be set to Off automatically, but this can be turned On

Direct messaging is off by default, but it can be changed to Followers that You Follow Back in Privacy Settings

Duets and Stitches are allowed if the account is public and is set to Followers that You Follow Back

Commenting is allowed for everyone, but can be changed in settings

Stickers are set to Followers that You Follow Back by default, but can be changed
For account users over 18, if you want to minimize video sharing, it is best to set your account to Private.
Explanation of Who can Share TikTok videos
Anyone with an account can hit the share option on a TikTok video. The video can then be shared to other apps. Videos can only be downloaded to a device if download settings are turned on. However, other apps may allow downloads once a TikTok is shared out of the app.
How to Adjust Account and Video Privacy Settings
For individual videos, you can set the video to who can view it. This includes Everyone (public accounts), Followers (private accounts), Friends, or Only me.
To change the settings for videos that are already posted, go to Profile -> More Options -> Privacy Settings -> Who Can Watch This Video. Then you select the desired setting.
To change download settings for videos, navigate to Profile -> Menu -> Settings and Privacy -> Privacy -> Downloads. Then toggle on or off. This will not delete any videos that have already been downloaded prior to this setting being turned off.
Viewing the Number of Shares on TikTok
While it is impossible to see who has shared your videos on TikTok, you can determine how many times a video has been shared. The share counter is displayed on the bottom of individual videos, next to the arrow.
How To See The Number of Shares Via Analytics
If you want to see more complete analytics, navigate to Profile -> Creator Tools -> Analytics -> Content. This will allow you to see shares for multiple videos at once and more. Analytics also shows follower growth, profile views, likes, and comments.
If there is not enough data for shares, TikTok will display N/A or Not Enough Data Yet.
FAQs
Can you see who saved your TikTok video?
TikTok does not allow you to see who has saved or shared any individual video. It will show how many times videos have been saved or shared, just not by whom. If you save or share a TikTok video, the account will not know your account.
How to share TikTok videos on other platforms
When viewing a TikTok video, tap on the Share button which will prompt you to direct share a video, or to copy the link. Depending on whether or not downloads are allowed, you may see other options for saving the video.
How To See How Many Shares Your Tiktok Has?
Navigate to a video to see how many shares it has, the share count is shown next to the arrow. The analytics tab will show shares for all videos, as well as profile shares.
Conclusion
Now you know more about how TikTok sharing works. If you are trying to maximize shares, Tiktok makes this very easy to do, though it does not offer information on who shared your video or where it was shared to, only that it was shared. If you are concerned about how easy it is to share TikTok videos, keep in mind that if you don't want the video shared anywhere else, it is better not to post it on TikTok at all to begin with. While TikTok does offer a lot of privacy settings, ultimately once the video is shared outside of TikTok, there is no controlling it.