Instagram is a platform, for sharing your photos and videos with your entire circle of friends. However, before you embark on this journey it's essential to locate all of your friends. This article will guide you through two methods to discover contacts on Instagram.
How To Find Your Contacts On Instagram Through Facebook Friends
Instagram is run by Meta, who also runs Facebook. Therefore, it is incredibly easy to sync your Instagram to your Facebook and find your friends that way.
Go To Your Instagram Profile Page
To begin, navigate and go to your Instagram profile page. You can do this by tapping on the profile picture located in the corner of the screen.
In case you're new, to Instagram and haven't set a profile picture yet you will see a person icon as the placeholder image. If needed consider updating your profile picture with a photo you already have or take one specifically for this purpose.
Tap The Person Icon
Once you are on your profile, tap the person icon with a little plus sign. It is on the right side of the screen, towards the top, but below your profile picture. As of the current update, it is next to the "Share Profile" button.
Tapping this button brings up a banner titled "Discover People." You can swipe right to see the top people Instagram is suggesting you follow. To access the menu that allows you to locate friends from your Facebook contacts simply tap on the "See All" button located on the right hand side.
In case this is your time tapping on this button a notification will appear, requesting permission to synchronize your contacts. This is Instagram asking for permission to access your contacts. If you clear the popup, you can still turn this on from the next menu.
Tap The Facebook Link
From here, there is an option to connect to Facebook by hitting the connect button on the right. This will sync your friends and contacts across the two platforms, as well as your profile picture.
Confirm Your Facebook Login
If you are not already logged into Facebook, it will prompt you to login. If you are already logged in, you will need to confirm. Once you have completed this step, however, your contacts are synced! You will be able to find your friends' Instagram pages, provided they have also already linked their Instagrams to their Facebooks.
How To Sync Contacts On Instagram?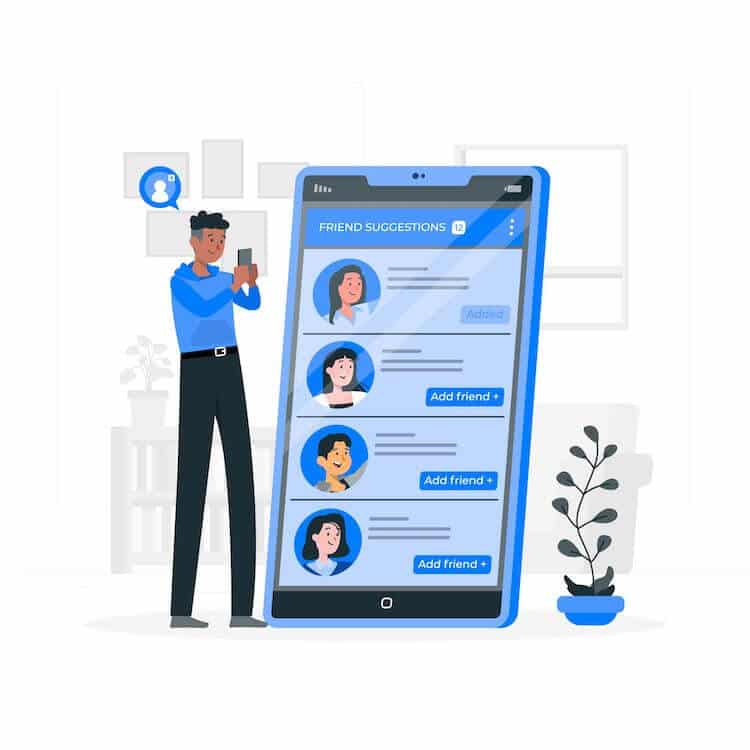 This section explains how to sync your phone contacts with Instagram.
Go To Your Instagram Profile Page
Chances are, you are already on this page. If not, click on your profile picture in the bottom right corner of the app to navigate to your profile page.
Tap The Person Icon
As when you are syncing Instagram to Facebook, you'll want to click on the person icon along the right and then tap "See All." If this is the first time you are pressing the button, a popup will appear asking to sync your contacts. You can agree here and skip the next step, or if you have already cleared this prompt, proceed to the next step to continue.
Tap The Contacts Link
You should now be on the "Discover People" page complete with suggestions and ways to sync contacts. This is also how to discover people on Instagram. You'll want to hit the "Connect" button for "Connect Contacts." This will prompt Instagram to sync your phone contacts to the app.
Allow Access To Your Contacts
Depending on your phone settings, you may have to switch apps and tab through several settings to do this.
Ultimately, you want to give Instagram access to your phone contacts so it can use your contacts' phone numbers and emails to search for their Instagram accounts and determine if your contact is on instagram. Once you have given Instagram permission, you are all done!
How to Disable Instagram Contact Access?
In the event that you no longer wish to allow Instagram access to your contacts, you can go into settings and revoke the permission.
Go To The Profile Page
Once again, start by going to your profile page by tapping on your profile picture in the bottom right corner of the app.
Access Settings
Access your settings by tapping on the three horizontal lines in the top left corner of the app. Then you'll want to go to settings and privacy.
Tap Contacts
From here, you'll want to go to Contacts, sometimes called Contacts Syncing.
Toggle The Connect Contacts Option
There will be a toggle button showing that Instagram has access to your contacts. Toggle it off to remove permission. Instagram may give you a popup to ask if you are sure. Tap yes. Then you are done!
FAQs
How To Stop Syncing Contacts On Instagram?
You can turn off Contact Syncing by going to your account settings, navigating to contacts, and turning off the slider giving Instagram permission to access your contacts.
Why Can't I See My Facebook Friends On Instagram?
If you cannot see your Facebook friends on Instagram, you need to merge your Instagram and Facebook accounts to allow this. Alternatively, your Facebook friends have not merged their accounts with Instagram, so the accounts are not linked for you to find.
Why Can't I Find My Friends Profile On Instagram?
Check to make sure you have spelled the account handle correctly. If so, it is possible that your friend has temporarily or permanently disabled their account. They may also have blocked you or their account has been suspended.
Find contacts on Instagram not working: Sometimes this is a temporary glitch that is usually solved by completely closing the app and restarting it.
Conclusion
Syncing your contacts is a great way to find more friends on Instagram, because it allows Instagram to pull from either your Facebook contacts, your phone contacts, or both. Additionally, Instagram makes it easy to remove access permissions if you don't want to give Instagram access to your phone contacts forever.