When you're thinking of going into the food truck business, there's a lot to consider to represent your talent and attract customers.
One of these considerations is a catchy name. A unique name for your food truck business will help you to stand out from the crowd and rise above competitors in this hard-to-master field.
When choosing a name for your food truck, you'll want it to reflect the type of cuisine you serve, your brand's identity, and any other factors that can potentially make people want to flock to your restaurant on wheels.
This is why, in this guide, we'll cover how to choose a name that suits your food truck, the steps to get started, and our favorite name ideas you can use today!
How to Name Your Food Truck Business
Reflect your cuisine
The first step in finding the perfect food truck name is to consider the type of food you make.
Customers should be able to easily associate the name with the type of food they can expect to enjoy from your truck.
What culture does your food come from? What time of day is your cuisine typically eaten? It's questions like these that will help you identify your cuisine and how to label it.
For example, Mexican food trucks might choose names like "Taco Express" or "Sizzling Salsa," while breakfast food trucks might opt for something like "Morning Munchies" or "Sunrise Bites."
Show your personality
Your food truck name should also showcase your business' personality and highlight what makes you stand out from other food trucks.
Catchy and creative food truck names can be a great way to attract attention.
For example, fun and humorous names like "The Fork & The Road" or "Grub-A-Dub-Dub" can be memorable and express a playful attitude.
Consider location
When naming your food truck, take into account the area where you'll be operating.
If your truck will be serving food in a particular city or neighborhood, incorporating the location into your name can make it more memorable and recognizable.
For example, "Battery Park Burgers" or "Midtown Tacos" can immediately tell customers where to find your truck.
Check name's availability
Before settling on a name, it's essential to check its availability. Make sure no other food trucks or businesses are already using the name you've chosen.
You can start by searching the internet and local business directories to see if any similar names are in use.
It's also a good idea to confirm the domain name or social media handles for your business are available.
Remember, choosing the right food truck name can make it easy for potential customers to identify your truck and associate it with the tasty food you serve.
So take your time, explore your options, and find a name that reflects your cuisine, shows your personality, highlights your location, and is unique to your business.
How to Start a Food Truck Business
Starting a food truck business can be a rewarding and exciting endeavor.
Follow these steps to get started:
1. Conduct market research
Before diving in, it's crucial to research the local food truck scene.
Understand the competition, identify a target market, and recognize the types of food trucks that are successful in your area.
2. Develop a business plan
Outline your business goals, target audience, menu, pricing, finances, marketing strategies, and growth plans in a comprehensive business plan.
Your plan will serve as a roadmap for your food truck business's success.
3. Select the right vehicle
Depending on your menu and operation size, choose a suitable truck, van, or trailer to accommodate your needs.
Invest in something affordable, functional, and spacious enough for your team and equipment.
4. Secure funding
With a clear business plan in place, approach potential investors, banks, or use your savings to finance the initial investment costs – including the vehicle, equipment, and initial inventory.
5. Obtain necessary permits and licenses
Research the local regulations and requirements for operating a food truck business, including zoning, parking, health, and safety permits.
Acquire the essential permits before venturing out on the streets.
6. Design your vehicle's exterior and interior
Create a visually appealing and functional design for your food truck, incorporating your brand colors, logo, and theme.
This unique and attractive design will make your truck stand out amongst the competition, ensuring it captures potential customers' attention.
7. Create a menu
Develop a menu that highlights your food truck's theme or speciality.
Make sure to consider dietary restrictions and aim for a balance between unique and popular food items.
Your menu should be concise, easy to read, and visually appealing.
8. Develop a marketing plan
Utilize social media, local events, and partnerships with other businesses to raise awareness of your food truck and create a buzz around your brand.
An active online presence and interacting with customers will help build a strong community around your business.
9. Plan a launch event
Organize a grand opening or an event to introduce your food truck to potential customers.
Use the event as an opportunity to showcase your food, build connections, and gather feedback on the food you serve.
Following these steps, you'll be well on your way to operating a successful food truck business.
Consistently evaluating and adapting your strategies based on customer feedback and market trends will play a key role in your continued growth and success.
Best Food Truck Names 2023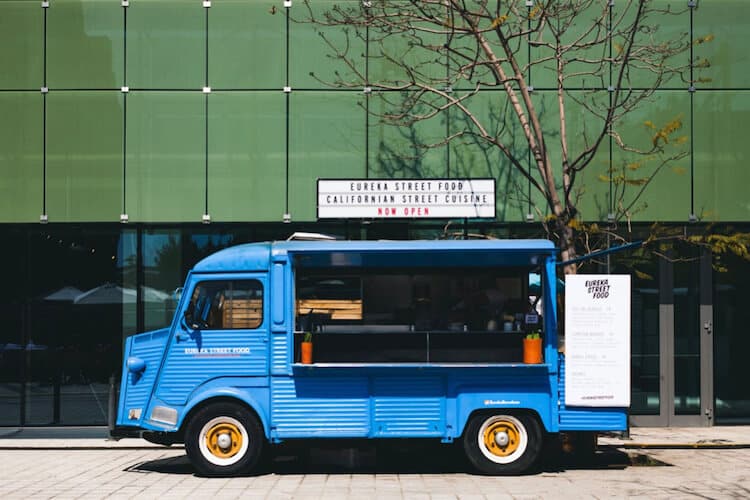 Catchy Food Truck Names
Boxtruck Takeout

Chicka Chicken Boom Boom

Cruisin' Cuisine

Dream Doughnuts

Fanny's Fried and Ready

Hot Potatoes

NY Seafood and More

Taste of Chicago

Taste of NYC

The Clamshell

The Gourmet Machine

The Ice Cream Bar

The Rock Lobster
Cool Food Truck Names
Big Bob's Burritos

Bullseye Burritos

Burger Bus

Chicky Chimichanga

Jumping Jack's Burgers

Mobile Sweet Shoppe

Rex Fries

Speedy Eats

The Bun Bus

The Crunchy Taco

The Lumberjack Mobile Smokehouse

The Lunch Truck

Highway Heartburn

The Tasty Taquito
Creative Food Truck Names
Bacon Buggy

Cheddar Chariot

Cupcakes on the Go

Fuel Up Fast Food

Hungry Henry's Burger Bus

Pete's Pizza Mobile

Rocky Mountain Pizza

Sir Burger

Smiles 4 Miles Fried Foods

Taco Trailer

The Food Dude

The Mouthful

The Pasta Parade
Funny Food Truck Names
Better Than Other Food Trucks

Bite Me!

Bites for Less

Fancy Fries

Grub to Go

I'm Stuffed

Just Good Food

Say Cheese

Seas the Day Seafood Truck

The Food Dude

Two Men and a Food Truck

We Cook You Eat

Eat and Go

World's Best Food Truck

Yum Yum Truck
Unique Food Truck Name Ideas
Bistro Bus

Chomp

Everything But the Kitchen Sink Food Truck

Fantastic Sandwiches

Good Food on Wheels

Halal Sisters

Lunch Party Bus

Quick Bites

Real Food on Wheels

Sandwich Shack

Sloppy Sandwiches

Street Food 4 U

Mobile Dogs and more

The Food Wagon

Ultimate Grub
Good Food Truck Names
Best Bites in Town

Brr… Chilli Truck

Feisty Fried Chicken

Hangry Hot Dogs

Hunger Machine

Meat Wagon

Mobile Dogs 'n' More

On the Go Grills

Pasta Paradise

Rolling Stoves

Spaghetti Shack

Tasty Truck

Gimme Grub

The Food Stop

Truckin' Along
Mexican Food Truck Name
Burrito Bros

Cha Cha Chile Truck

Macho Taco

Mama Margaritas

Mexivan

Quesazilla

Rollin' Burritos

Rolly Guacamole

Salsa Shack

Sorta Tortas

Taco Amigos

Taco Travelers

Salsa Street Grill

The Burrito Bus

The Carnitas Car

Toasted Tortilla
Asian Food Truck Names
Gimme Samosa

Just Good Asian Cuisine

Just Good Noodles

Kabob House

Nomadic Noodles

Oodles of Noodles

Pad Thai Palace

Pho to Go

Ready 4 Ramen

Shawarma Shack

Spring Rollin' Through Town

Taste of Taiwan

Teriyaki to Go

The Traveling Kabob

Your Favorite Falafel
Breakfast Food Truck Name Ideas
Bitchin' Bagels

Brave Little Toaster

Breakfast Bandito

Breakfast Rally

Butter My Biscuits

Frenchi's French Toast

Hash Browns

Makin' Bacon

Miss Maple's

Morning H'Anger

Over Easy On Wheels

Pancake Flippers

Sunrise Scrambles

Quiche It Classy

Second Breakfast

Street Car Crepes

The Biscuit Box

The Breakfast Bus

The Butter Bus

The Flying Benedict

The Hash Wagon

The Jam Van

The Mad Griddle

The Omelette Truck

The Savage Spatula

The Twisted Toaster

The Waffle Wagon

We've Got Hash
Vegan Truck Names
For The Vegan

Hell Yeah It's Vegan

Gentle Gourmet

Herb Tasty

Lettuce Eat

Meat-free Meets

Much Ado About Nut-in

Natural Lifestyle

Naturally Vegan

Nut Cheese Deli

Rooted

The Granola Gambit

The Vest of Vegan

Veggie Planet
Dessert Truck Names
Cake 'n' Bake

Cake Batter Up

Cake on a Stick

Cookie Magic

Crankin' Out the Candy

Cupcakes to Go

Delicious Dessert Food Truck

Delicious Donuts

From Cupcakes to Candy

Heavenly Ice Cream

Roving Baker

Sweet Tooth Mobile Bakery

Sprinkle Shack

Sweet Treats To Go

The Frosting Fountain
Pizza Food Truck Names
'Za By the Slice

20 Toppings

Build-Your-Own Pizza

Mobile Pizzeria

Pepperoni Tony's

Pie in the Sky Pizza Truck

Pizza 'n' More

Pizza Party on Wheels

Pizzalicious

Pizzeria on Wheels

Rolling in Pizza Dough

Slice o' Life

Perfect Pizza

Super Saucy Pizza

The Pizza Pie Guy
Burger Food Truck Names
#1 Burger Spot

American Burger Express

Best Burgers in Town

Buns to Go

Burger Bus

Burger Palace

Burgerlicious

Burgers on Wheels

Cheesy Cheeseburgers

Fancy Burgers

First Class Burger

The Big Burg

The Burger Stop

We Love Burgers

Your Favorite Burger
Taco Truck Names
Bring on the Tacos

Build-Your-Own Taco

Crunchy Taco Express

Gimme Tacos

Happy Taco Truck

Just Good Tacos

Mobile Taco Palace

Nomadic Taco

Stop Here for Tacos

Taco 'Bout Delicious Food

Taco Stand on Wheels

Taco Trailer

Taco to Go

Tacolicious

Tacos 'n' More
Coffee Truck Names
Caffeine Corner

Coffee Cart

Coffee Please

Daily Dose of Caffeine

Don't Talk to Me Until I've Had My Coffee

Gourmet Coffee To Go

Hot Beverage Express

Mornin' Joe

Not Your Average Coffee Stand

Pour Over Palace

The Bean Bus

The Coffee Grinder

Your Favorite Coffee Stop

The Coffee Stop

World's Best Coffee
BBQ Truck Names
Best BBQ Bites

Best BBQ in Town

Cornbread Palace

Grills 2 To

Hot Grills BBQ

Mac 'n' BBQ Truck

Ribs 'n' More

Saucy's Barbecue

Smells Like BBQ

The Big Barbecue Bus

The Brisket Shack

The Fancies BBQ on 4 Wheels

Rollin' Ribs

We Love BBQ

Wings on Wheels
Best Food Truck Name Generators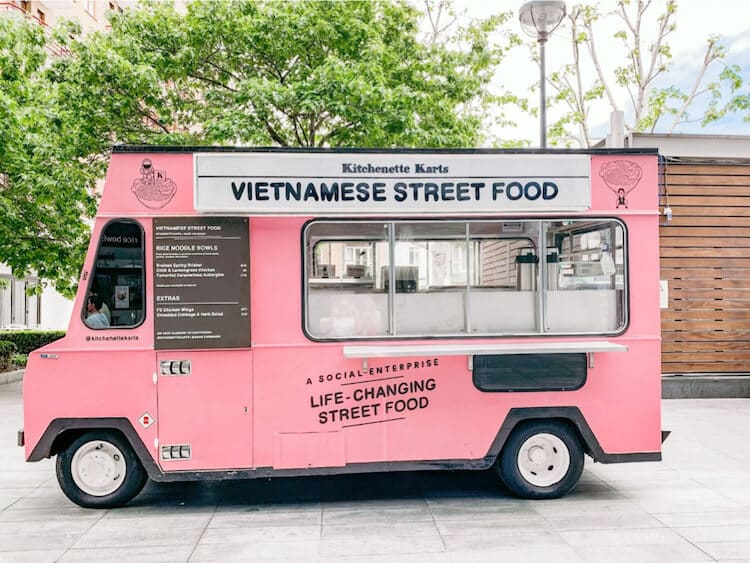 Shopify Name Generator
The Shopify Food Truck Name Generator is a fantastic tool for generating unique and catchy food truck names.
By entering a related keyword, you can get a wide variety of name options that are available as domain names.
You can trust the suggestions from Shopify as the platform is quite popular and well-known. Give it a spin and explore the numerous food truck ideas names.
Mobile-Cuisine Name Generator
Mobile-Cuisine is another awesome name generator.
From creative names like "Red Velvet Crush" and "The Sweet Tooth" to funny names like "Bringing Down The BBQ," this generator has a wide range of names to help you create the perfect food truck name that suits your style.
Business Name Generator
To help you easily generate food truck names ideas, the Business Name Generator allows you to enter keywords related to the kind of food your truck serves.
With one click, you'll see thousands of relevant catchy and cool food truck name options.
Scan through the list and choose your favorites.
TRUiC Name Generator
TRUiC's food truck name generator is another excellent choice for generating memorable and creative food truck names.
By adding relevant keywords and using the generator's filters, you can find a plethora of food truck names ideas in various themes available for you to consider.
BizNameWiz Generator
Lastly, the BizNameWiz Generator is a simple yet effective way to generate your ideal food truck name.
This tool offers you a mix of fun food truck names, creative food names, or even dirty food truck names, depending on your preferences.
This generator can help you find that perfect name that will attract customers and make your food truck stand out in the crowd.
These are some of the best food truck name generators available, giving you plenty of options to find the perfect name for your new food truck venture.
Explore these generators and discover the name that best represents your unique concept.
FAQs
Why is a food truck famous?
Food trucks have gained popularity due to their convenience, affordability, and unique food offerings.
They allow customers to try a variety of dishes from different cultures in a casual setting.
Is the food truck a trend?
Yes, and the food truck trend is still on the rise.
In recent years, the industry has experienced substantial growth as customers continue to enjoy the convenience and unique food options offered by food trucks.
What is the most common food truck?
The most common food trucks often serve street food staples such as burgers, tacos, sandwiches, and barbecue dishes.
Conclusion
When choosing a food truck name, it's essential to pick one that's catchy, memorable, and reflects your unique dishes.
A memorable name can make a lasting impression on your target audience, helping you stand out amongst competitors and build brand loyalty.
Take inspiration from these ideas and additional suggestions, but remember to consider your specific menu, style, and target audience when making your decision.
With a well-chosen name, your food truck is bound to attract attention and hungry customers.