Thanks to chatbot development services, the way businesses communicate with their customers has gone through a transformation
Chatbots bring a fresh and exciting aspect to services, products, and websites, and help to accelerate many operational processes.
The following chatbot industry statistics will highlight the revolution taking place around the world.
If you want validation for your chatbot strategy, this post will provide everything you need.
Key Chatbot Statistics and Trends this 2023
Chatbots are the fastest-growing brand communication channel, and the chatbot market size has increased by 92% over the last couple of years.
In 2020, almost one-quarter of purchasers used chatbots when communicating with businesses, which is a 13% increase from the previous year.
67% of consumers worldwide have interacted with a chatbot in the previous 12 months.
On Facebook, there are more than 300,000 active chatbots, which was a three-fold increase from the previous year and perfectly illustrated the chatbot trend that's been emerging over the past few years.
68.9% of chats are handled from start to finish.
A chatbot platform can answer as much as 80% of all standard simple questions.
1.4 billion people use chatbots.
This year, almost one in six global customer service interactions were handled by conversational AI (artificial intelligence).
27% of consumers were unsure whether the last customer support interaction they had was with a chatbot or a real person.
When Facebook launched its messaging platform, it became the leading platform for chatbots.
More than 40% of consumers use conversational marketing tools for purchases, making them an excellent addition to your salesforce.
Chatbot Usage and Engagement Statistics
87.2% of consumers report having a neutral or positive customer experience with chatbots.
Only 12.8% report a negative customer experience.
The number one reason consumers use chatbots is to get a quick answer.
Conversational marketing tools are used by 41.3% of consumers when making a purchase.
One-third of consumers would like to use a chatbot for making reservations.
On average, bot-only chats get a customer satisfaction rate of 87.58%, which is 2% higher than the rate for discussions that get passed over to human agents.
The US has the most chatbot users (36%), followed by India (11%) and Germany (4%).
41% of people who start online chat conversations with businesses are C-level executives.
27% of consumers are currently interested in AI (artificial intelligence) support tools.
37% of people use a customer service bot to get a quick answer in an emergency.
Baby boomers are more likely to expect benefits from chatbots than millennials.
Almost 50% of female shoppers like chatbots and choose them to communicate when making purchases online, whereas only 36.81% of men do the same.
One in five live chats is ignored and not answered.
Millennials use social media apps more than any other generation, and three in five have used chatbots at least once in their lives.
Chatbot Adoption Statistics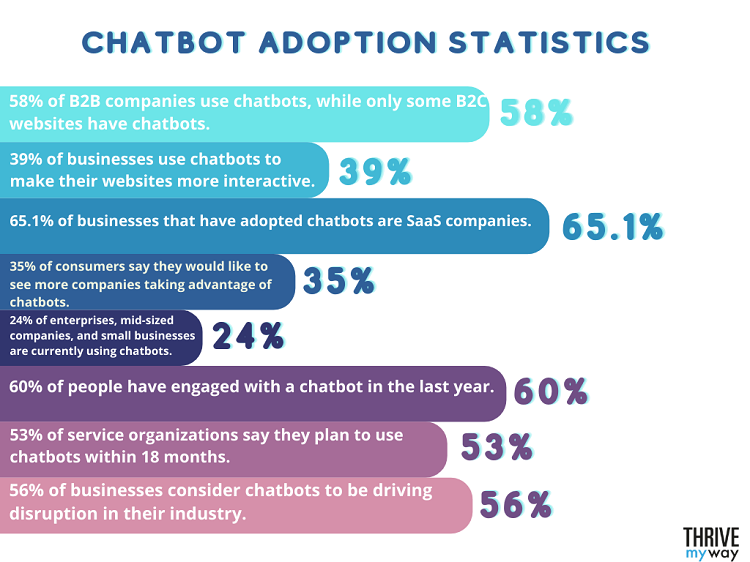 58% of B2B companies use chatbots, while only 42% of B2C websites have chatbots, according to Relay. Chatbots are more popular in B2B because they are successful in lead generation, which is important for B2B companies.
39% of businesses use chatbots to make their websites more interactive.
65.1% of businesses that have adopted chatbots are SaaS companies.
35% of consumers say they would like to see more companies taking advantage of chatbots.
24% of enterprises, 15% of mid-sized companies, and 16% of small businesses are currently using chatbots.
60% of people have engaged with a chatbot in the last year.
By 2023, we could be talking to bots more than our partners.
53% of service organizations say they plan to use chatbots within 18 months, which is a 136% growth rate.
56% of businesses consider chatbots to be driving disruption in their industry.
Chatbot Conversion Statistics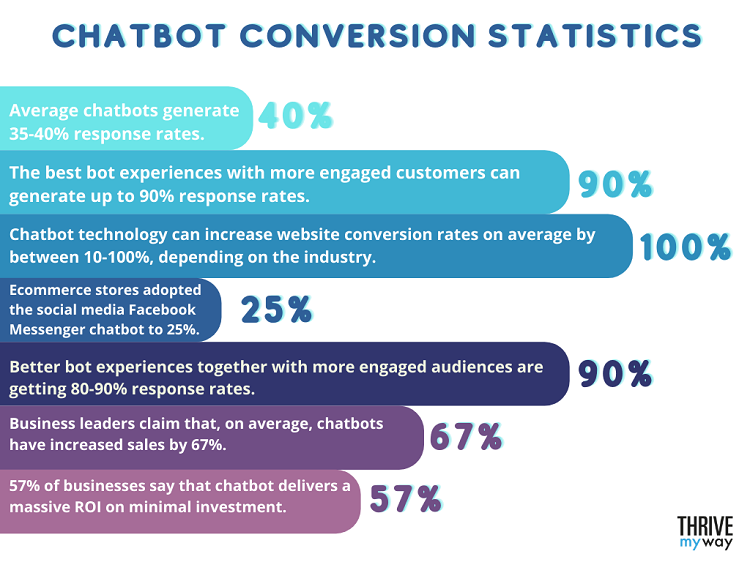 Average chatbots generate 35-40% response rates.
The best bot experiences with more engaged customers can generate up to 90% response rates.
Chatbot technology can increase website conversion rates on average by between 10% and 100%, depending on the industry.
E-commerce stores that have adopted the social media Facebook Messenger chatbot along with an abandoned cart chatbox have been able to boost revenue by between 7 and 25%.
Nearly one-quarter of respondents trust virtual assistant recommendations for product purchases rather than a human salesforce.
Better bot experiences together with more engaged audiences, are getting 80-90% response rates.
Business leaders claim that, on average, chatbots have increased sales by 67%.
57% of businesses say that chatbot delivers a massive ROI on minimal investment.
Chatbot Benefits Statistics
Chatbots have a faster response time than actual humans.
According to 68% of consumers, they like chatbots because they provide speedy answers.
Other features consumers like are the fact that a chatbot can help outside of business hours and forward them to a real person.
According to consumers, the #1 chatbot benefit is 24/7 support.
Chatbots have helped cut operational customer service costs by up to 30%.
Chatbot Challenges Statistics
Two of the biggest chatbot concerns for consumers are a lack of understanding and an inability to solve complex issues.
Almost half of the consumers think chatbots get in the way of them communicating with a live agent.
60% of consumers thank that chatbot can't understand their needs as well as a human.
60% of consumers would prefer to wait and speak to a human rather than a chatbot.
Chatbot Marketing and Business Statistics
Chatbots are used by 55% of businesses to generate higher-quality leads.
Business leaders say that chatbots have increased sales by 67%.
40% of US, EU, and Chinese businesses use pre-built AI programs, including virtual agents and chatbots.
Chatbots are most commonly used for sales (41%), customer support (37%), and marketing (17%).
Top AI (artificial intelligence) chatbots use is for voice-to-text dictation (46%) and support team collaboration on tasks (26%).
64% of businesses believe that chatbots will allow them to provide a more customized customer experience.
50% of businesses plan on spending more on voice assistants than on mobile apps.
Companies with up to fifty employees use chatbots more than others.
Chatbot Messaging Apps Statistics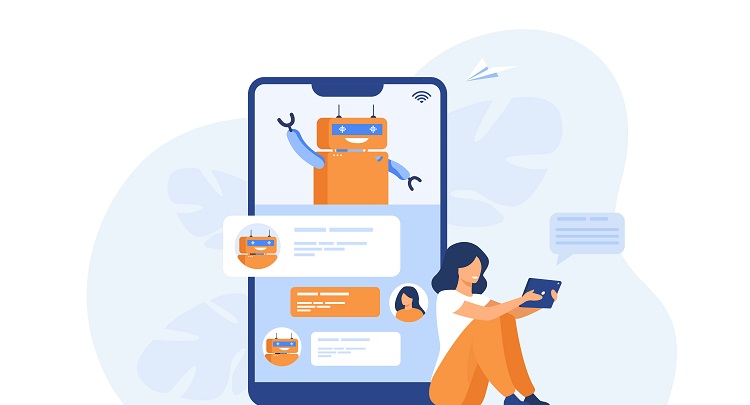 Messaging apps have more than five billion active users a month.
1.4 billion people use messaging apps and are happy to talk to chatbots.
In 2018, Blue-Bot sent two million messages to more than 500,000 customers.
There are more than 300,000 chatbots on Facebook Messenger.
Mobile apps account for 10 out of every 11 minutes people spend on their mobile devices.
Conversations between brands and customers via Messenger have a 30% better ROI than retargeting ads.
Consumer Preferences Statistics
Three out of five millennials have used a chatbot at least once.
47% of chatbot users purchase items.
33% of internet users prefer conversational chatbots when making reservations and ordering online.
More than half of consumers prefer using chatbots instead of calling customer support.
The top three work-related AI chatbots are Microsoft Cortana (49%), Apple Siri (47%), and Google Assistant (23%).
53% of consumers are more likely to shop if they can message the business.
48% of people would rather a chatbot was able to solve their issues above having a personality.
Industry-Specific Statistics
The top five industries that benefit most from using chatbots are real estate (28%), travel (16%), education (14%), healthcare (10%, and finance (5%).
Real estate is the most profitable field for chatbots.
Finance
Projections are that chatbots will handle 75-90% of banking and healthcare customer queries by 2023
Cost savings from banking chatbots will reach $7.3 billion globally by 2023.
Two-thirds of leading global financial service firms have started using chatbots for their apps since the start of the global pandemic.
Travel/Hospitality
Two-thirds of people surveyed said they would find a chatbot useful (40%) or very useful (26%) in relation to the management of their business and work travel arrangements.
When making travel plans or comparing booking options, 37% of users would prefer to deal with an intelligent chatbot.
If it could save them time and money, 87% of users would choose a travel chatbot to interact with.
A chatbot from GRT Hotels & Resorts has exchanged more than 175,000 messages in the two and a half months following its launch.
Retail
Just over one-third of retail customers would happily speak with customer service via an AI chatbot rather than live chat.
By 2023, over 70% of chatbot conversations will be with retail chatbots.
In 2019, a survey found that more than 40% of US consumers had used chatbots to engage with the retail industry.
The most popular product sold online with the help of chatbots is clothing.
22% of the most successful online stores sell clothes, followed by health products (9%), furniture (9%), electronics (8%), and jewelry (8%).
Recruiting
By the end of 2023, expectations are that 35% of organizations will use chatbots for a large part of the recruitment process.
XOR, a recruiting chatbot vendor, claims their chatbot solution improves the recruitment process by 33%, screens 85% more resumes with the same budget, and spends 50% less per hire.
According to a survey by Allegis, 58% of candidates were happy to interact with AI and recruitment chatbots during the early stages of the application process.
Chatbots for Customer Support Statistics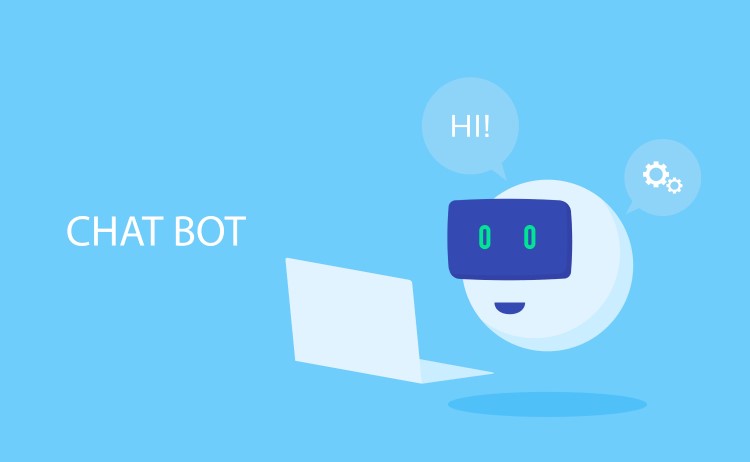 If you use abandoned cart chatbots alongside Messenger, you can boost your eCommerce revenue by up to 25%.
You can expect to save 30% on customer support costs by using chatbots.
In 2019, a growth rate of 136% was the prediction for customer service organizations.
58% of consumers say their customer service expectations have been changed by chatbots.
64% of customer support agents who use chatbots say they have more time to solve more complex and challenging problems.
16% of Americans have used Alexa or Google Home chatbots when shopping.
Chatbot Implementation Statistics
53% of companies use AI chatbots in their IT department, and only 23% use them for administrative tasks.
ELIZA, the first automated chatbot, was created in 1966.
The top five countries in terms of chatbot use are the USA, India, Germany, the UK, and Brazil.
By the end of 2019, estimates were that almost a quarter of the world's population was using chatbots.
By the end of 2021, $5 billion will be invested in chatbots.
In 2018, chatbot interest increased by 160%.
Software represents around 40% of all cognitive artificial intelligence spending, and two areas of focus are conversational artificial intelligence and machine learning applications.
Chatbot Growth Statistics
Predictions are that by 2024, consumer retail spending via voice bots worldwide will reach $142 billion, up from $2.8 billion in 2019.
Around 47% of organizations plan to have chatbots for customer support by the end of 2021.
Two-thirds of financial service companies have added chatbots to their apps.
The US is a global leader with almost 16,000 websites with a chatbot.
The healthcare chatbot market is estimated to reach $340 million by 2027.
80% of businesses are projected to integrate some form of conversational bot system by 2023.
Social media is aimed to dominate AI integration.
Chatbot Forecasts and Predictions Statistics
By 2023, the predictions are that chatbot eCommerce transactions will hit $112 billion.
By 2023, estimates are that chatbots will save businesses $8 billion.
Chatbots are predicted to save businesses 2.5 billion hours by 2023.
By 2023, chatbots will be reducing cost per customer interaction by $0.70.
It is thought the global chatbot market will reach over $994 million by 2024.
96% of businesses think that chatbots are here to stay.
Chatbots may take over email marketing.
85% of customer interactions might be handled without a human agent by the end of 2021.
You might be interested to check those related posts as well:
FAQs
What is a chatbot?
A chatbot is an AI-powered software designed to simulate human-like conversation with users through text or voice messages. Chatbots are widely used by businesses to automate customer service, lead generation, sales, and other processes.
How do chatbots work?
Chatbots use natural language processing (NLP) and machine learning algorithms to understand user input and provide relevant responses. They can be programmed to answer frequently asked questions, provide recommendations, book appointments, and perform other tasks.
What are the benefits of using chatbots in business?
Chatbots offer several benefits for businesses, including improved customer service, increased lead generation, higher sales, and reduced operational costs. They can handle a large volume of inquiries at once, operate 24/7, and provide personalized responses based on user data.
What is the current adoption rate of chatbots in businesses?
The current adoption rate of chatbots in businesses varies by industry and location. According to a survey by Relay, 58% of B2B companies and 42% of B2C companies actively use chatbots.
In Summary
Chatbots offer an interactive and easy way for consumers to engage with brands.
Chatbots look set to become the future digital communication channel of choice.
The chatbot market will likely expand worldwide, with millennials leading the user polls.
If you want to grow and maintain your existing relationships, chatbots will help you and your workforce achieve that goal.
With chatbots, you can deliver fast customer service, save time on repetitive tasks, and improve your lead generation.
We scoured the internet for the chatbot stats we've presented here, and used the following resources to help us:
Startup Bonsai
OutGrow
Netomi
Landbot
Smallbizgenius
Backlinko
Tidio
Blogging Wizard
Finances Online
Leadoo
AIMultiple
Chatbot.com
99firms