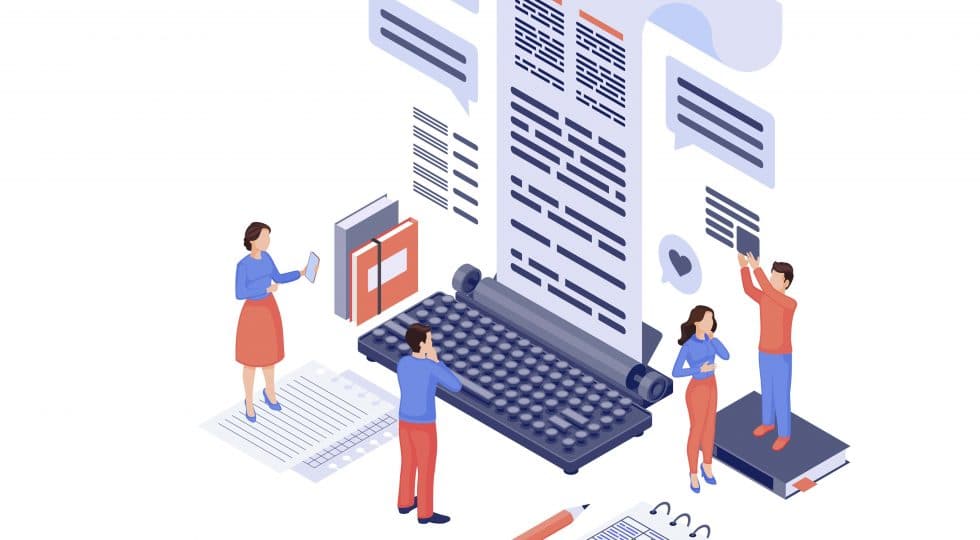 Even before the pandemic, B2B companies were struggling to adapt to the digital space. It got even worse amid the severe blow. Every firm rolled up its sleeves, ready to spend bundles on paid marketing solutions!
But this kind of enthusiasm spree doesn't pay off well. There needs to be a sustainable system in place to get the needle moving. And that system is content marketing. But again, marketing for B2B ventures is quite different from the traditional sales whims.
Because celebrity referral programs or TikTok dance challenges might not be the best ways to get your leads queued. Marketing your services to established businesses demand innovative effort and specialized tactics.
So here's the ultimate 8-step guide that your B2B marketing team should be following for maximum customer retention. Let's go!
An in-depth study of the target audience
Unlike B2C, B2B leads are actively looking for aid, and you need to present yourself at the right time with competitive offers. And to identify such leads, you have to create potential buyer personas. Now, what's this gibberish?
Buyer personas are dummy characters to understand the real sales dynamics. Let's assume you have a paint manufacturing business. So your potential personas can be interior designers, construction project owners, real estate businessmen, even automobile manufacturers.
So, you study their problems, ages, locations, frequent purchasing channels, and create a storyline. Then you should figure out if you can provide them solutions with your unique selling points and irresistible offers. Here are some statistics on personas depicting their importance.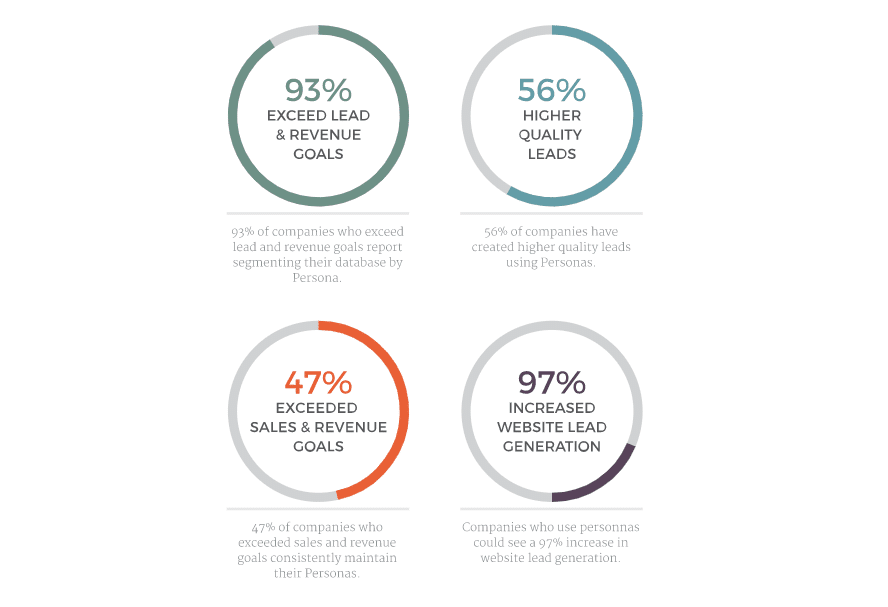 It's pretty evident that figuring out personas can be life-changing. Deeper the insights, the better. You can even take surveys and rely on market reports along with conducting your usual online research for creating personas. Look at your existing customer base and think of related hierarchies that can make use of your services. Go for a quick inspection of their demographics, and you will be amazed to see the diversity. These help you create compelling content leading to faster customer acquisition.
Setting goals and relevant KPI
B2B's customer base is far more concentrated and calls for a tailored selling experience. However, many often fail to align their immediate goals with their customers — the main reason being choosing incorrect goals and performance indicators to track those.
Though most have easy access to customer data, very few can categorize them for decisive insights into performance. Let's consider an example here. If lead generation goals only drive you, tracking engagement metrics won't get you the sales picture. But if your goal is branding, then tracking these are pivotal.
Here are some most common B2B goals as per Marketing Charts. Refer to the following pointers for a further breakdown of the generic ones with relevant key performance indicators.
Track channel-specific insights like reach, engagement, signup rates, page visits, leads, and conversions, for tracking ROI from each promotional channel.
If you want to be a prominent thought leader and command over your authority, watch out for impressions and reach.
Want more social media responses? Track direct messages, comments, likes, branded hashtags usage, etc.
Gauge followers count if you want to measure your brand awareness.
Sales goals can be measured by qualified leads, ad metrics, profit margin, sales per offering, total sales, tracking conversion rates online and offline.
Improved traffic needs you to track page views, bounce rates, average time duration, number of sessions, primary traffic sources, etc.
Always choose a SMART (Specific, Measurable, Attainable, Measurable, Time-bound) goal that can be tracked with dispensable resources at your end. Once you've identified the various key performance indicators you're looking at, it is essential to review and track them regularly. This will keep you proactive about how to approach and execute your marketing campaigns.
Chalking down the content plan
Creating content that's specifically targeted to your audience is a crucial step to reap content marketing benefits. Blogging is considered as the top-notch player for this, but it's not enough. B2B customers want more digestible information about you.
Hence, you need a thorough content plan to bring different varieties that all spectrums of your consumers can benefit from. Remember, the tone and mood of your content should strike a chord with your audience. You can determine this by keeping the buyer personas in mind. You can take a step forward and create content for every stage in a buyer's journey.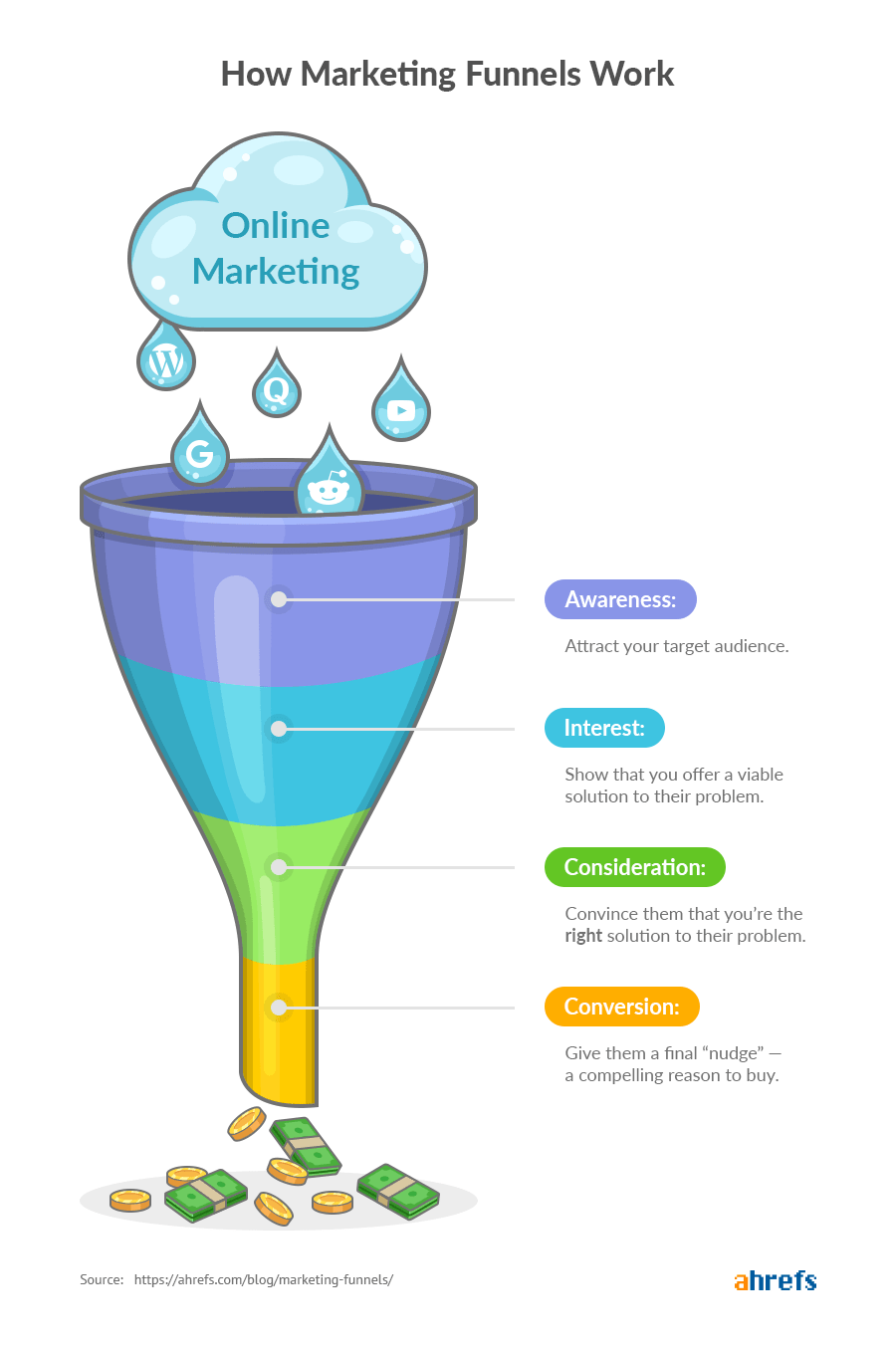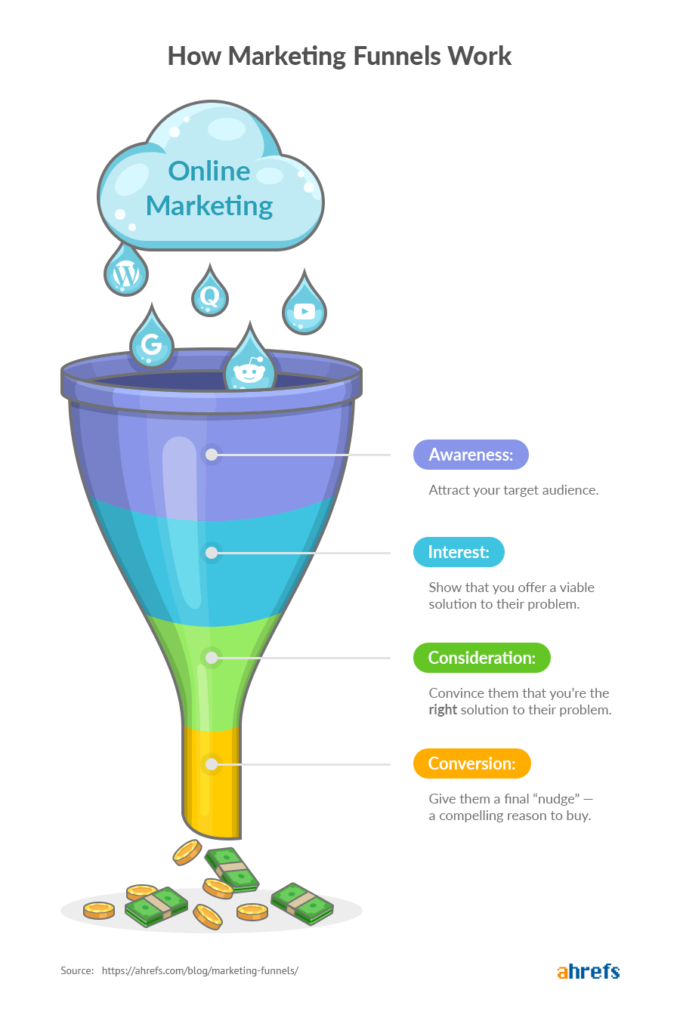 Awareness The content pieces at this phase should address the problems of your target audience with potential short-term fixes. This should be free and accessible to all.
Examples: Blogs, Case Studies, Press Release, Memes, Polls, Infographics
Interest Now that your audience knows your brand authority and your short-term fixes' effectiveness, they will come back for more. Content at this phase should reveal your competitive solution to your target audience. This can be either free or gated as per your immediate needs.
Examples: Templates, Ebooks, Webinars, Newsletters
Consideration Persuasive content that convinces your audience to opt for your service over others. Leads have to sign up or fill in their details to get complete access to such content.
Examples: Guides, Demos, Tutorials
Conversion FOMO infused copies to convert your leads into paying customers. The content leads to the paid/subscription model.
Examples: Feature update mails, Tutorials, Certifications, Customized Reports Once finalized on the content types, choose the channels where you want your content to go live. This will largely depend on your target audience's activity in the considered platforms. Let's find more about it in the next step.
Sticking to a content calendar
Now that you have a basic content strategy in place, select channels that your audience uses most frequently. Find out platforms for syndicating your published work to get an amplified reach. Use LinkedIn features like advanced search to connect with decision-makers and Instagram for quick how-to and tips reels. Other social media channels like Twitter, Facebook, Youtube, Tumblr, Pinterest should be used for promotions too.
But using so many channels calls for a content calendar.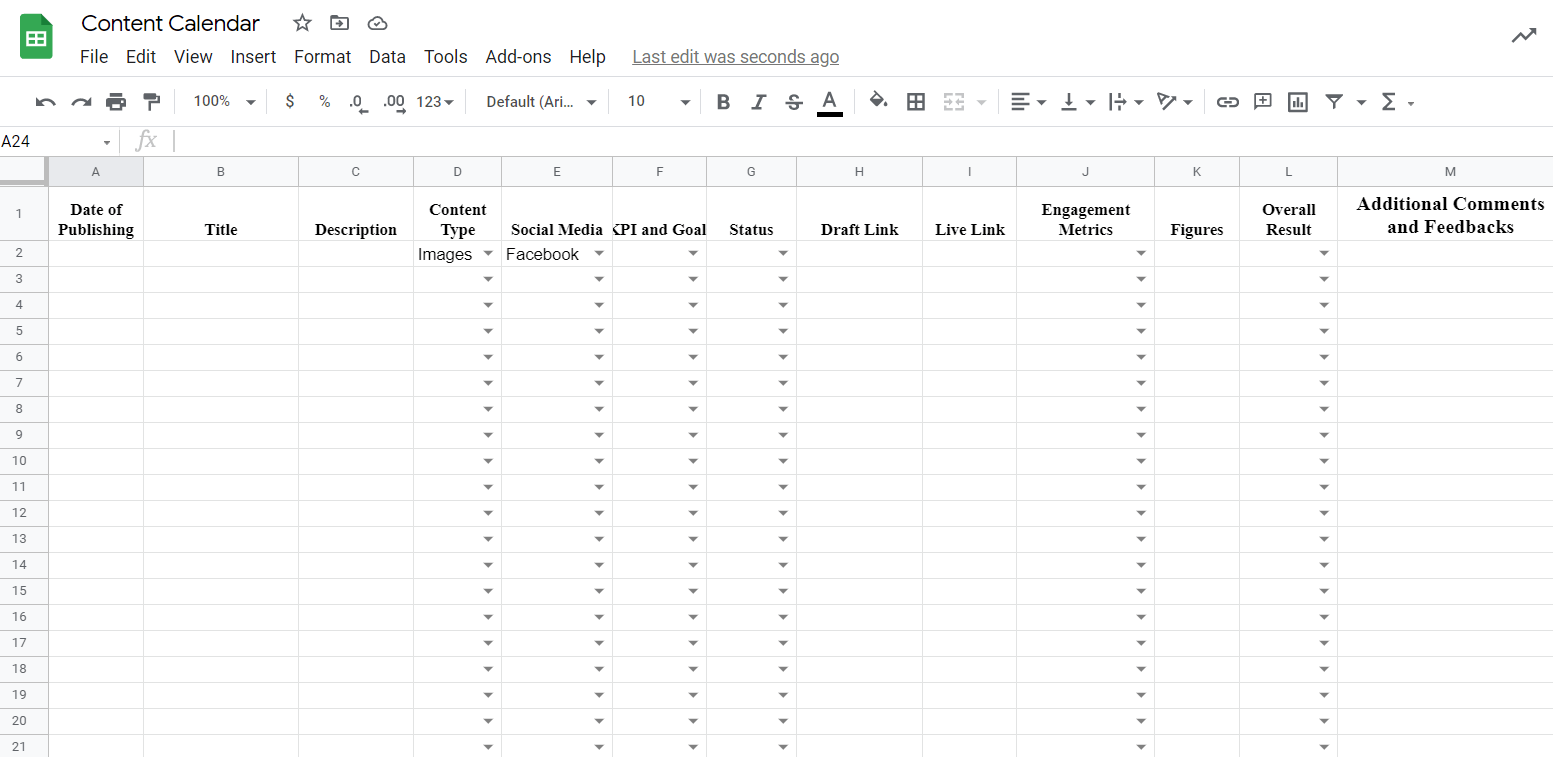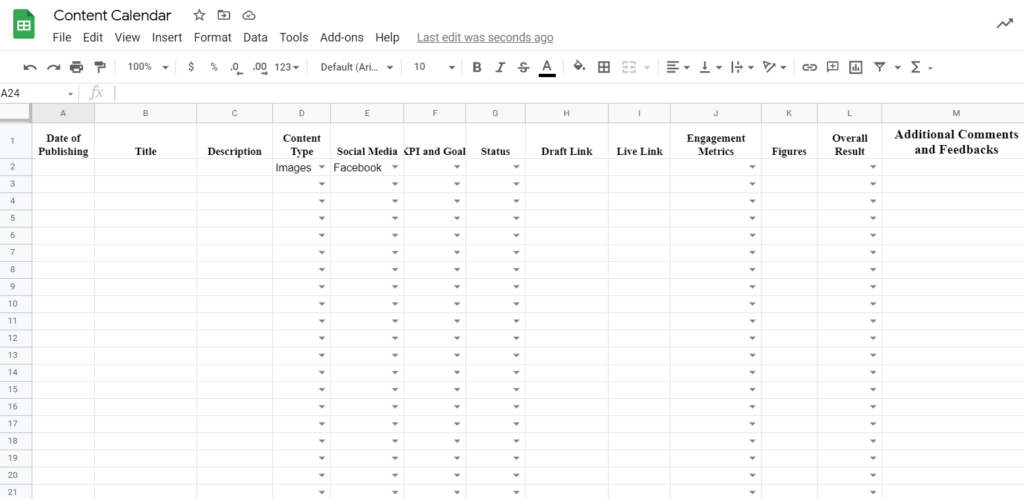 Planning everything in advance can seem quite overwhelming. But a little effort from the start can guarantee you an advantage in the future. You will be equipped better with loads of content without compromising on quality. It also saves you from last-minute panics and edits.
There are hundreds of templates online but creating a new one is also easy. These are generally excel based documents summing up the content details. Consider this template, for instance. It has the following columns:
Date of publishing when content is supposed to go live
Title of the content
A brief description
Type of the content as in blogs, ebooks, whitepaper, etc
Social media and syndicating platforms like Medium, Growthhackers, Slideshare, etc. that are used for promotion
KPI that needs to be tracked for that particular channel promotion
Status of the progress as in started, continued, completed, discarded, etc
Draft link of the document
Live link of the published content
Engagement metrics and figures
Overall performance feedback
Content owner and dependency for bigger teams and cross-department references
If you are having a tough time managing excel, consider investing in social media scheduling tools to post on multiple platforms.
Along with this, have seasonal content calendars reserved for special occasions like Black Friday or Cyber Monday. It's better to have a separate calendar dedicated to those full-fledged campaigns. Keep SEO basics to rank blogs and videos better and hashtag marketing strategies for social media promotions. Leverage email marketing and cold pitches for boosting reach additionally. But these processes can be further perfected. How? We'll see that in the next step.
Choosing the best tool stack
Managing a large volume of content can pose many hurdles at times. A content calendar sheet can help but updating that every now and then is quite a cumbersome process in itself. Ditch your worry as you can automate these with smart tools for cheap.
Topic and keyword research tools for creating and curating content like Buzzsumo, ShareIt, Ubersuggest, Moz, Ahrefs, Google Trends, etc.
Manage content on your website with Content Management Systems like WordPress, Hubspot, Wix, Drupal, Shopify, etc.
Team collaboration tools for tracking internal progress like Trello, Asana, Jira, Slack, etc.
Designing tools for charts, pictorials, social media posts, like Canva, Crello, Snappa, Easel, PicMonkey, etc.
Social media scheduling tools like SocialPilot, Agorapulse, Buffer, Hootsuite, Sendible, etc.
Email automation tools for subscriptions, newsletters, and updates, like Mailchimp, Moosend, SendInBlue, etc.
Hashtag and social listening tools like Keyhole, SocialMention, Twubs, SocialBakers, Brandwatch for social monitoring.
Online chat tools like Drift, Intercom, Live Chat, PureChat, Zoho Desk, etc., for instant customer support.
Apart from these, there are many tools available that give you the best customer retention solutions based on your data. But are they worth it? Of course, they are!
Investing in marketing tools has multiple benefits. Along with high ROI, they save you a gratifying amount of time and double your lead generations with customized tracking features. They increase your efficiency streaks by giving you organized control over multiple propositions. They also have accountability and ownership benefits and nurture leads with personalization. You can create instant reports for insights too. Hence, cohesive tracking becomes a child's play.
Competitive analysis methodology
Even after establishing the complete framework, the results are not up to the mark. How can you fix this gap? Competitive analysis can solve the problem here. Simply put, it's a process used to evaluate your competitors and come up with foolproof strategies to combat theirs. This will help you understand the niche challenges better. You can learn from their strengths and weaknesses.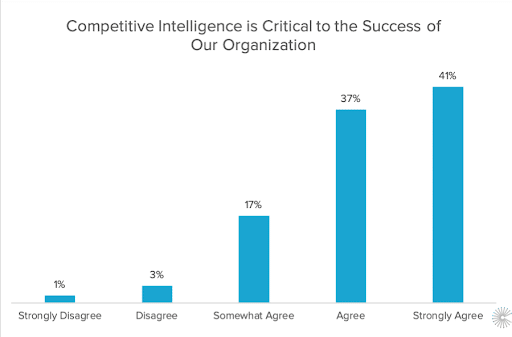 The research firm in Boston, Crayon, found out that 41% of the businesses find competitive analysis critical for success. But how do you start this intricate analysis? Who all are eligible to be your cut-throat competitors?
You can categorize your competitors into three categories:
Direct competitors: Those selling similar products/services. Examples: Coca-Cola and Pepsi
Indirect competitors: Those selling substitute products/services in the same niche. Examples: Coca Cola and Redbull
Replacement competitors: Those selling completely different products/services in various niches but are capable of replacing you.
Examples: Coca Cola and Lipton Tea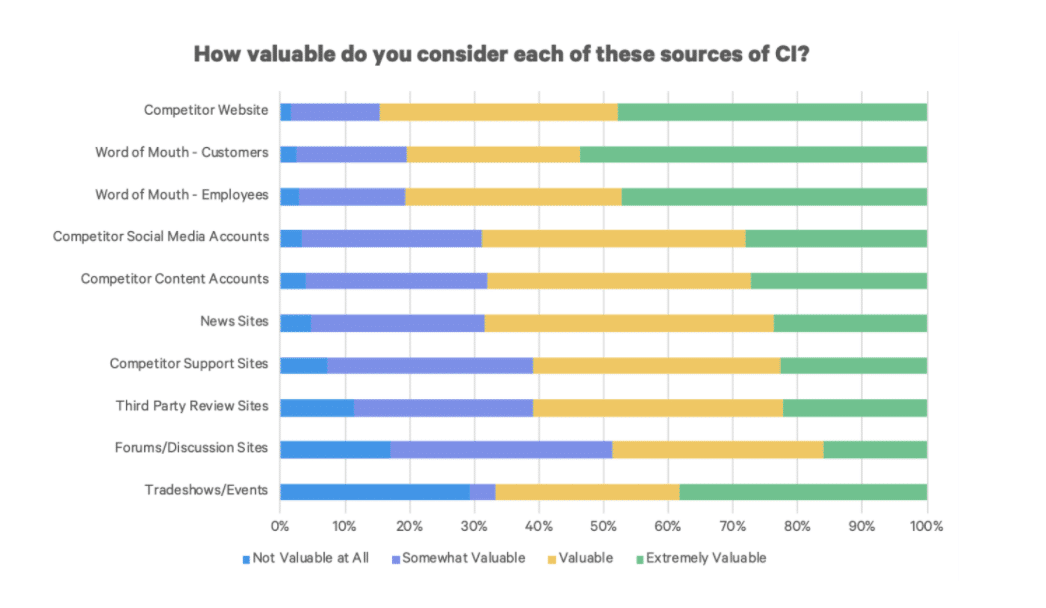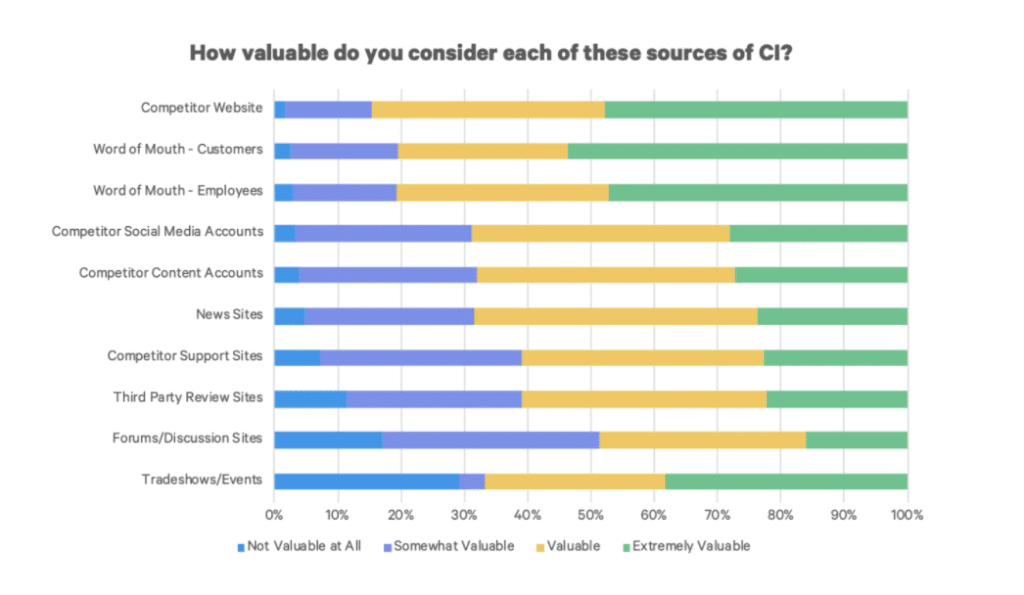 Have a look at this chart. Once you are done with categorization, sort your top competitors under the categories mentioned above. Compare their offerings with yours, their product/services details. See their social media performance and observe their customers, employees, and followers. Find the gap and chalk down competitive strategies accordingly.
Content repurposing, curation, and reposting tricks
Want to fill your content calendar faster? Repeat every content in a fixed period. You can use marketing tools to schedule these posts at the best time. In this way, you can even reach your audiences at different time zones!
Repurposing content is a stellar way to attract masses with little effort. Some quick examples can be:
Turning your blogs into short videos.
Compiling blogs into ebooks and guides.
Ebooks can be converted to podcasts.
Short clippings from webinars can be posted as short-form videos.
Infographics can be depicted in slideshares.
Repurposing is literally endless. It adds variety to your content and also makes your marketing offerings consumer-friendly.
Another trick is curating trending content from reliable sources. Follow the classic 80/20 rule, meaning 20% of your content should promote your business while the rest should focus on curating trends, solving concerns, predicting future scenarios, active discussion on the latest happenings in your niche, etc.
Customer retention tactics
Last but not least, you need to keep winning the loyalty of your existing customers. It's not like you won them once, and you bagged them for a lifetime. You want them to choose your business over others continuously. How to do that, though?
Of course, dispensing quality service is one. But from a content perspective, you want to take a step further and provide them access to your exclusive, personalized content. Include them in customer support groups and discussion forums to update them with the latest features. Give them access to tutorial videos on using those features and the winning impact they will witness after implementing them. Take their feedback on how you can improve further.
Promote them as your customers in the form of testimonial videos. Customize offerings and referral programs to keep them hooked to your business. This will resonate with word-of-mouth marketing, considerably improving your sales.
Final Words
Aside from content marketing, audit other areas as well. This is where you can improve upon and make adjustments to ensure your plan is working seamlessly — for example, having a well-trained team that is already equipped with the knowledge of tools you use.
If not, then upskilling them should become your priority task of the hour. In addition, the scope for A/B testing should be widened to get the optimized result. Finally, continuous adaptations to the latest trends and newer integrations will also make you a desirable choice. And we bet, by following these steps, you will witness the anticipating spikes. You got this!
Author bio
Sweta Panigrahi is a Content Writer at SocialPilot. Her strongest pursuit is to capture social media happenings in her well-researched blogs. From codes to meme posts, her search history is a confounding mess. When not typing out blogs, you can find her in a sunny corner scribbling poems.